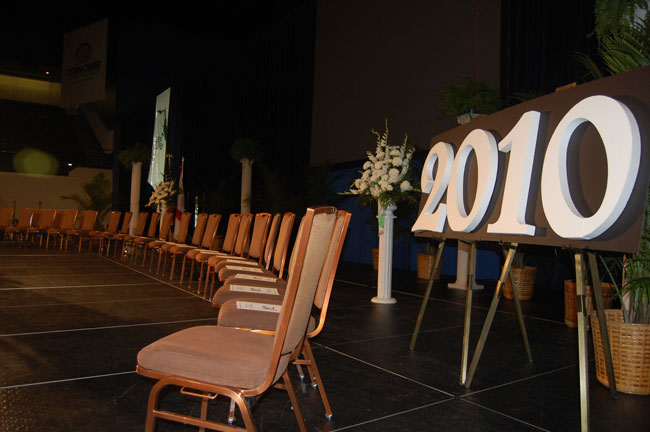 The doors have opened, parents, friends and family have started streaming into the Ocean Center in Daytona Beach, where by about 9 p.m. tonight some 506 students, their caps airborne, will turn into Flagler Palm Coast High School's newest graduates.
---
Listen to Yasmiyn Ibrahiym Sing the National Anthem (With Thanks to Jasper Johns)[media id=38 width=250 height=100]
On tap: Yasmiyn Ibrahiym, who'll be belting the Star Spangled Banner, a welcome from Brendan Dean, the class president, Salutatorian Taylor Tofal, more music, and the valedictorian address, seemingly the last (the school is retiring the tradition) by Anthony DeAugustino.
The more eminent generation follows, with Nancy Willis, who spent the last few years as FPC's principal before moving crosstown to Old Kings Elementary a few weeks ago, presenting diplomas with Jacob Oliva, who replaced her at FPC. Superintendent Bill Delbrugge, for whom this will be the last graduation before he leaves for Cairo, will deliver the final words: Acceptance of the Class of 2010.
7:15: They've been walking in to cheers, handshakes and a few high fives, with the school's faculty and the school board lined up at either end of the floor.
---
Listen to Taylor Tofal's Complete Speech[media id=40 width=250 height=100]
Here's an excerpt from Taylor Tofal's speech: "This year especially has been one of overwhelming happiness as we, the senior class, moved closer to this day. The day that we have been looking forward to. The light at the end of that long, long tunnel of senioritis: graduation. But we should also, as we consider this past year, think about those grades that probably weren't as good as we'd have liked them to be, of the fight over things that were less important, and the friendships we lost because of them. Of the challenges that we have overcome, and the people–the parents, family, teachers, staff and friends, who have helped us, and sometimes dragged us through it.
"Tonight is a night to celebrate them. To consider the tenacity—those closest to me know to call it stubbornness—the dedication, and the hard work that we, the senior class, have put into this year, and to celebrate, because we are here. This night is the culmination of those hours spent not sleeping, and the tortuous classes after pulling that all-nighter, of the thousands of trees that we have undoubtedly collectively killed after printing four years of English essays, and of the sacrifices, and difficult choices and challenges that we have all faced and overcome."
---
Listen to Anthony deAugustino's Full Speech[media id=39 width=250 height=100]
And here he is, Anthony deAugustino, delivering what may be the last valedictory at an FPC graduation: "I must share with you how honored I am to be your valedictorian. I am humbled by your achievements in academics, athletics and the arts. But such talent and so many accolades should not be mentioned alone. We must be thankful for what we've been given and the opportunities that have been presented to us. Personally first I want to thank God because without him I do not believe I would be where I am today.
"You see, Jeremiah 29:11 says that God has a plan for us and a purpose for us, and as I think back on my life I see that as validated because I can see the many blessings that God has given me, and so I'm thankful. And on a side note, may we never forget what God has done for us, and may we never cease to be thankful for those things, as long as we are one nation under God, and we declare that it is in God we trust."
"You're eager and anxious to start," FPC Principal Nancy Willis has just told them, "it's time to move on. But when you cross the threshold, look backward to see how far you've come, and remember, use your god-given talents to lend a hand to those who have followed in your footsteps, the footsteps of the class of 2010."
---
The Song[media id=37 width=250 height=100]
Rachael Adkins, Rachel Larson and Yasmiyn Ibrahiym sang a pretty moving song between Taylor's and Anthony's speeches, turning the Ocean Center into a scene from American Idol. But the crowd was just warming up for what was to follow: the awarding of diplomas by Nancy Willis, Jacob Oliva and Delbrugge. Barbara Beach's voice—she announced all 506 names—never wavered.
The photo gallery, below.
[nggallery id=14]