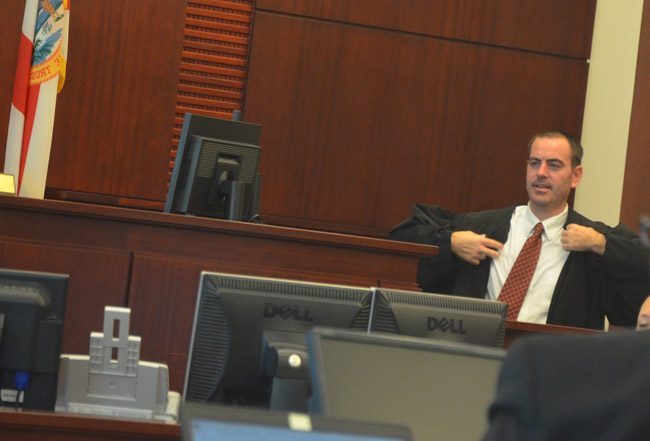 There once was stability on the bench in Flagler County. It was called Kim Hammond: he was a judge for 30 years, many of those years as the only judge in the county. His impact was such that the relatively new county courthouse bears his name. But that stability ended with his retirement at the end of 2010.
Including Hammond since, Flagler County's criminal-law bench has been brushed by the robes of four judges–Hammond, Raul Zambrano, J.David Walsh, and for less than a year, the electric, unpredictable Matthew Foxman, whose father's name is engraved in Volusia County's courthouse stone.
By January, Flagler County will have its fifth criminal-court judge: Foxman is being sent back to Volusia County because of his ability to try death-penalty cases. Dennis Craig, who was elected in 2010 and served in Flagler's family and civil-law courts for several years before being shifted top Volusia County, will return as Flagler's criminal-court judge.
County Judge Melissa Moore-Stens, elected in 2012, will remain over county court, and civil court judge Lee Smith, here only since this year, will also remain, along with Margaret Hudson and Scott DuPont. "All division changes officially take effect Jan. 3 when the three newly-elected circuit judges start their terms," a Seventh Judicial Circuit spokesperson said this afternoon. The circuit includes Flagler, Volusia, Putnam and St. Johns counties.
"The death penalty is very much in flux right now, it's in uncertain circumstances," Foxman, who was presiding over a trial this morning, said during a break. The Florida Supreme Court has ruled the state's existing death-penalty protocol unconstitutional, and the Legislature is expected to re-write that law for the second time in two years come January. It had first been compelled to do so because of a U.S. Supreme Court decision that found Florida's protocol wanting.
"But there's not many death-qualified judges in our circuit, and there are no death penalty cases pending currently in Flagler, so there was not a need for that," Foxman said, explaining his transfer. "But there are pending ones in Volusia County."
Other judges who were qualified have retired. The decision to shift judges around in the circuit falls on Chief Judge Terence R. Perkins. Foxman's qualifications were the deciding factor.
"I used to do that as a practicing attorney, meaning death penalty work," he said, "but also you have to go to a school, judicially, that they don't offer often, and it's difficult to get into, to be quite honest with you. But it really was more about the judicial roster than anything else."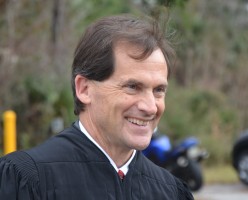 Foxman developed some attachment to Flagler, immediately having an impact around the courthouse and with local elected officials and developing a reputation as a forceful but not necessarily merciless judge (that's Zambrano's enduring distinction): cops are not particularly fond of Foxman, whose fairness toward defendants is unusually pronounced.
"He certainly seems thorough and concerned about everybody involved in the case, making sure everybody understands and checks back with them and gives their sign off that they do understand,"
County Commissioner Charlie Ericksen has been a fan, attending many a hearing or trial and at times spending time with Foxman in chambers. Foxman relishes having members of the public or elected officials attend court sessions: he tells them he wants more people to understand the process from within. That's why Ericksen says he attends.
But there's also the X factor: you never know what's going to happen, what Foxman is going to say or do, during his court sessions.
"That's the first time I've seen a judge talk to a defendant and looking out for their welfare," Ericksen said as he was attending a trial today, "even to include getting them special permission to shave between sessions. Apparently the procedure over at the jail is you can only shave once every two days, and the defendant asked to be clean shaven every day and he arranged for that to be done."
In a previous trial, Foxman, seeing to what extent the case was going against the defendant–who'd been accused of a sexual assault on a minor girl–exhorted him (out of hearing of the jury) to seriously consider taking a plea. The defendant did not, and was eventually found guilty and sentenced to 25 years in prison.
Foxman interacts with juries and people in attendance more than any judge who's served in Flagler. His jury-selection sessions are excruciatingly long because he insists not only on letting lawyers query and pick their jurors during voir dire, which is normal, but because he interviews every single juror in the jury pool ahead of time, to get a better sense of his pool and perhaps cover a few bases that lawyers themselves don't always cover. He is also famously complimentary of lawyers who appear before him, whether for the defense or the prosecution, though those compliments can sometimes lose their effectiveness: seldom has a layer before him not been the best he's seen.
Foxman says he's leaving reluctantly.
"I'm a put-me-in-coach kind of guy, where do you need me, and I'll go," he said. "But I loved every minute of being in Flagler County, and the people I've gotten to know here, and work with. I will miss them terribly. It's not my desire to leave, but I'm willing to do so if it helps the judiciary."
Foxman joked that some are "probably are packing my car," eager to see him go. For Craig, meanwhile, it'll be a return home: he lives in Flagler County.