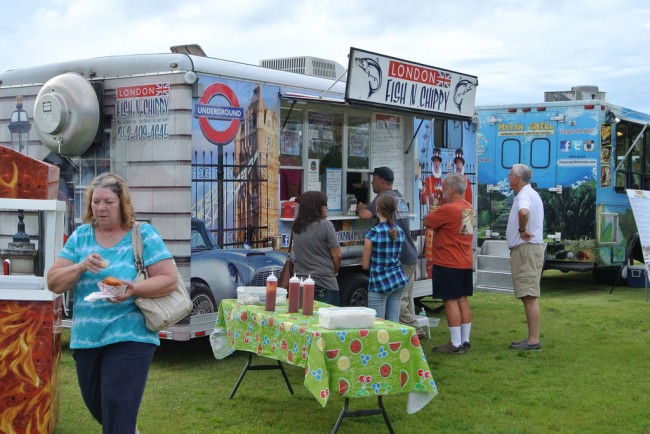 Enjoy the beautiful weather, sample gourmet food served from trucks, and brush up on bicycle safety at the next Food Truck Tuesdays on Tuesday, Nov. 18. The event will be held from 5 to 9 p.m. at Palm Coast's Central Park in Town Center, 975 Central Ave.
The Food Truck event will feature about a dozen food trucks – mobile kitchens, canteens and catering trucks that offer up gourmet foods including appetizers, main dishes, side dishes and desserts. Many menus are kid-friendly.
This edition of Food Truck Tuesday includes Barnwood BBQ, Big Island Bowls, Caketeer, ChiPhi, El Cactus Azul, It's All Greek To Me, Kona Dog, Mayan Grill and Monsta Lobsta. For an up-to-date list of food trucks coming, visit the city's website. Enjoy your favorites and try some of the new trucks, too.
Proceeds from this month's Food Truck Tuesdays will go to the Frank Celico Foundation, started in 2011 in memory of Sgt. Frank Celico of the Flagler County Sheriff's Office. The foundation is dedicated to keeping Sgt. Celico's memory alive through bicycle safety programs, bike helmets and the donation of bicycles to the children of our county who are less fortunate.
An evening of fun entertainment is planned and will include a DJ, balloon art, games and activities by Flagler Sheriff's PAL, and a helmet raffle. All activities are free, except there is a nominal fee for balloon art. The theme for the event is bicycle safety.
Food Truck Tuesdays is presented by the City of Palm Coast Parks & Recreation Department. This month will be the final Food Truck Tuesdays for 2014. For more information, call 386/986-2323 or visit the city's website.