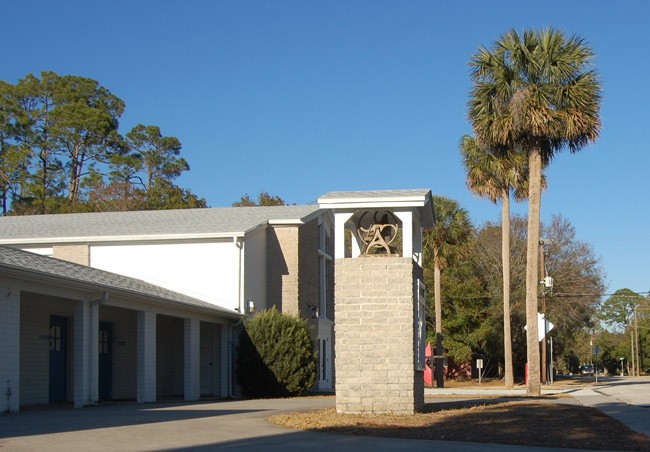 Joshua Meyers has been jailed a lot lately—14 times in the last seven years, the 14th taking place Friday (Nov. 27), for aggravated assault: Meyers, a 26-year-old resident of 1762 Mahogany Boulevard in Daytona North, is accused of brandishing a knife and chasing after two men in front of First United Methodist Church in Bunnell.
One of the men had told Meyers to stop cursing on church property. That man was Jimmy Flynt, the former Bunnell city commissioner, who'd been married at that church almost 40 years ago, and doesn't like its grounds misused or disrespected.
Speaking about the incident Monday afternoon, Flynt said he'd been driving down the road with Robert Clark, and employee of his—Flynt owns Saxon's Towing in Bunnell—when he saw a group of people gathered in front of the church, hollering and cursing and "ready to fight."
"I thought maybe I can defuse this and nobody gets hurt," Flynt said. So he stopped his truck and got out, and told the men that "it's a privilege for you to be here, you don't need to be here." He suggested to them that they intended to curse, they could do so a block away, but not on church grounds, and he told them about getting married there. "This is not going to happen in front of this church," he said he told them. "Ninety percent of the time when you've got a crowd of six to eight people, there's only a couple who are trouble makers," he said. Sure enough, most "were kind of decent about it and started walking down the road."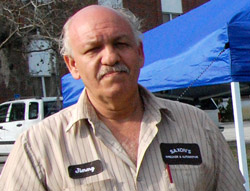 Flynt walked back to his truck. He was just about there when Meyers "followed me across the road toward the back of my truck. I told him to back off, this is over," Flynt said. But then Flynt noticed that Meyers had a knife. He tried to reason with Meyers, telling him things would not end well if he continued to brandish the knife. Clark meanwhile approached. There were two-by-fours in back of the truck, and Flynt says maybe Meyers realized the two men could defend themselves with them against him. He also saw Clark on his cell phone, calling police, which soon got to the scene.
Meyers gave police a different account. He said two men were chasing after him with a knife, and that when he stopped running from them, Flynt drove by and yelled at him for cursing. Meyers said he'd been sitting at a picnic bench in front of the church to eat with his girlfriend and a friend of hers, and never got confrontational with Flynt.
But several other people witnessed the incident, according to Meyers's arrest report. Two witnesses told Bunnell police that Meyers had initiated the alleged aggression against Flynt. One of the witnesses produced a dash cam that showed Meyers walking toward Flynt, and Flynt backing away.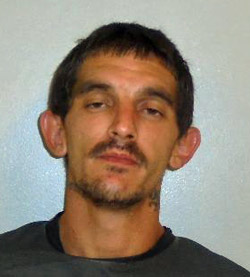 After his arrest, Meyers complained of chest pains and was taken to Florida Hospital Flagler, but was then cleared and booked at the county jail, where he remained Monday on $5,000 bond. His previous arrests have included charges of probation violation, violation a deferred-prosecution agreement, grand theft, and three charges of aggravated assault with a deadly weapon in 2009, all three of which were dropped. In 2007, he was charged with rape. That charge was dropped. .
The Methodist church has been a haven for the county's small homeless population for years, but incidents like Friday's are very rare: it is the first reported arrest on church grounds in many years, though earlier this month the church's new pastor, Terry Wines, spoke of plans to scale back some of the available amenities to the homeless.
Flynt was first elected to the Bunnell City Commission in 2003. He lost in the 2011 election. He said he'd been supportive of the church's efforts for the homeless during the Great Recession. "I didn't know it was going to last this long or get this ridiculous," he said, noting that he'd offered a Thanksgiving meal to one of the individuals at the church the day before the confrontation. (The individual said he'd prefer a beer, according to Flynt, so Flynt drove on.) "These guys have been there for three or four years now. I don't think that's cool." He added: "I didn't stop looking for trouble. It came to me. I'm glad it didn't go any further."