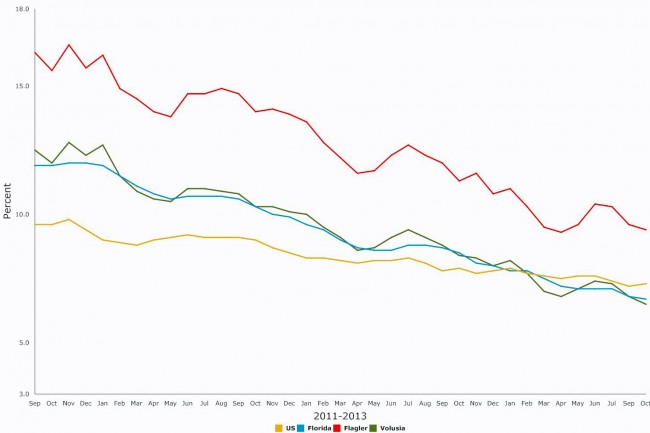 Florida has reached its lowest unemployment rate since August 2008, the state labor department announced Friday. Flagler County's unemployment rate fell to 9.4 percent, not quite the lowest rate in five years: the rate had fallen to 9.3 percent in April before rising again.
But Flagler's lower unemployment rate is not being driven by an increase in the number of people with jobs, but by a significant decrease in the labor force, which has shrunk 4 percent over the year, declining from 35,861 a year ago to 34,424 in October. The number of Flagler residents holding jobs declined by 343 between September and October, and by 821 people over the year. Flagler County still has the state's second-worst unemployment rate after Hendry County's 12 percent.
Hendry was the only county to crack the double-digit mark in both October and September. A year ago, eight counties recorded unemployment higher than 10.0 percent.
In Florida, the new seasonally adjusted mark of 6.7 percent represents an estimated 625,000 people out of work. The department estimates there were 18,000 fewer jobless people in October than in September, when Florida's unemployment mark stood at 6.8 percent.
The October number also represents 31,000 fewer people being out of work than in August, the last monthly jobless figures available before Friday's release. The September numbers were delayed because the U.S. Department of Labor's Bureau of Labor Statistics suspended all data collection during the federal-government shutdown.
The drop in the overall number of unemployed outpaced the number of people who simply left Florida's workforce between September and October — 9,000.
Gov. Rick Scott, who is expected to use the reduction in the unemployment rate as a key to his re-election effort in 2014, continued to credit his tax and regulation-reduction policies for the latest job gains.
"We don't just want a state where job creation reaches a certain number, or unemployment falls to a certain number," Scott said in a prepared statement. "We want to create an opportunity economy. We want a state with dynamic, growing industries that will create jobs and careers for generations to come."
Florida has remained below the national unemployment mark since March. The national jobless rate for October was 7.3 percent, which was up from 7.2 percent in September. Scott and the labor department also estimate that in the private sector Florida has created 440,900 jobs since December 2010.
Scott campaigned in 2010 on a pledge of creating 700,000 jobs within seven years, although the target was at one time "on top of what normal growth would be."
The unemployment totals come as a new Quinnipiac University poll shows that 33 percent of Floridians believe the state's economy is getting better. The poll also found that 21 percent consider the economy to be getting worse, and 44 percent say it has remained about the same. The numbers are relatively unchanged from prior polls in June and December 2012.
Among those who said the economy is getting better, 22 percent said Scott should receive a lot of credit, 36 percent said some credit, 24 percent said a little credit and 15 percent said he shouldn't get any credit.
President Obama receives less recognition for an improving economy, according to the Quinnipiac results, as 15 percent would give the Democrat a lot of credit, 25 percent some credit, 16 percent a little credit and 43 percent none.
Overall, for Florida there were an estimated 9,000 fewer government jobs in the past year, while transportation and utilities, leisure and hospitality, professional and business services, and construction were among the fields with the biggest gains from October 2012 to last month.
Across the state, Monroe County, which includes the Florida Keys, continued to have the lowest jobless numbers, down to 3.8 percent in October, a drop from 4.0 percent in September and 4.8 percent a year earlier. The next lowest for October were Walton, Okaloosa, Alachua and St. Johns counties.
–News Service of Florida and FlaglerLive