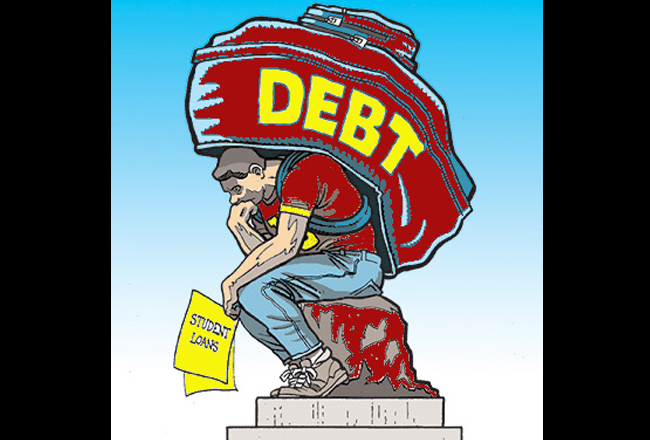 More Florida students can't afford to pay their student loans and are defaulting at higher rates than a year ago, due to the economic malaise, higher interest rates, the rise of for-profit colleges, which often charge higher tuition than public colleges, and the declining value of Florida's Bright Futures scholarship program.
Florida's federal student loan default rates for the fiscal year 2009 were 10.5 percent, a big increase over the 8 percent default rate reported the previous fiscal year, according to the U.S. Department of Education.
Florida has the 7th worst default rate in the nation, an indication of the state's larger economic woes. Florida's community colleges, for-profit colleges, and historically black colleges had higher default rates – with some as high as 25 percent – than traditional state universities.
Proponents of those schools say the higher default rates are a reflection of their bigger populations of low-income students, who take out more loans and don't have family financial support, than any perceived weakness in their programs.
For example, Daytona State College's default rate was 17.3 percent in 2009, up from 12.6 percent the two previous years. Bethune Cookman College's default rate was 14.3 percent in 2009, down a decimal point from the previous year and up from 12.4 percent in 2007.
Nationally, the number of students defaulting rose from 7 percent to 8.8 percent, the highest rate since 1997. Arizona had the highest student loan default rate at 16 percent, with North Dakota and Montana the lowest at 3.4 percent.
Typically a student who doesn't pay back a federal student loan that was taken out to pay for college classes is unemployed or doesn't make enough money to afford student loan payments.
"Borrowers are struggling in this economy," said James Kvaal, the deputy undersecretary of education. He said the rise in the number of students who can't pay their loans is a direct reflection of the high unemployment rate.
To be counted as in default, a student had to have been at least 270 days past due by the end of September 2010. The default rate doesn't include all borrowers, just those with loans that came due in the fiscal year 2009.
Mark Kantrowitz, the publisher of FinAid.org, a resource for financial aid information, said poor job opportunities for new graduates and higher student loan interest rates are to blame for the rise in defaults.
The federal government changed the interest rates on federal student loans in 2006 to a flat rate, versus the variable rate that students had been paying. That flat rate – for most loans now about 6.8 percent – was higher than the variable rate many students were previously paying, causing minimum monthly payments to rise.
"Every year since then, students have been graduating with more and more fixed rate loans and the average interest rate has been going up," Kantrowitz said. Still, unemployment is a bigger driver, he said.
Florida's community colleges typically saw higher loan default rates than most four-year public universities. State College of Florida, Manatee-Sarasota, for instance, had a 16.3 percent student loan default rate for fiscal year 2009.
"Community college students, for the most part, live a lot closer to the edge financially than university students do," said St. Petersburg College President Bill Law. The default rate at his school was 12.5 percent.
Law said students who attend St. Petersburg College may also take out more student loans because some are not eligible for Bright Futures scholarships, which are awarded by grade point average and test scores.
Kathy Mizereck, executive director of the Florida Association of Postsecondary Schools and Colleges, said students who attend Florida's for-profit colleges and technical schools have greater financial need.
"The students who attend our institutions tend to be older, working adults who have little or no support from family," Mizereck said.
Some of the schools with the highest federal default rate came from for-profit colleges that focused on career training, such as cosmetology. For instance, over a quarter of students who had to repay loans in fiscal year 2009 taken out to pay for classes at Orlando-based Centura Institute were not able to, according to federal data.
Centura offers training in massage therapy, nursing, and medical billing.
Nationally, Kvaal said for-profit colleges are partially driving the increase in student loan defaults. The default rate for all for-profit colleges rose from 11.6 to 15 percent in the fiscal year 2009.
One reason the government tracks this data is that schools with default rates of 25 percent or higher for more than three years in a row lose their ability to offer federal loans to students. No Florida schools met these criteria.
For-profit colleges sometimes charge higher tuition than community colleges or state universities. Mizereck noted that is because they receive no state funds and are largely supported by student tuition.
Kantrowitz said for-profit schools do cater to low-income students. "The student who goes to for-profit colleges are almost guaranteed to graduate with debt – 96 percent do," he said.
But the school's for-profit status also adds to the debt load, he said.
"A few thousand dollars of that debt is due to the profits," Kantrowitz said. He did a study that indicated as much as 10 percent of a student's loans from a for-profit college are attributable to its profit.
"For-profit colleges are charging a little bit too much compared to other institutions," he said.
Students who cannot pay student loans back are not given a free pass. Their accounts are typically passed to a collection agency, and in the most severe cases wages and tax returns can be garnished.
–Lilly Rockwell, News Service of Florida