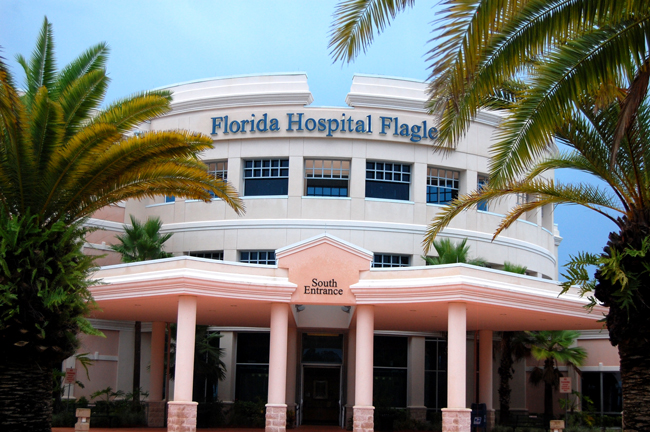 United Healthcare and Florida Hospital, which owns Florida Hospital Flagler, have been negotiating a contract since November. They're at a deadlock. The contract expires on Aug. 15. Florida Hospital has decided that it will no longer honor United Healthcare rates after that date, and United Healthcare has decided that it won't cover its patients according to in-network rates should they decide to go to Florida Hospital facilities, unless it's for emergency treatment. In that case, in-network rates apply regardless.
For half a million Central Florida patients, including thousands in Flagler County (and thousands of children on Medicaid who are covered through United Healthcare), that means going to any one of Florida Hospital's 17 major facilities and many more clinics will not be an option anymore, unless the patients are willing to pay the far larger cost of going to an out-of-network health care provider.
The Flagler County school district, the county's largest employer, just signed a contract with United Healthcare that covers most of the district's 1,800 employees and their families. That contract kicks in Sept. 1. They're luckier: United Healthcare has told the district that even if the contract runs out on Aug. 15, United Healthcare claims at Florida Hospital Flagler and its clinics will be honored indefinitely, at in-network rates. But United Healthcare may give the district a 90-day notice at any point, beyond which in-network rates would no longer be honored.
That makes the district nervous. The school board and a United Healthcare official will discussed the matter publicly this afternoon in a meeting, but the discussion was inconclusive beyond the district's agreement to stay with United Healthcare for now and re-visit the issue at its next meeting, pending further discussions with United on attempts to extend the assured window of coverage.
Other people covered by United Healthcare, and restricted by income, geography or circumstances to getting their care at Florida Hospital Flagler, may not be as lucky, though United Healthcare is pledging to extend in-network rates for at least 75 days after Aug. 15 (should negotiations fail) to all Flagler residents who have United Healthcare coverage.
The Dispute in Context
The dispute sums up for Flagler County an emerging conflict that hospitals and insurers are inflaming across the country. Health care providers and insurers are lining up to maximize their profits under the new health care reform law. That law extracts higher payments from hospitals and limits how much insurers can gouge their clients in premiums or arbitrarily dump them from coverage.
To make up what they fear they'll lose, hospitals are raising rates, and insurers are pushing to lower or minimize the reimbursements they pay, and to increase the decision-making of insurer adjusters when a patient wants a procedure done, among other tactics. The contradictory forces are playing out in negotiations between hospitals and insurers—at patients' expense.
That, in essence, is at the root of the conflict between Florida Hospital and United Healthcare, two giants of their respective industry who are also gigantically profitable, even though Florida Hospital is ostensibly a non-profit company. For all their claims to fairness, "parity" and competitiveness, neither United Healthcare nor Florida Hospital are anywhere near difficult financial straits. To the contrary. Despite the recession, both companies have thrived, recording record profits.
Protecting Record Profits
United Healthgroup, which is United Healthcare's parent, told shareholders two weeks ago that it expects current-year revenue to reach $93 billion. Its second-quarter profits of $1.12 billion was a 31 percent increase over a year ago despite the recession. United's health-benefits division such as United Healthcare added 700,000 clients in three months after accounting for a loss of 400,000 clients due to jobless people losing their benefits. Flush with cash, United increased dividend payments to shareholders to 13 percent of the company's cash—an enormous proportion by any measure. UnitedHealth Group is shouting to shareholders: look how rich we are.
Florida Hospital is ostensibly a non-profit organization run by Adventist Health Systems. Some companies are more non-profit than others. Adventist and Florida Hospital are not among them. They're non-profit in name only. Florida Hospital's network of 17 hospitals in the state is part Adventist's 38 hospitals in the nation. Every year since 1999, Adventist has averaged year-over-year profit gains of 29 percent, including 55.5 percent in 2009, when it earned $363 million in profits. In 2007, Florida Hospital CEO Lars Houmann—who's featured affably talking about the unfairness of United Healthcare's demands in a three-minute spin video—was paid $1.1 million. Adventist CEO Don Jernigan earned $3.5 million in 2007. (Read an analysis of Houmann's video here.)
Florida Hospital makes much of its charity payments. But the company—like all non-profit hospitals—significantly inflates its charity through accounting tricks. For example, when an uninsured patient gets a $10,000 procedure, the hospital eats that cost. But a $10,000 appendectomy may actually cost $5,000 for an insured patient, because that's the rate negotiated with insurance companies. The hospital doesn't list that rate as its charity cost, but the full $10,000, literally doubling the actual cost to its bottom line. So while Florida Hospital talks a good game of wanting "parity" in the cost structure insurers pay for given procedures, the hospital doesn't apply the same parity to its own accounting procedures.
The company's website claims that it is "a not-for-profit healthcare organization that emphasizes Christ at the center of care." Emphasizing the health security of half a million patients, at the moment, appears to be in a differenc circle of care.
The Disputed Contract
Florida Hospital says it hasn't renegotiated the contract with United Healthcare since 2001. Now United Healthcare wants to keep its rates lower than what other private insurers are paying the hospital. "If we were to accept the original rate increase proposed by Florida Hospital, it would mean employers and their employees would be paying 63% more for their services at Florida Hospital by 2014 compared to what they pay today," says Tracey Lempner, a United Healthcare spokeswoman. "We have a responsibility to our enrollees and employers in central Florida to provide access to health care at affordable rates, and we could not agree to increases that would raise their expenses so sharply."
"We're not talking about what the number is. They're the ones who have thrown the number out there," Florida Hospital spokeswoman Sam Olenick said. But Olenick didn't dispute the figure, either, saying it only shows how far United Healthcare is lagging behind other insurers in terms of what it ought to be paying. For example, an MRI might cost $700 more in three years than it does now, for a United Healthcare patient.
"The parity issue with United is that all of their competitors are at a certain point with Florida hospital on our contracts," Lars Houmann, the Florida Hospital CEO, says in a video on Florida Hospital's website, "and we're happy with where we're at with all of them, and United has a distinct head start because they're, what they're paying for services from Florida Hospital, it is not where those others are, and we don't think they should have that unfair advantage in the market."
But there is no parity between what private insurers pay for procedures and what Medicare pays, which is typically lower. Florida Hospital isn't about to jeopardize the coverage of Medicare patients over that (and run afoul of federal regulations or lose one of its most lucrative source of income: elderly patients).
Lempner said "UnitedHealthcare fully supports a single fee schedule across all plan designs to simplify the contract and make it easier for both parties to process claims."
Another point of contention is United Healthcare's emerging demand from hospitals that the insurance company be notified within 24 hours whenever a patient wants services. The reason the insurer wants that leverage is because it increases the insurer's ability to deny coverage upfront and limit exposure to payments down the line. Hospitals are resistant to the notification, in some states legislatures have either approved laws or are considering laws that would prevent the 24-hour notification requirements from being in effect, at least on weekends and holidays.
Asked if the 24-hour notification is part of the dispute in Fliorida, Lempner said: "We cannot discuss the specifics of contracts that we have with individual hospital systems."
That, in the end, is the shield behind which both sides are hiding as they make unverifiable declarations to the public.