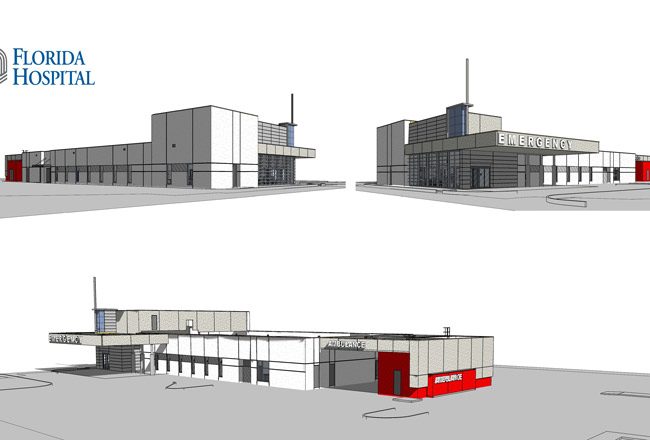 A stand-alone 24-hour emergency room run by Florida Hospital Flagler–the future AdventHealth–is coming to north Palm Coast, at the I-95 interchange with Matanzas Woods Parkway, near Matanzas High School, sometime in late 2019 or in 2020.
The stand-alone, 12-bed ER will be next to a medical building on 6 acres county government Monday evening agreed to sell to hospital for $175,000, land that would be carved out of a 42-acre county property. The two buildings will employ 40 people, all expected to be net additions to Florida Hospital's local workforce. The hospital is the largest private-sector employer, with some 1,000 employees in Flagler. As with an ER attached to a hospital, the free-standing ER will accept and treat all patients regardless of ability to pay.
The hospital's expansion is part of a trend of stand-alone ER's in health care. The stand-alone facilities are distinct from emergency clinics and are indistinguishable from ER's that are attached to hospitals, providing a broader range of medical services for more acute health emergencies than a clinic can address, including imaging. The Florida Hospital system opened several such ERs in Central Florida and in the Tampa area.
"It is a strategy our company has been very successful with in other regions," Wally De Aquino, Florida Hospital Flagler chief operating officer, said.
The addition in north Palm Coast is both a harbinger of the area's expected high growth in coming years–growth prompted in part by the opening of the I-95 interchange at Exit 293 in March 2016–and a reflection of new trends in hyper-competitive health care sectors: by opening an ER at the north end of the county, fewer people will need to go to the ER in Town Center–or to go to the ER at Flagler Hospital in St. Augustine.
"In addition to all the news about all the new developments toward the northern part of Flagler County we felt the residents in that area are about 10 miles away from the hospital," De Aquino said. "We wanted to make sure the current residents have easier and better access to health care there." The hospital has already met with the county's rescue services to discuss the plans, and will meet again to develop protocols on patient transportation. For now, Florida Hospital is the likely resource should a patient need to be transferred from the new, stand-alone ER to the main hospital for admission. De Aquino said the hospital is not wanting to overburden county ambulance services for transport between facilities.
The county's land is split between uplands and wetlands, so mitigation of wetlands will be required, and the hospital will have to work with Palm Coast government for zoning changes. "We think it's going to be a win-win and it'll serve an area up there with much-needed medical facilities nearby," County Administrator Craig Coffey told the county commission Monay evening before a unanimous vote to approve the sale. The parcel is at 2355 Matanzas Woods Parkway, within the limits of Palm Coast. The county had bought the larger parcel a decade ago as part of its plans for construction of the interchange there and the realignment of Old Kings Road's right-of-way. The sale contract with Florida Hospital enables the hospital to buy additional acreage if need be, at $2,000 an acre for wetlands and $50,580 an acre for uplands.
The hospital expects to invest about $25 million in the new new facilities.
David Ottati, regional CEO of Adventist's Central Florida Division, North Region, said the free-standing ER will enable patients to be treated and released more quickly, "and it really could speed up many people's experiences in getting the care they need."
The project also plays into future plans at the main hospital. "As the county continues to expand our hospital will continue to expand and we will continue investing many resources, both capital and people," Ottati said. That's true of the main 99-licensed-bed hospital as well, where there are plans to expand the existing ER–and, in the future, to add beds. "We'll want to continue growing with the community, so it's a definite possibility," Ottati said.
"We believe in investing in the community. Not only will this project bring new, easier-to-access points of care to Flagler County, but it is also expected to bring jobs and economic growth to the area," said Dr. Ron Jimenez, Florida Hospital Flagler CEO. "We will use as many local vendors as we can for this construction project. Once completed, we will need to hire additional physicians and staff, and are looking to add proximally 40 full-time employees."
Construction is anticipated to take 10 months and will begin after Florida Hospital Flagler closes on the property and all necessary permits are obtained, a process Otatti said may take three to four months. He said the drawings for the planned ER and medical building have been completed. The architect is Orlando-based HuntonBrady.