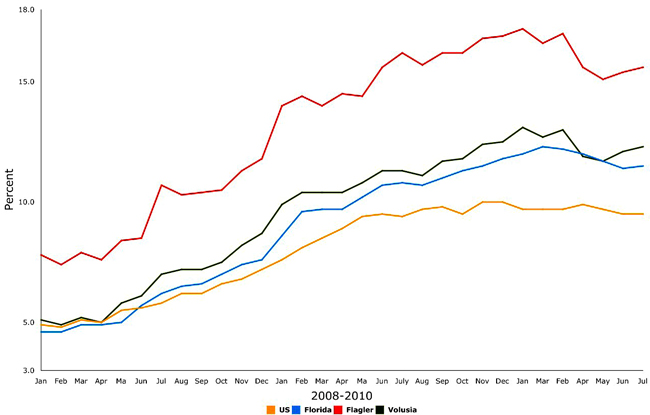 Census jobs all but over, Florida's job picture stalled again in July as a mere 5,700 jobs were created, not enough to keep up with growth in the labor force. Unemployment edged up a decimal point, to 11.5 percent, with the number of unemployed Floridians at 1.055 million, according to figures released this morning by Florida's labor department.
---
Click On:
Where and how to file for unemployment
---
---
In Flagler County, where the unemployment rate had dipped to 15.1 percent two months ago, the rate started going back up last month, and rose again this month, to 15.6 percent (from June's 15.4). But the county's labor force of 32,898 grew as well, by 152 workers, reversing an earlier trend. The reversal suggests either that people who had previously been so discouraged by the labor picture to drop out of job searches altogether are again looking for work, or that more people are again moving into the county.
Flagler County does not have the highest unemployment rate in the state. Hendry County does, at 19.7 percent. Flagler is second. But that's slightly deceiving. When measured by "metropolitan statistical areas," the Palm Coast MSA ranks at the top of the unemployment table, with 15.6 percent unemployed. Sebastian-Vero Beach is second, at 14.9 percent, followed by the Port St. Lucie MSA, at 12.2 percent.
Ranked by county unemployment, Flagler is followed by St. Lucie (15.2), Indian River (14.9) and Okeechobee (14.6). The lowest unemployment rate is in Walton County (7.5 percent), followed by Liberty (7.6), Okaloosa (7.9), Monroe (7.9) and Lafayette (8.2).
In June across Florida most job sectors saw small but encouraging signs, as modest job gains were recorded in construction, manufacturing, trades, transportation, professional services, and in leisure and hospitality industries.
Not so in July. Construction was again on the losing end, shedding 2,700 jobs (and adding to job losses for the year to July of 27 percent in that sector). Trade and transportation also lost jobs, as did professional businesses, waste services and some (but not all) segments of the leisure industry. Government jobs were the biggest losers, with 3,400 jobs lost, mostly at the federal level (those census jobs again).
There were some gains: Manufacturing picked up 2,600 jobs, retail picked up 3,700 (electronics and appliance stores, food and beverage, health and personal care, clothing and accessories and department stores picked up the most while furniture and building material stores lost the most), and education and health care, the biggest winners, picked up 9,100 jobs.
Last month, the federal government extended the two unemployment compensation programs that had expired earlier in the year, the Emergency Unemployment
Compensation (EUC) program and the Extended Benefits (EB) program. The extensions are 100 percent federally funded and do not impact the state's Unemployment Compensation Trust Fund or the state business tax. EUC provides up to 53 weeks of federally-funded benefits for those who have exhausted their regular
state claim. The new law did not create additional weeks of benefits but did extend the qualification deadline through November 2010. The agency began paying EUC benefits to qualified customers within one week of the legislation's enactment and is on track to pay $3.6 billion to 527,000 people through April 2011.
EB provides up to 20 additional weeks of federally-funded benefits to people who exhaust all regular state benefits and EUC benefits, provided the state is in an EB period. Governor Crist signed Executive Order 10-170 on July 23, 2010, which extended Florida's EB period by six months. The agency is on track to pay $604 million to 250,000 people by December 4, 2010.