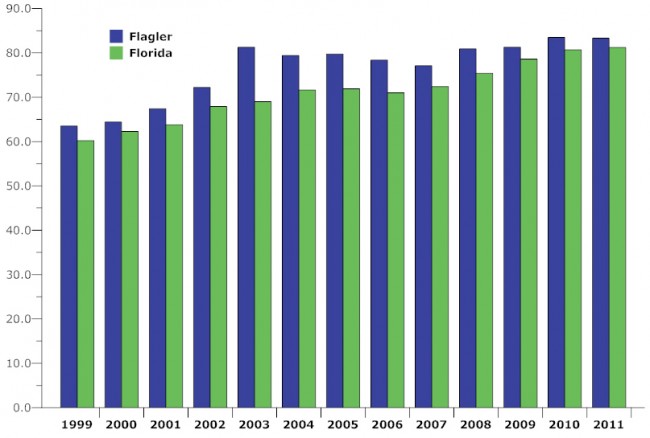 Florida's high school graduation rate reached a new high last year, at 80.1 percent, improving from 70.3 percent five years ago.
In Flagler County, the rate declined by two decimal points, to 83.3 percent. But that number is somewhat deceptive. The Flagler school district's rate would have improved to 84.4 percent had it not been dragged down by Heritage Academy's dismal graduation rate of 27 percent. Heritage, a failing charter school, graduated just five of 18 seniors last year. The graduation rate at Matanzas High School was 89.8 percent. The rate at Flagler Palm Coast High School was 83.1 percent.
For the district as a whole, graduating black students continues to be a challenge. While the white graduation rate is at 87 percent overall, it's at 71 percent for black students, and 80.5 percent for Latino or Hispanic students. Asians are maintaining the highest local graduation rate, at 92.6 percent, as they are across the state.
The district's drop-out rate was 1.7 percent, down from 1.8 percent the previous year and 2.2 percent in 2009. The graduation and drop-out rates are calculated differently. The graduation rate counts ninth through 12th graders, following them over four years, and it counts all those who graduated with regular and special diplomas within four years–but not those who got a GED (or General Equivalency Diploma) or those who went to adult education.
It also does not count those who may have needed to stay in school a fifth year, as a number of students do, and earn that diploma after a fifth year. High schools have often complained that while they may be doing just what the state wants them to do–ensure that students graduate–the exclusion of fifth-year students from their graduation rates ends up counting against a school's overall rate.
The drop-out rate is a single-year rate. In other words, it totals up the number of students in ninth through 12th grade and calculates the number of students who, during that year, left school for for reasons other than home-schooling, adult education or transferring to another school. If students don't fit in any of these three categories, they're considered drop-outs.
Graduation and dropout rate calculations have bedeviled school administrators and analysts for years. There is no single way to calculate either, and no single way that calculates graduation rates uniformly across all 50 states, though beginning next year, the federal government will require that just such a calculation be part of the mix. Florida's graduation rate would be considerably worse, for example, if special diplomas were excluded.
While the state's graduation rate is improving, it remains well below the national average, and still in the bottom fifth nationally, with Florida's drop-out rates among the highest in the nation, and its college-entrance rate among the lowest.
The Florida Department of Education's full report is below.