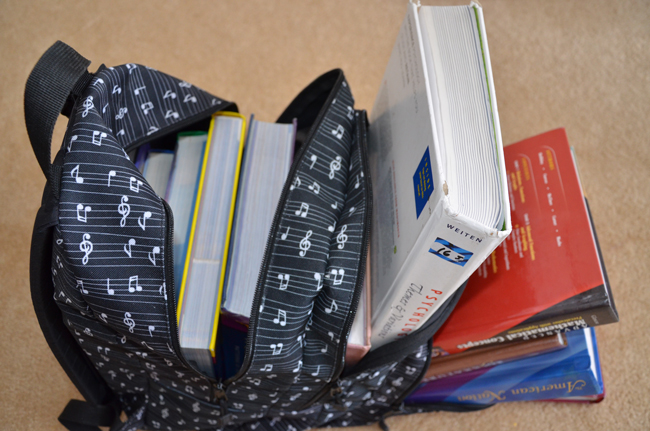 Backpacks for lugging heavy textbooks may be a thing of the past under a budget proposal approved by lawmakers that requires schools to adopt digital textbooks in four years.
Florida would be one of the first states in the country to set up a timeline for a conversion to electronic textbooks if this measure, which was contained in an education budget bill, is signed into law by Gov. Rick Scott.
"Everyone realizes that digital seems to be the wave of the future and in many respects, the future is now," said Sen. David Simmons, R-Maitland, who helped craft the education budget.
The proposal (SB 2120) requires Florida public schools to adopt digital-only textbooks by the 2015-16 school year, and spend at least 50 percent of their textbook budget on digital materials by that time.
It also permits school districts beginning next year to set up pilot programs to test electronic textbooks.
"Florida is out front in producing a mandated switch to digital," said Bob Boyd, a lobbyist for the Association of American Publishers, a national textbook industry group. "I don't know of any that have passed legislation like this that says by a certain date everything should be digital."
The Florida Department of Education is supportive of the switch, saying that it is coupled with a mandate to begin conducting all statewide assessments online and that is easier to update electronic textbooks.
"We don't want to set up a situation where the first time a student has access to a computer it's a test day or a practice test day," said Mary Jane Tappen, the chancellor for curriculum, instruction and student services for the Florida Department of Education. "They should be comfortable accessing content and interacting electronically."
Rep. Marti Coley, R-Marianna, who also helped craft the education budget, said it will "meet the students where they are in their learning styles." Coley said the timeline was needed in order to take advantage of federal grant money available through Race To The Top. A pot of money is set aside for technology upgrades under the program, she said. "The timing was critical to be able to use those Race To The Top dollars now," Coley said.
But some schools say they are uncomfortable with a hard deadline, especially given the severe budget cuts schools have suffered in recent years, which has left them with little wiggle room to pay for big-ticket expenditures.
Sen. Bill Montford, D-Tallahassee, said school superintendents are "supportive" of the move towards electronic textbooks. "But the issue is always the same, which is how do you afford it?" Montford said. "We have to be careful that we don't expect school districts to enter into a program that is not funded."
Some school lobbyists echoed Montford's concern, saying it has the potential to become an unfunded mandate.
"In a year when you're cutting the budget by 8 percent, that doesn't give you a whole lot of resources," said Vernon Pickup-Crawford, a lobbyist for several school districts. "It is four years down the road. That gives us some time to start looking at what we need to do and hopefully in four years we can scrounge up the resources."
While the cost of purchasing the digital textbooks will be about the same as digital textbooks, school districts would also have to pay for the supporting hardware, such as computers or handheld devices such as a Kindle or iPad.
"There is some cost savings, but most of the cost goes into producing the materials," Boyd said. He explained that the cost of producing textbooks comes from the research and development, not printing costs. "My industry does not own a printing press," Boyd said, explaining they had no stake in traditional textbooks.
Coley, meanwhile, believes that "in the long run it is cheaper to provide content through digital technology."
Other lawmakers said they were concerned that going digital would leave students who don't have access to the Internet at home further behind. "I am very concerned that there are children in low income families who don't have computers or don't have all the same resources that other children do," said Rep. Marty Kiar, D-Davie.
The digital textbook proposal was born from separate education budget bills the House and Senate produced earlier in session which grappled with the issue in different ways. The Senate wanted a slower approach, using only an optional pilot program. The House wanted a more aggressive switch to digital textbooks, requiring school districts by the 2013-14 school year to spend half of their textbook dollars on digital materials.
The two chambers compromised, extending the deadline by two years and including the pilot program.
There are hints already that lawmakers intend to revisit the issue in upcoming sessions, perhaps delaying the deadline by a few years if the pilot schools find that digital textbooks aren't helping students.
So far there is only one school in Florida that has gone all-digital: Clearwater High School in Pinellas County. That school issued a Kindle e-book reader to each of its students this school year to use as digital textbooks. Publishers say they are content neutral and have no preference about which device schools use.
"There will be time for the Legislature to amend the time period if nothing is found to have worked," Simmons said. "It's so far off, we're talking about 2015 and this is 2011."
No matter what lawmakers decide on timelines, it's clear the state is ready to leave traditional textbooks behind – literally. The bill makes another seemingly minor tweak that eliminates all use of the word "textbook" replacing it with the more neutral "instructional materials" to include digital materials.
–Lilly Rockwell, News Service of Florida