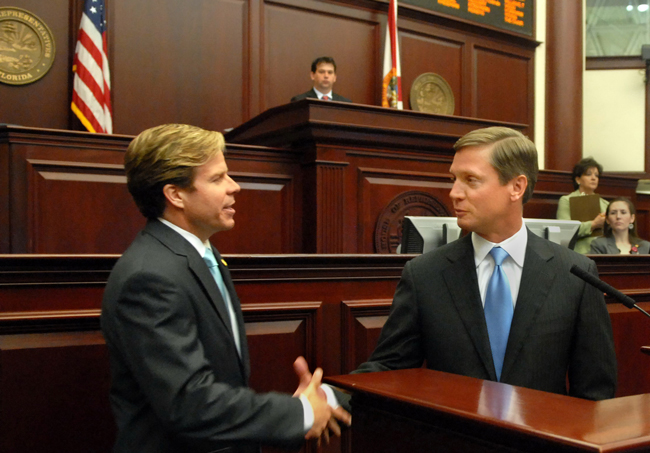 The Florida House on Wednesday overwhelmingly approved a series of bills aimed at restricting abortions, after two days of debate that invoked the Bible, back alleys and emotional family decisions.
Five of the bills touched on issues ranging from teen abortions to ownership of abortion clinics. Another dealt with the "Choose Life" license plate.
But fundamentally, the debate centered on abortion issues that have divided the country for decades. Bill supporters said they were protecting life, with Miami Democrat Daphne Campbell imploring members to "do the right thing and follow Bible principles."
"This is a day to rejoice," said Rep. Matt Gaetz, a Fort Walton Beach Republican who sponsored one of the bills. "This is a great day for Florida because we're doing the right thing."
But opponents said the bills would interfere with the rights of women to make highly personal decisions about their health and pregnancies.
"This bill is a backdoor attempt to send women to the back alleys," Rep. Scott Randolph, D-Orlando, said at one point.
The debate sometimes became highly personal, with Rep. Ed Hooper, R-Clearwater, telling House members that his daughter became pregnant at age 16. Hooper said he thought abortion might be the best option, but his daughter decided to give birth.
"Twenty-five years later, today they're a healthy, happy family," he said, adding that the experience changed his life.
Deerfield Beach Democrat Gwyn Clarke-Reed, however, warned that one of the bills would particularly hurt the ability of low-income women to receive abortions.
"Here we go again — females being attacked in the Florida (House) chamber," Clarke-Reed said.
The Republican-dominated House approved the bills on largely party-line votes. Each of the bills received 79 or more votes in the 120-member House. Similar measures also have been moving through the GOP-controlled Senate.
Perhaps the highest-profile bill (HB 1127) would require women to undergo ultrasounds before they can have abortions. They would have to sign forms stating they do not want to see the fetal images or hear descriptions.
Another proposal that drew heavy debate would ask voters in 2012 to approve a constitutional amendment barring the use of public funds for abortions.
That proposal (HJR 1179) also would prevent the Florida Constitution from being interpreted more broadly than the U.S. Constitution when it comes to abortion issues. That is important because a privacy clause in the Florida Constitution has been successfully used in the past to challenge abortion restrictions.
One of the bills (HB 1247) revived a long-running debate about a law that requires parents to be notified before minors can get abortions. The measure would tighten restrictions on minors who seek judicial approval to have abortions without their parents being notified.
Another proposal would place new restrictions on abortion-clinic ownership. The bill (HB 1397) would require that clinics opening after Oct. 1, 2011, be owned and operated by physicians or groups of physicians.
A fifth bill (HB 97) would bar abortion coverage in policies that will be sold through a future state health-insurance exchange. The federal health overhaul requires such exchanges to serve as new marketplaces for individuals and small businesses to buy policies.
The Choose Life measure, meanwhile, would change the process for distributing money collected from sales of the license plate. That money is supposed to go to organizations that help pregnant women who decide to put babies up for adoption.
Under current law, that money is funneled through counties. But the bill (HB 501) would send the money to a non-profit group, Choose Life, Inc., which would then distribute it.
–Jim Saunders, News Service of Florida