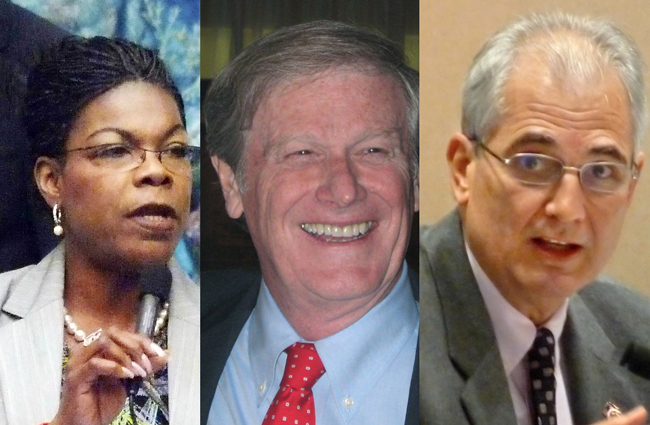 The lawmakers who represent Flagler County in Tallahassee held their annual open mike session Wednesday afternoon, hearing from a little more than a dozen people and perhaps three times as many wishes in a two-hour session chaired by Sen. John Thrasher at the county administration building.
Three lawmakers showed up: Thrasher, the Jacksonville Republican who chairs the local delegation, Fred Costello, the Ormond Beach Republican and member of the House, and Audrey Gibson, the Jacksonville Democrat and newly-elected senator who's replacing Tony Hill. True to form, Bill Proctor, Flagler's principal representative in the House, did not show up. Nor did he last year.
The session was held three months earlier than its usual December slot because the Legislature will be meeting in early January this year, as opposed to March, in order to take on its decennial redistricting—the extremely political, contentious battle over new electoral boundaries for congressional, state Senate and state House seats.
While unlikely to yield results in the main for most issues brought up before the legislative delegation, the annual session is the most coherent sum-up of all local government, organizations' and citizens' top concerns. It enables those listening to hear—as they rarely do in as efficient a setting—where interests of local governments intersect, and where they may diverge, and to what extent some issues are, in fact, hyper-local, affecting only the jurisdiction in question. Few issues are that local. The county's quarterly meeting between all local government agencies was designed to do something similar, minus the state's ear, but those meetings, when held at all, have devolved into substance-less talk sessions that have tended to highlight rifts more than open doors for cooperation or understanding.
Wednesday's meeting began with the usual niceties and mutual flatteries—and yet another inappropriate Christian prayer, by Costello, to formally open the government meeting—the floor was turned over to Alan Peterson, chairman of the county commission.
Big Guns, I: the County's Peterson
Peterson laid out his wish list in priorities. His first: that the state, contrary to the Department of Transportation's aims, maintain the fair distribution of the gas tax. DOT's five-year plan may be diverging revenue to alleviate congestion on I-4, which, five years from now, would eliminate Flagler County from benefiting from the state's gas tax. Second: "To exempt the online booking companies is a terrible mistake." Right now, online booking companies don't pay their share of the sales tax. A third priority: Restore funding for Florida Forever, the state program designed to buy and preserve environmentally sensitive lands in perpetuity. Lawmakers, with Gov. Rick Scott's enthusiastic support, have all but demolished the program. "This is really a wish," Peterson said. "We realize, as you mentioned, that projected revenue from the state perhaps will decline again, but we'd like you to keep in mind that when and if the funds are available, that you do restore it. Flagler County has several times increased their residential real estate tax to protect the environment and we'd really would like you to keep that in mind." Peterson also noted the importance of library funding, which has—like so much else—been under assault from the state.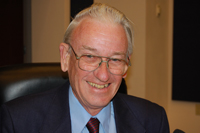 Peterson then mentioned the county health department, yet another target of state slashing: "This is the one where there can be to the county some substantial unintended consequences," Peterson said. "If you take away the funding and the state does and tries to put it into HMOs, there is no HMO in Flagler County that can handle the volume that our current county health department" is servicing. "So if you take the funding away, we don't know what's going to happen to the people that are presently utilizing it. It seems like there should be a stop-gap, or there should be some way that we can determine who is going to fill the gap." (Patrick Johnson, the administrator of the Flagler County Health Department, later appeared before the lawmakers—not to plead, but to give a brief health (and less than healthy) profile of the county population. "Most important health problems to address? Addiction, obesity, cancer and diabetes," according to a recent survey.)
Peterson also asked the legislators to designate Flagler County (or parts of it) an enterprise zone, which would encourage businesses to locate here through tax incentives. There are 59 such zones in the state—a number high enough to shed doubt on the effectiveness of the zones, since they virtually carpet the state, though none have been set up in Flagler, and existing ones elsewhere, including in Hendry County, the single-most economically distressed county in the state, haven't reverse local economies' fortunes.
Peterson also called for fairness in redistricting: Flagler is hoping to be kept "whole," meaning that it should be represented by a single senator, a single house member, as opposed to the mosaic-like proposals currently being floated, which split Palm Coast, Flagler Beach and the county itself into pieces.
"Please pay attention to the redistricting committee next week," Thrasher told Peterson. "You may see something you might like. Or not like, I don't know, it all depends."
Big Guns, II: Palm Coast's Jon Netts
Jon Netts, the Palm Coast mayor, was the next big gun. He had half as many priorities as Peterson's. Two of them were the same as Peterson's: opposition to the state transportation department's plan to cut Flagler out of the gas-tax revenue-sharing formula, and a plea for lawmakers to finally impose sales tax requirement on online travel and hotel booking companies.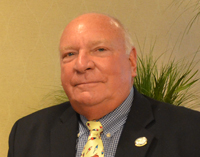 But Netts's first priority is the regulation of internet cafés, the low-stakes gambling halls that have been proliferating in Palm Coast (nine of them there) and Bunnell (where slot machines have been incorporated into various businesses, including non-profit clubs, that aren't strictly gambling halls). "I don't think we can depend on the commerce system to deal with it. They are burgeoning throughout our state, and we're a little bit confused. We had one attorney general opinion saying that they are legal. We had another general attorney say they are not legal. Quite frankly, we would just like some clarity. If they are gambling, then they need to be removed. If they are somehow not gambling, then we need to have regulation and probably, from the state perspective, some taxation on them. It's a source of revenue that should not be overlooked if you decide that they are legal."
Netts, questioned on the matter by Costello, compared the gambling issue to pill mills: regulations must be statewide, he said, to prevent a hodgepodge of local rules enabling loopholes and the migration of the problem from better-regulated zones to lesser-regulated ones. Palm Coast could, for example, develop stringent enough regulations, but Bunnell won't.
The Smaller Trinity: Beverly Beach, Flagler Beach and Bunnell
Next in the batting order was Steve Emmett, the Beverly Beach mayor, whose first question was a quiz: "Do you know where Beverly beach is?"
"I do," Thrasher replied. "It's on the beach."
Emmett had one issue on his mind: the town's antiquated water utility and sewer plant, now owned by the county, but needing serious upgrade. The state Department of Environmental Protection has appropriated $750,000 to that end, but has yet to release the money. The county also has money in its budget, which it would pair up with the state's—not to rebuild the plant, but to connect to Palm Coast water services. That's created a legal problem, Craig Coffey, the county administrator, told the lawmakers, stepping up to clarify the matter next to Emmett: the original DEP appropriation was contingent on the county using the money either to upgrade the plant or connect Beverly Beach to Flagler Beach's water utility. "So we need your help with DEP to allow that flexibility," Coffey said, "for us to connect to the city of Palm Coast and allow us to use that for connection fees to the city of Palm Coast," which amount to more than $800,000. The county grant expires next Jan. 30.
Emmett finished his remarks by reminding lawmakers that his town has never asked for state or federal money. This is the exception, which would significantly improve the quality of life for the 5,800-foot-long town's 352 homes.
Thrasher, bracketing the remarks in another attempt at congeniality, misfired again when he told Emmett: "I was in Flagler Beach not long ago, with the governor, and we had dinner there on the beach, and everything, he and I got to sing a couple of sings actually."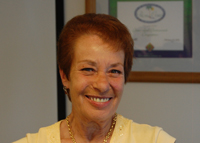 Flagler Beach was represented by Commissioner Jane Mealy, who had one overriding issue: the city's beaches, their protection, and the enduring uncertainty over how to protect them. The current hope is beach "renourishment," which would dump sand on the beaches. "Millions of dollars have already been spent, with some glitches along the way, like—no funding," Mealy said. "Not finding the correct sand in the local waters or the state waters so they have to go out to the federal waters and start the whole study all over again. We're told by the Corps and the DEP that this feasibility study could take anywhere from 18 months or several years, with probably no project being done until 2017. And again you think back to last weekend and how many of those we could go through before 2017." The weekend's storm surge shaved off sand from the beaches. Mealy had no actual request other than "support in the form of money when we need it and permitting once a decision has been made as to what route we'll be going."
Terry Potter, who represents the citizen's group called Save Flagler Beach, later appeared before the lawmakers ("I have to admire you being able to stay away during all these hours of presentations," he started, "it's not something I could do") and made the group's pitch against the series of state attempts to stop erosion so far (from rock revetments to seawall to talk of renourishment) to press again for a particular sort of technology (provided by Holmberg Technologies) that would rebuild the beach more naturally—if the state was willing to give it credibility and funding.
Armando Martinez, the Bunnell city manager, closed out the presentations from local governments (which, curiously, did not include a school board representative, at least not on the formal agenda: Colleen Conklin, the school board member, later appeared before the panel under "other presenters." She argued against passing bills without proper funding, which she compared to the state writing bad checks.) Martinez had one critical request: for lawmakers to ensure that Bunnell would have the opportunity to bid on a Department of Transportation contract that's critical to the city's operations. The city has held that $1.3 million contract for the last several years, keeping 14 jobs on its payroll, but that relationship appears in doubt. "If we don't get this contract, it's not guaranteed that those jobs will stay in Flagler County," Martinez said.
Martinez also brought up internet cafés, supporting the notion of state-wide regulations if only to end the local confusion and divisions on the matter.
The floor was then turned over to various local organizations as interest groups, starting with Sandra Forsythe and the annual attempt—in vain, year after year—to have the Legislature hear the case for the Equal Rights Amendment. It hasn't happened in a decade. It's not about to happen—not with one of the most conservative, and in more accurate respects reactionary, legislatures in the country. Other presenters included representatives of the Stewart Marchman Act Behavioral Health and Recovery Center (the drug and alcohol addiction center), Elder Source, and a representative from Brain Injury Association of Florida, all repeating the same plea: maintain or don't cut funding for those services.