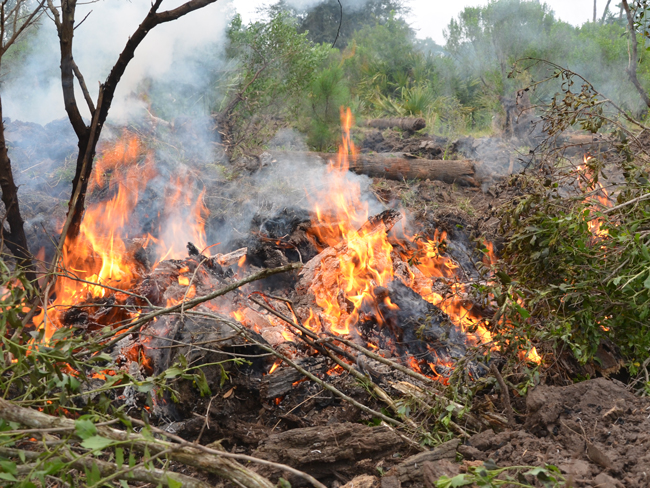 The wildfire season is not over.
"Lightning got us," Flagler County Fire Chief Don Petito said on Tuesday. "Yesterday we had a lot of lightning strikes that started a lot of little fires."
Wildfires are like hurricanes: they're given names when they're serious. They're not when they're easily controlled and put out. There were 10 named new fires by Monday evening, the largest one a 37-acre blaze off Roy Road.
Dinner Island, an area just north of Espanola, west of Old Brick Road and a bit north of the 5,100-acre Espanola fire (which is still smoldering), produced four fires, the largest one at 10 acres, another at 9 acres, and two smaller ones of 2 and 1 acre.
A fire at East Black Point started small, at less than an acre, but it got out of its lines on Monday and grew to 5 acres. Another 5-acre fire was burning in the Rima Ridge Relay Wildfire Management Area. Volunteer crews from the county's Station 81 along with paid crews from Volusia County were handling that fire.
There's been no new fires on Tuesday.
Division of Forestry and county crews are either battling or monitoring the fires. The Division of Forestry digs lines around the fires, then crews get in and douse them in water, when the fires are accessible.
The drought index is at 414 on a scale of 800, with zero meaning that the ground is entirely saturated with water, and 800 meaning that the ground is entirely dry. During the more severe part of the wildfire season last month, the index was in the 600s. But rain has been inconsistent throughout the county, so two older fires–Espanola and the Opossum Lane fire, near U.S. 1, opposite the county fairgrounds–keep smouldering.
"We're getting these storms that come through with the spotty rain," Petito said, "might hit the corner of the north side of the county but not the south side. Espanola might become active again because it's not raining there, so it's hit or miss. We're definitely not out of the wildfire danger zone."
Other than the named fires, lighting triggered more than a half dozen additional fires on Monday, including two or three in the Seminole Woods area, two along State Road 100, two off of I-95, one behind Flagler Palm Coast High School, one behind Florida Hospital Flagler. But none posed a danger. Each fire was described as less than the size of a garbage can, and was readily put out.
County crews remain on regular schedule. No overtime has been logged with these flare-ups, Petito said, though if the fires keep adding up, that may change.
Besides the Espanola fire, the largest active fire in the region is the 185-acre Bartram Trail High fire at the northwest border of St. Johns County with Clay County. Flagler County lifted its burn ban earlier this month. Just four Florida counties have burn bans still in effect: Baker, Glades, Taylor and Walton.
Would the burn ban be re-instituted in Flagler? "Not any time soon," Petito said, "unless it starts getting over 500 or so." The 500 being a reference to the drought index.