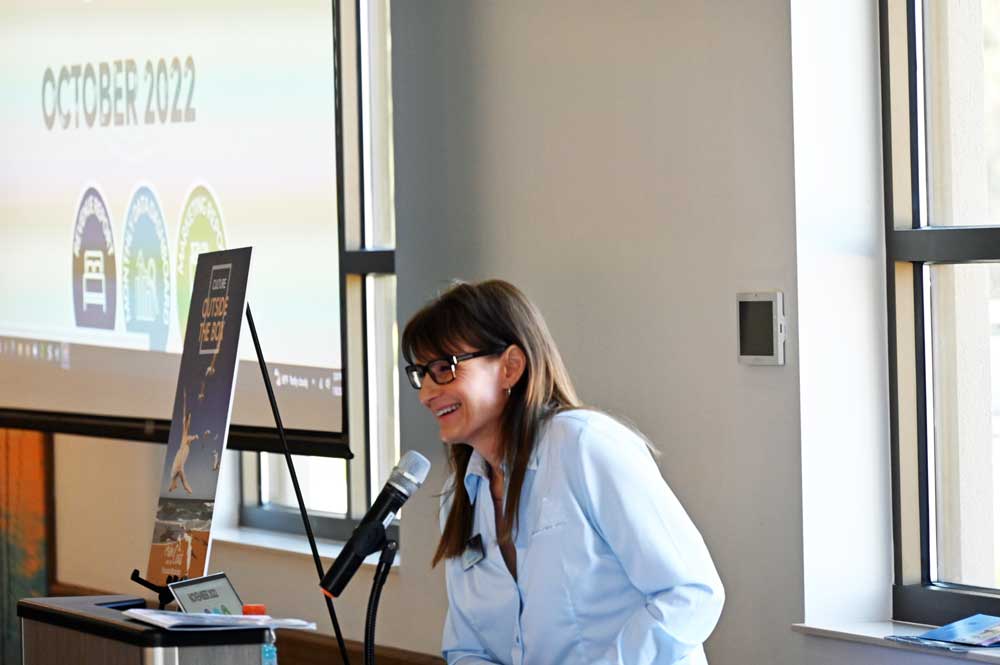 After two and a half years of hunting for a visitor center location on State Road A1A in Flagler Beach, and at least two opportunities there that derailed for one reason or another, Flagler County's tourism bureau is shifting its focus for an eventual visitor center to State Road 100, on county land near the new pedestrian bridge.
Several factors led to the shift, says Amy Lukasik, Flagler County's tourism director. One is a focus on ecotourism: a location next to the pedestrian bridge would tie in with trails and a greenscape corridor. Another was last fall's hurricanes, which "give you a moment of pause" about locating a visitor center right on the beach. "It's very vulnerable over there," she said.
There was some consideration about putting the visitor center at the foot of the pedestrian bridge. That won't be possible because that segment of the land is restricted to conservation uses. Just west of it though–the area used as a staging area by the construction teams building the bridge–would accommodate the center. It even has a turning lane on State Road 100.
The location could potentially still qualify for a federal national byways grant that would help build the center. "Remember, that exit on 95 and 100 is the closest point on Interstate 95 to the ocean for the entire east coast of the United States," County Commissioner Dave Sullivan, who chairs the Tourist Development Council, said.




Lukasik said a location on A1A would have tied into local businesses through golf-cart tours and the like. "that can still happen. It may not be out of the gate," Lukasik said. "It just may look different."
The TDC is an advisory body made up of local government representatives (the county, Palm Coast, Flagler Beach) and tourism-related businesses. It oversees a $4 million budget generated by revenue from the county's 5 percent tourism sales surtax on hotel, motel and short-term accommodations. The TDC meets quarterly and makes spending and policy recommendations that are then ratified (or, more rarely, rejected) by the County Commission. No proposal to buy land on A1A made it to the commissioners' dais, though two were considered.
In 2020, the Tourist Development Council looked into buying the old Bank of America building across the street from the Flagler Beach pier, for $1 million. The county had little time to explore that possibility before it waned. The 6,500-square foot building sold to Pinchas Mamane, a Daytona Beach property manager, in January 2021, for $1.1 million.
Last year the tourism bureau was in talks to acquire a $1.5 million parcel at South 9th Street and State Road A1A. The cost was a tall order, as were questions about the location, not quite downtown.




Lukasik spoke of the potential new location in an interview on Monday following her annual State of Tourism address at the Palm Coast Community Center, an invitation-only event attended by some 50 to 60 people, including elected representatives from the county and cities.
Lukasik summed up tourism's economic impact on the county for the 2021 fiscal year, which brought almost 1 million overnight visitors to the county, up 68 percent from the previous, covid-affected year. Those visitors spent over half a billion dollars in the county, and were responsible for 4,400 jobs in the county, or 17 percent of the total. Hotels, motels and short-term rental sales totaled $79 million, with an occupancy rate of 60 percent for the year.
The average daily rate in hotels and motels was $123, compared to $203 for a vacation rental. There is no number for the average rate in Airbnb-type accommodations, though they account for a large part of tourism revenue as well. (See more detailed numbers here, and Lukasik's full presentation here.)
"Although the revenues we collect from the tourism development tax is vital to our existence and allows us to diversify our funding to a variety of programs and initiatives to better our community," Lukasik said, "what's often missed and can often be forgotten is the indirect domino effect that visitors have when they come to Flagler County." To illustrate her point, she showed a video that, as of this posting, had gotten 24 views since it appeared on the county's tourism website a month ago:
Tourist tax revenue is split three ways: 60 percent goes to marketing and advertising Flagler County, with the majority of that market derived from visitors within driving distance: the I-4 corridor, Orlando, St. Johns, Volusia, but also the Atlanta and New York markets. That pot of money also included in 2021 some $230,000 in grants for sports, business and cultural events that attracted out-of-county visitors.
20 percent of revenue goes to capital funding, underwriting grants for projects that cater at least in part to out-of-county visitors: repairs to the Flagler Beach pier's A-frame a few years ago qualified, a new marquee for the Flagler Auditorium qualified, and last year a $739,000 grant went to Palm Coast's "Southern Recreational Facility," what will be an expansion of the tennis center off Belle Terre Parkway, tying into the trailhead to the Lehigh Trail and a community center. (That's the grant that Flagler Beach notoriously failed to apply for, causing an uproar.)




Another 20 percent goes to beach preservation and renourishment, though that amount is minuscule compared to the needs. The commission several years ago increased the proportion of money going into that pot. But it is unlikely to change the ratio again, Sullivan said, despite the immense needs ahead–or rather, because of the immense needs ahead.
"Of course it would make some difference. But we're talking $100 million" in coastal reparation needs right now, Sullivan said. "And that's still not enough to do what we want to do. Everything would be $200 million."
In sum, Lukasik painted a bright picture for the local tourism economy and for Florida's, where she said there are no signs of a slowdown. "One of our TDC members, Pam Walker, she's a travel agent, and every Friday she sends out a weekly email to her her database," Lukasik said. "This one past Friday the subject line said: 'This is madness.' And she goes into how as a travel agent she works with tour operators on the ground all over the world. She's having a lot of challenges. One, she can't get them to answer her calls because they're so busy. And prices for tours and packages and hotels and airlines she said have just skyrocketed. So people are willing to pay. The demand is still there, especially in Florida, where we were obviously one of the first states to recover from a tourism perspective. You don't see any signs of slowing down."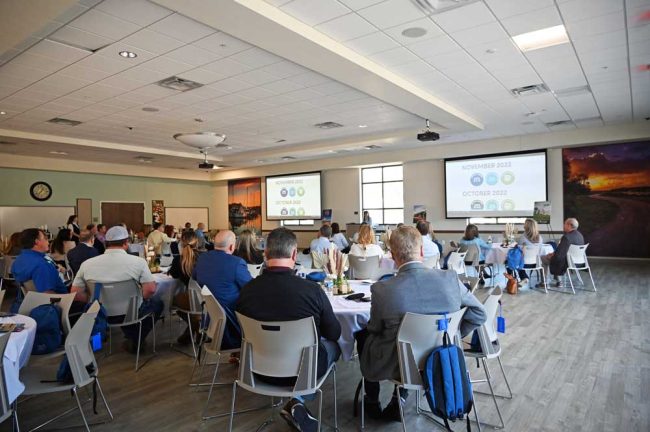 Reader Interactions