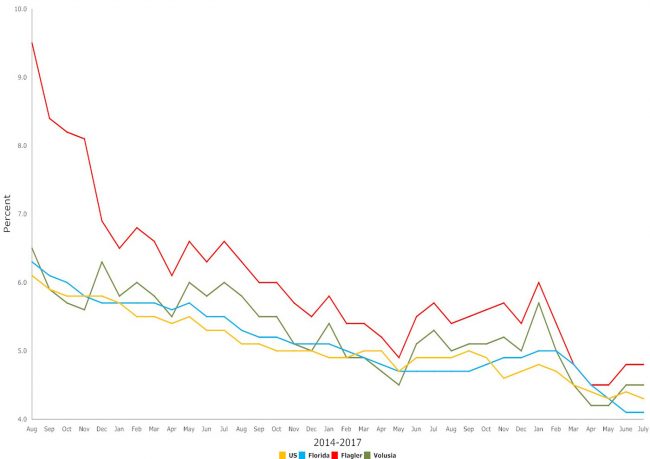 It's as if all labor-related dynamics came to a standstill in Flagler County in July: compared to June, the labor force didn't budge, nor did the number of people with jobs, nor did the number of unemployed persons. Usually, one category or another, and more often all three, see changes in the hundreds.
Instead, it was a rare moment summer torpor that kept the county's unemployment rate at 4.8 percent, or close to full employment, though employment–at 43,860, close to the record level set two months ago–reflects full and part-time jobs, whether workers logged 40, 60 or just one hour during the period covered by the unemployment report.
The county's labor force, an indication of the underlying strength of the economy that also measures the county's attractiveness to working age, or family-oriented, residents, was 46,073, a statistically insignificant decline of about 20 people from June. The number of unemployed was 2,213, a decline of six people.
In Florida, employment jumped by 32,700, helped in large part by a net 6,400-job increase in government, though that's a category Gov. Rick Scott typically excludes from his boasts about job creation, preferring to focus on private-sector jobs only–as if public-sector jobs somehow do not represent bread-winning for families as much as private sector jobs do. Significantly in Florida, public sector jobs tend to be better paid than private sector jobs, which are heavily inflated by low-paying service, retail and hospitality industry jobs.
Scott was discriminating again on Friday when he announced the July job gains, referring only to the 1.4 million private sector jobs created during his tenure, and the "more than 26,000 private-sector jobs" created in July, as his labor department's release read. Scott made the announcement at an auto dealership in Tampa. The delaership employs 2,000 across the state. He took the occasion to speak of his proposal of an amendment to the Florida Constitution that would require a supermajority vote by future Florida legislatures to raise any taxes or fees, though he has yet to detail what taxes the proposal would apply to, and what sort of supermajority he would push for. Some 14 states have similar legislative requirements.
The unemployment rate in the state remained at 4.1 percent because job growth kept up with an increase in the state's labor force, pointing to an influx of working families, combined with the entry into the labor force of last spring's graduates. Florida's job growth has paralleled the Obama years–and now the Trump months–of some 84 consecutive months of growth.
Looking at the jobs figures for the month across the state, almost every sector either gained or stayed flat, with only administrative and waste services showing a job loss.
Flagler is now a third of the way down the table of counties with the worst unemployment, a chart it used to top, with Hendry County still at the top, as it has been for years, with an unemployment rate of 10.9 percent, followed by Hardee (7.5) and Glades (6.5). At the lower end, Monroe County has the lowest unemployment, at 2.8 percent, followed by St. Johns (3.3) and Okaloosa (3.4).

July 2017 Florida Unemployment Report