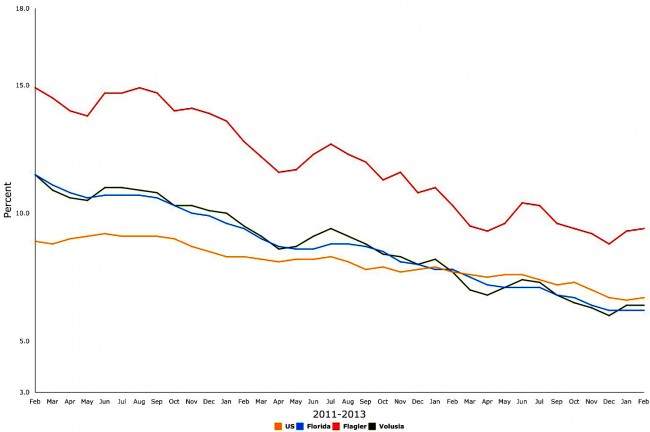 Flagler County's unemployment rate again rose in February, to 9.4 percent, a decimal-point increase over the previous month and some 80 more people went on unemployment. But The county's overall employment went up sharply, by 364 (for a total of 31,976), and the county's labor force went up even more, by 442–both signs of growing strength in the local economy as more workers seem encouraged to join the labor force, and more workers are actually finding jobs.
The combined single-month gain in jobs and the growth in the labor force makes February's numbers among the best in the recovery, even though Flagler remains second only to Hendry County's 9.8 percent rate, leading the state in that category.
Florida added 33,400 jobs in February, the single-best month for job creation in Gov. Rick Scott's administration, though the unemployment rate stalled at 6.2 percent for the third straight month. There were 588,000 officially jobless Floridians out of a labor force of 9,515,000, according to Florida's labor department.
As in Flagler, Florida's labor force participation rate, which is labor force divided by the total civilian population, grew. It was 60.2 percent in February, up 0.3 percentage point from the January 2014 participation rate of 59.9 percent. So while the unemployment rate held steady, the increase in the labor force meant more people got jobs.
The unemployment figure, however, masks the larger figure that accounts for those who have dropped out of the labor force altogether or have run out of unemployment benefits, and those who are working part-time because they cannot find full-time work, or because their hours have been cut back against their will. When underemployed and discouraged workers are included, Florida's unemployment and underemployment rate is 14.3 percent, higher than the national average of 13.8 percent.
"It is clear that businesses are growing and creating more jobs and opportunities for Floridians," Scott said Friday.
Other encouraging signs: Florida job postings compiled by the Help Wanted OnLine data series from The Conference Board showed 278,717 openings in February 2014, an all-time high in the data series that began in May 2005. Florida median home prices were up 10 percent over the year in February 2014. Housing starts were up 5.9 percent over the year in January 2014.
While the state experienced an unusual out-migration for a few years in the depth of the recession, a recent U.S. Census Survey reported that Florida experienced an influx of people moving into the state. Florida also led the nation in migrations from Puerto Rico.