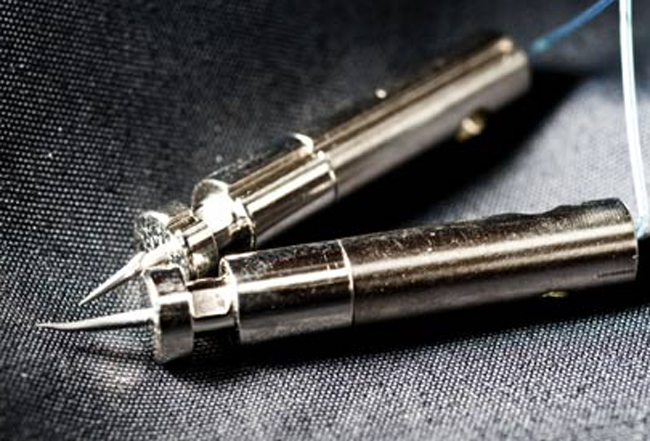 Kate Settle's voice was on the verge of breaking almost the entire time she spoke to the Flagler County School Board Tuesday evening of her son, Hampton, a severely autistic student at Flagler Palm Coast High School, and of the fear she faces that one day Hampton would have an outburst, as autistic students do, and that a Taser would be used against him to control him.
"Several years ago I received a call from an SRO"–a school resource officer–"to me at my place of employment to inform me that Hampton's teacher filed an incident report against my son, and the next time this happened,  he would be Baker-Acting Hampton. Hampton was thirteen," Settle said. "My worry now is, could Hampton have been Tased if the SRO had the opportunity, or would the SRO be able to identify the outburst as being a manifestation the student's disability, which is the same step necessary in order to employ the Baker Act?"
Settle concluded by citing H.L. Mencken's phrase, that "for every complex problem, there is an answer that is clear, simple—and wrong. I believe for each student challenged with a disability, the simple answer is wrong. I believe for each student challenged with a disability, the simple solution is wrong. On behalf—" at that point Settle's voice did break. She collected herself, apologized, and continued—"of Hampton and his peers who need your help, please take the time to explore more sensible options."
The school board did not. After a 45-minute discussion, it voted  to allow the sheriff's school deputies to carry Tasers again, reversing a verbal 2007 agreement that they would not do so. The motion made no distinctions about where Tasers may be used, including elementary schools, though there are no permanently posted deputies in elementary schools at the moment.
That agreement was reached on the heels of the tasing of an autistic student who was refusing to listen to a deputy's command in a classroom that had been emptied of students and teachers. The student struck the officer. The officer Tased him, in an incident then-school superintendent Bill Delbrugge subsequently regretted.
On Aug. 29, a student at Matanzas High School was in a scuffle with another student. Cpl. Don Apperson, the school deputy assigned to Matanzas, and George Spitzer, a school employee, intervened. Both adults were injured as they subdued the student, who was expelled and now faces a felony charge for striking an officer.
---
Public Comments on tasers[media id=255 width=250 height=200]
"I'm 6-2, 220 pounds, and I'm not afraid of much of anything," Spitzer told the school board Monday evening, before Settle spoke.  "However this kid made me a little bit nervous, and officer Apperson had a bloody nose, split eye, over his eyebrow, and there was blood all over his face at the time that we got the kid under control. It seems that there is more and more incidences of individuals that are starting to have anger-management problems."
Superintendent Janet Valentine had held a meeting with the sheriff and others pressing for the return of Tasers last month. When she was asked for her recommendation, she said: "The Flagler County Sheriff department has asked that we agree to allow the deputies assigned as the school resource officers to carry their Tasers. I trust that the sheriff's deputies will use sound judgment in the discharge of their duties. We trust them every day coming into our schools and assisting us with the safety of all of our 13,000 students. I have faith in the sheriff's department and its deputies and therefore recommend that we agree to that request."
Board member Andy Dance made a motion to accept the recommendation, but with conditions. He was not comfortable with the black-and-white proposition of either going with Tasers or without. Nor did he accept the definition of schools as a mere extension of the outside world, where Tasers would be more likely fired on individuals regardless of age or special circumstances. "The school culture is a little different than the outside culture," he said. He wanted Valentine to create a committee to evaluate how the limitations or training deputies would need to go to above and beyond what they receive at the sheriff's office.
"Let's give the authority to the superintendent to work with the sheriff's office to come up with a list of criteria and the board can have input from the community so that we can give the superintendent some direction as to our comfort level," Dance said.
"But your motion is for them to use them," board member Colleen Conklin said of the use of Tasers.
Dance: "Yes."
Conklin: "If I hear you right, you're in favor of us allowing the officers to use the Tasers but the sheriff's office needs to meet with Miss Valentine in order to set up the realm of policy."
Dance: "Right, and during discussions I'd like for her to hear some of the concerns from the board, so she has direction on what's important to us."
Dickinson: "Keep in mind that there's not going to be a lot of it that we're going to be able to dictate, because the sheriff's office if I understand already has a policy in place."
David O'Brien, the under-sheriff, was at the meeting Tuesday and cautioned the board against confusing its policies with those of the sheriff's office. He was not clear on Dance's direction. "We would be willing to sit with the school superintendent and come up with a policy," O'Brien said. "I understand what you're saying Mr. Dance, I just, it's very broad what you're saying. We would be willing to work out an agreement with the superintendent and the board to do that." But there was no clearer definition of what those steps would entail.
The board voted 4-1, with Conklin dissenting, in favor of Dance's motion, whose conditional reach beyond the essential–that Tasers will be on campus from now on–remains vague.
Conklin had delivered an impassioned speech, several minutes long, against the re-introduction of Tasers. She cited from various sources to underscore the dangers Tasers represent, directly or indirectly.
---
Conklin on Tasers[media id=256 width=250 height=200]
"In my mind, we will lose credibility in the eyes of some of our students, parents and community members," Conklin said. "I recognize and say some, and understand that there are some that won't agree with me, and that's OK. There are too many questions in my mind left unanswered to decide now how this should be done. This is not and should not be a knee-jerk reaction to a very terrible situation. What happened to Cpl. Apperson is not acceptable, and should not be viewed as being acceptable, but a comprehensive, strategic plan needs to be developed to take a holistic approach to this issue if we truly want and desire to get to the heart of the problem and create safe campuses for our students. If that is truly what we want to do, then this school board, and I say this school board, needs to take responsibility for creating this environment."
During the public comment period, just five people spoke (among them Settle and Spitzer), two of them for Tasers, three against, though support for Taser use in schools is likely greater than opposition.
"I'd like to thank the student for giving me a week off on pain killers, muscle relaxants and ice backs, for wrenching my back, to get him under control," Spitzer had said sarcastically in his opening remark. "I'm sure you've all seen the video. If you were in that situation, could any of you have handled that student any better without a Taser? Ok, it's easy to sit up there and say OK we shouldn't use Tasers, but when you're on the front line and you're out there every day, police officers are trained, if they need more training give it to them or have the sheriff's department give it to them, but let's get the Tasers in the schools."
Weldon Ryan, a former New York City police officer and forensic artist, responded with what he termed a rebuttal to Spitzer's comments, rejecting the notion of schools as war zones. "I'm sorry that one child causes one person to change their mind to potentially injure and maybe even fatally kill another child. So to me the event of the other day was just unfortunate but it's one of those things that happen from time to time, and it should not be put in such a category as this," Ryan said.
Ryan spoke of his experience in some of New York's  most dangerous precincts, including encounters with what he called EDPs—emotionally disturbed persons. "We had to deal with a lot of that. But you know a school is not the same environment as out in the street. Of course in the street we contained the situation and called ESU who then used the Tasers, basically the same thing as in school. The situation in the video, I did see, and quite honestly from a tactical standpoint there was nothing that Apperson could do. It was a wildcard situation that came about and he responded to it. In that situation there was no way on earth, as a former police officer, I can tell you that there was no way that he could have used his Taser if he had one, because it would have still been holstered and the melee would have continued."