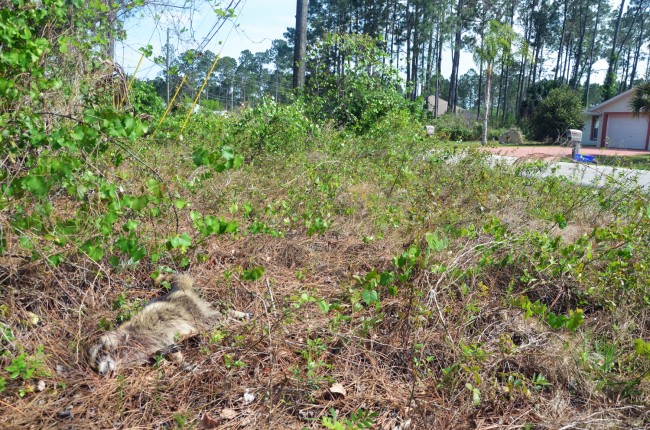 Flagler County Sheriff's deputies on regular occasions respond to complaints about animals in neighborhoods, especially raccoon, deer and opossums.
Deputies shoot and kill the animals when they are judged to be sick or ailing, though it isn't always clear how that judgment is reached. Deputies fill out reports of the incidents, especially since they have to account for the firing of their department-issued Glock firearm, but the reports are brief and to the point: where the animal was found, whether it looked sickly, and how many rounds were fired to kill it. At times, Palm Coast's animal control is called in either to tend to the animal or to dispose of the carcass. At times, the carcass is left in empty lots. The practice has on occasion raised questions among residents and people concerned about animal welfare, who see and hear how animals are killed then disposed of.
One such case unfolded today in Palm Coast's R-Section. At 9:50 this morning, sheriff's dispatch received a call about a sick raccoon on Rickenbacker Drive off Royal Palms Parkway. The notes of the call to dispatch refer to a "sick raccoon," "possibly rabid." At 10:10, a deputy located it and reported it to be "sick and lethargic." The raccoon was "put down," according to the dispatch notes, at 10:30 a.m. The notes conclude: "Raccoon appeared to be sickly and injured and needed to be put down. Animal put down and body was relocated to a wooden lot nearby."
Lynn Gussman, a neighboring resident, was disturbed about the handling of the matter, and evaluated it differently in a letter to Flagler County Sheriff Jim Manfre, which he received earlier this afternoon and referred to a watch commander for review. The letter touches on several issues that have been of concern to residents regarding similar dispositions of animals, and may inform the sheriff's office's ongoing, comprehensive review of its policies and procedures. The letter is reproduced below in full. The Sheriff's Office's answer is here.

Dear Sheriff Manfre,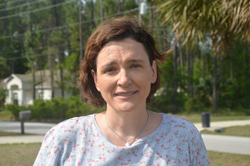 I am writing to you out of concern for the welfare of both wild and domesticated animals in Flagler County. It seems that every week, there is at least one incident of an animal being shot by one of your officers. The official report is usually that the animal was "sick or injured." However, there seems to be an unusually high number of animals being shot by law enforcement in this area, and that should be evaluated.
One such incident happened in my neighborhood today. A neighbor called the police simply because he or she saw a raccoon out during the day. Of course, this fact alone does not warrant the assumption that the animal is rabid. My husband happened to see this raccoon on his way to work. It was eating something along the side of the road. It did not appear to be either injured or ill. Other neighbors, who had seen it that morning, including my tenant, also did not see any signs of illness or injury.
When the officer responded to the call, he shot the raccoon to death. When my tenant asked the officer why he shot the animal, he told her that it was "rabid." However, the officer then simply picked the raccoon up and threw it into the woods. Obviously, this is not a responsible way to dispose of a potentially rabid animal.
When my husband and I phoned the sheriff's office, we were told the official report filed by the officer listed the animal as both "sick and injured," but said nothing of it being rabid. However, if the officer did in truth consider the raccoon to be sick, then he had a responsibility to have it tested to determine if it was in the early stages of rabies. Throwing a "sick" raccoon into the woods is completely irresponsible and unacceptable. Since many witnesses saw the animal in apparent good health, a reasonable person would have to wonder if the officer shot the animal simply out of cruelty and boredom.
I hope that you will evaluate the number of similar cases in this county. Shooting domesticated or wild animals because they present a clear and present danger to human life or to put a dying animal out of its misery is a sad reality. However, shooting any animal should be the absolute last resort in responding to these types of calls. Officers shooting animals appears to be a cavalier routine in Flagler County.
Sincerely, Lynn Gussman
Note: see the Sheriff's Office's answer here.

Lynn Gussman is a science teacher who lives in Palm Coast. She can be reached by email here.