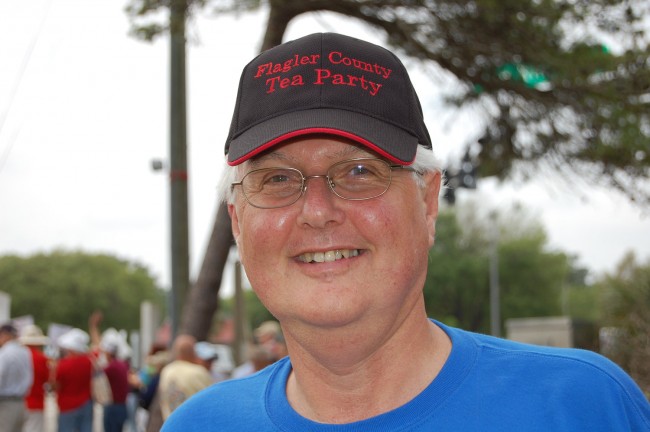 The Flagler County Tea Party Group has declared itself opposed to the school district's proposed tax levy referendum asking voters to approve a 50-cent increase in the property tax. But that opposition is based on flawed, misleading or outright false information, which the school district has been at pains to counter or correct. The fate of the referendum may hinge on the district's success—or failure—in that counter-offensive.
Early voting on the Flagler County school tax referendum hit the half-way mark—with a cheerless turnout of just 1,500 voters after three days—Proponents of the referendum faced off on WNZF's airwaves with opponents and agnostics Friday morning in a brisk debate on the merits of the measure moderated by David Ayres. The debate highlighted the issue as much as it did the sometimes poisoned atmosphere surrounding it.
Assistant Superintendent Jacob Oliva and School Board member Colleen Conklin defended the referendum, only to hear talk show host and former County Commission candidate Abby Romaine declare the board's tactic a form of "tax terrorism" (even though Romaine declared herself a supporter of the referendum), or Flagler County Tea Party Chairman Tom Lawrence repeat the notion that the levy would "throw more money" at the schools for no benefit.
Lawrence on the radio Friday was repeating information already shown him to be false days ago by School Board Chairman Andy Dance. Lawrence had circulated a letter to tea party members urging a No vote on the referendum, explaining why. Dance fact-checked the letter and sent him corrections, asking Lawrence to share that version with the membership as well. Lawrence did not do so. Rather, he continued repeating the same falsehoods on the air. (See the Lawrence-Dance document in full below.)
The district fears voters may still be under the impression that the schools are spending more money than they have in the past, that the district has added more programs than it's cut, that it's raised taxes more than it has lowered them, though the majority of school tax rates are set by Tallahassee, not by the local school district. As Tallahassee has cut those rates, forcing local districts to contend with lower revenue, local districts have been faced with a choice: either absorb the lower revenues or exercise their authority to raise taxes modestly to make up some of the difference, and only some of it: the state, on top of cutting overall tax rates, restricts local school boards' authorities to raise even their own taxes.
Early voting began Tuesday on the levy, culminating in the final election day on June 7. The new tax would amount to a 25-cent levy, with the other 25 cents already on the books. The district wants to renew that portion. The money generated (roughly $3.5 million a year) would protect existing programs and restore 45 minutes to the school day in middle and high schools, a cut carried out two years ago for lack of funds.
Lawrence elaborated on his group's opposition while Property Appraiser Jay Gardner, who countered Lawrence's claims with actual figures, said the reality of falling budgets and fewer tax dollars going to the local school district should be pleasing the tea party membership, not drawing its opposition.
"So they're not throwing more money at it, they're trying to hang on to a quality of education," Gardner said, "and not all the drills, not all the benefits, extra things. This is just to maintain, Tom."
"I understand that Jay," Lawrence said, "and my only point is, a large chunk, if this passes, of the money, is going to be spent to the return 45 minutes to the school day." Lawrence is right. But the evidence he presented against restoring those 45 minutes was flatly wrong.
"Let's talk about the 45 minutes," Lawrence said. "Two years ago, with some heavy input from Tea Party representation, school board decided to take the 45 minutes out. That saved us taxpayers $2.5 million a year. So the proof of the pudding frankly is in the eating, and I'm looking here at the FCAT results for 2012 and 2013, published in the Palm Coast Observer. Basically Flagler County scores were aligned with statewide numbers. So if that 45 minutes was going to crater education, then the FCAT numbers should have cratered, and they didn't."
When school officials feel exasperated with misinformation in the community, it is because of statements like Lawrence's. That statement in particular is a string of errors and misrepresentations.
First, one or two tea party "representatives" were present at some of the board's budget discussions two years ago, when the district agonized over what to cut, those tea party members. But they did not include Lawrence, who is seldom seen at any local government meeting except when his own taxes may be raised. And the members who were there were immaterial to the discussions. They sat, they watched, they were often confused, having only parachuted into the meetings to just as quickly parachute out. When some addressed the board at meetings (as opposed to workshops, where the heavy lifting was done), the decisions were all but reached already.
The serious debate took place between board members and particular constituencies within the district, especially the teachers and service unions, which had to agree to such cuts as the elimination of the 45 minutes. And they did. The tea party had nothing to do with it. Taking credit for any of it at this point is disingenuous, and a false if opportunistic representation of the record.
Second, the elimination of the 45 minutes did not "save" taxpayers $2.5 million (the exact figure is $2 million, a 20 percent difference that illustrates the tea party's facility with exaggerations and misinformation). The district simply did not have that money anymore, because the state was no longer providing it—and the federal stimulus, which had saved thousands of teaching positions across the state temporarily, was drying up. The Flagler board had to cut somewhere, assuming that the cut would be temporary. The 45-minute elimination was never meant to be permanent. But the economic downturn has lasted longer than predicted.
Third, the FCAT results released last week are not all a reflection of the 45 minutes' effects. Reading and math scores were released only for third and fourth grades—grades never affected by the 45-minute cut.
There were writing scores released for 8th and 10th grade—grades that were affected by the 45-minute cut. An those results did "crater," to use Lawrence's term: in 10th grade, passing performance declined a staggering 29 percent. For 8th graders, it declined an equally staggering 24 percent. Scores across the state declined, but the decline in Flagler County was significantly worse for 10th graders, and slightly worse for 8th graders. By any measure, the results, so far, are a dismal indictment of the 45-minute cut—if Lawrence wants to connect the two.
Assistant Superintendent Jacob Oliva, who was in the studio Friday morning, said Flagler was running its class schedule at a "bare minimum" compared with other counties, and losing ground unsustainably. "We want to make sure that we're in that game and holding our place," Oliva said, referring to the economic development factor of the equation: people and companies moving around will notice the difference between counties.
Board member Colleen Conklin seized on Lawrence's satisfaction with the district's middling FCAT scores. "To hear that we have FCAT scores that are acceptable is surprising to me, especially to hear that from Mr. Lawrence,"  Conklin said.
"By the way," Lawrence continued, "tea party folks support educating our youth. We understand that a well-educated bunch of youths is the future of our nation, so we support that, but we don't support that the way you get to a good education is to just keep throwing money at it. So that's our concern. We don't think the 45 minutes is needed, it was taken out, it saves us money, it doesn't seem to have adversely impacted education."
Jay Gardner, the property appraiser, attempted to correct Lawrence's imaginary math.
---
Tom Lawrence's School Tax Bills, 2003-2012
| Year | School Tax Bill | In Inflation-Adjusted Dollars |
| --- | --- | --- |
| 2012 | $3,684 | $3,684 |
| 2011 | $3,880 | $4,011 |
| 2010 | $4,100 | $4,372 |
| 2009 | $3,856 | $4,179 |
| 2008 | $3,624 | $3,914 |
| 2007 | $3,662 | $4,107 |
| 2006 | $3,611 | $4,165 |
| 2005 | $3,671 | $4,371 |
| 2004 | $3,635 | $4,475 |
| 2003 | $3,601 | $4,652 |
Tom Lawrence owns a 5,700-square-foot house (living area of 4,679 square feet) in Palm Coast's Grand Haven. The property appraiser placed the house's market value at $492, 436 in 2013, up slightly from 2012's $488,854, but still down from its 2011 value of $508,123. Source: Flagler County Property Appraiser.
---
"Listen, you said throwing more money at it. Mathematically. They're not throwing money at it. Mathematically they've been cutting their budget every year. You take your tax bill and look at it, your school tax has gone down every year for the past five or six years or so, okay? They're $94 million in real estate taxes, down to $55 million."
Lawrence's school tax bill hasn't gone down every year, exactly. (See the table to the right.) But it has gone down considerably in the last two years and may go down again this year. Overall in the past 10 years, it has stayed roughly even, but in inflation-adjusted dollars—a much truer reflection of costs on taxpayers, since they also reflect the lost purchasing power of those benefiting from the tax revenue, such as the school board—Lawrence's tax bill has gone down 21 percent. It is another indication of evidence belying tea party mythology about taxes being on an upward spiral.
Lawrence also was opposed to having more cops in schools, suggesting that the district has guidance counselors who do much of the mentoring and guidance job deputies have been ascribed. He said the district could hire more guidance counselors. But cost-wise, that would be a wash: counselors are no less expensive than cops, and may be more so.
Lawrence is fundamentally opposed to the property tax as a means of raising revenue. He was supportive last year of the district's 50-cent sales tax levy (which passed), and supportive of all the programs the levy pays for, which in some cases mirror or parallel programs the district wants to save with its new levy. But he won't support the property-tax approach. He said he was willing to let the district take the fall this time then come back at a subsequent election and ask for the money again. "If they think they need more money than the state allocates to them," he said, the district could "do that during a general election cycle. So my thinking is if this goes down they can get through for the next year and then if for the general election there's a need then let them come back then and say look, it's not working."
Other districts have gone down that very route, returning to voters to ask for more revenue, but at a price, as programs and school buildings were disrupted. The Flagler school district hopes to avoid those shocks.
Lawrence characterized the school board as "out of touch with the people," but the reverse seemed to be more accurate. Palm Coast Observer editor Brian McMillan, who was among the show's panelists, cited one letter-writer who had decided to vote against the school levy because of a red-light camera ticket issued by Palm Coast. "They're not connected at all, and I put an editor's note, I felt like I should, saying well that's a city thing, that's a school thing," McMillan said. Similarly, school board members have been blamed for wanting to build a jail, plant trees in the median of Belle Terre Parkway.
But there's also been concerns about revelations in the last few weeks that the district could have closed a school or two in the past couple of years and saved $3 million, but hasn't done so. But closing a school isn't that simple: it entails a slew of preparations and long-term planning that must take into account what would happen to that school. By law, which in Florida now favors charter schools often at the expense of traditional schools, if, say, the Flagler school district were to close Wadsworth Elementary, it would have to make that building available to a charter school, free of charge, and almost unconditionally so. Reclaiming the building in case the school population picks up—as it is almost certain to do toward the latter part of the decade—entails yet more complications and delays, not to mention the disruptions to students and families. It's that sort of disruptions, which would create a public backlash of their own, that the school district is looking to avoid, if it can help it. Meanwhile, county officials immersed in economic development don't want to unnecessarily telegraph the message that the county is closing schools, if it's a temporary blip, when that could have disproportionately lousy ripple effects on prospective companies looking to start a business locally, or to relocate to Flagler.
"The big picture is being lost here," Ayers said, summing up the dilemma. "This is the future of our community, and we have businesses and investors looking at coming in here." In short, it's not as simple as closing a school to save money.
Darla, a panelist whose last name was not given and who was described as "Confused and Undecided Darla," was concerned about the special interests: "Informed voters are aware of the political tactics of divide and conquer where you cater to special interests, you focus on them, and then you try to scare them into voting for you to get their way. Like the parents who want the extra 45 minutes because they're working and it'll make their life easier, teachers who want to maintain their jobs, special education children's parents who are afraid of the cut to their assistants, and it's just something that's been going on. The federal government has been doing it, now we see you doing it, and it's frankly not fair. It's an overall picture that we need. So convince me what you're going to do."
"We're all a collective of special interests, and so are you, and so is everybody sitting here," Ayers said.
Conklin ridiculed the notion of a political conspiracy or a divide and conquer strategy when, over the past six years, the district has slashed its general fund budget by $12 million. But she also hears the recurrent paradox: the district has been touting its awards and re-accreditations and its high scores. How could it achieve all that on its reduced budget? Conklin's answer: most of that data pre-dated the elimination of the 45 minutes from middle and high school student's school day, which led to the elimination of 41 teachers and numerous classes.
"From the schools' point of view," Oliva concluded, "going out to the community asking for additional support I feel is the right approach. Unlike other municipalities and county governments, they've imposed additional dollars. We're saying to the community: We're doing a great job, we believe we can keep doing a good job. We want to do the best that we can and become a premier learning organization, and be the number one learning institution in the country. If we're going to continue with that path, we need additional help. And if the community believes and supports that that's the vision that they want for our school system, then they're going to support and help us."
The district could count one small victory Friday. Confused and Undecided Darla had, by show's end, decided to cast her ballot for the levy.

---
Listen to the Full Debate on Free For All Friday With David Ayres[media id=326 width=500 height=400]

After Tom Lawrence circulated a letter to the tea party membership a couple of weeks ago urging a No vote on the referendum, Flagler County School Board Chairman Andy Dance fact-checked the letter and sent Lawrence a corrected version, asking Lawrence to share that version with the membership as well. Lawrence has not done so. The full document is below.