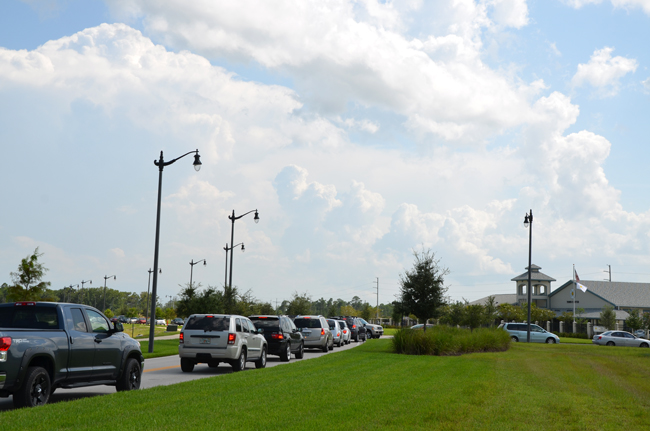 Enrollment in all of Flagler County's public schools ended the year in May with 12,900 students (after starting the year at just above 13,000). Today, first-day enrollment was 13,193.
The increase, tiny compared with all previous years except the last, when it stayed flat, may be deceptive, however.
Today's figure may be somewhat inflated: students enrolled at the end of last year who have not explicitly been withdrawn are counted among the total, even if they didn't show up today. The Tuesday after Labor Day, if those students are still not answering roll-call, they're deleted from the attendance list. Superintendent Janet Valentine expects the district may lose up to 150 students, though the district may also add some students–walk-in enrollment.
Then there's the charter effect. The Flagler County School district's 11 traditional schools ended the last school year with 11,956 students. They started the year today with 12,097, including 16 students who are enrolled full-time through iFlagler, the district's virtual school.
When enrollment at the district's three charter schools is included, the numbers jump: last year, the three charter schools–Imagine at Town Center, Palm Harbor Academy and Heritage–had a combined enrollment of 786 (with 520 of those at Imagine). This year, the three schools' enrollment on the first day was 1,088, an overall increase of 302 students, or 38 percent, most of it at Imagine: the school virtually doubled in size, physically, over the summer.
Charter school enrollment suggests what school district officials, among them school board members, fear: that charter schools can be strong magnets, taking students away from traditional public schools. Even Heritage Academy, considered an F school in the district, added students–not many: four, so far this year; nevertheless, an increase.
Imagine's kindergarten enrollment is especially pronounced, going from fewer than 100 students last year to 147 this year.
Parents may have a harder time switching their children away from their neighborhood school in the middle of a cycle, School Superintendent Janet Valentine said, but when they're starting off, they're willing to try something new.
Every traditional elementary school in the district, meanwhile, lost students except for Old Kings Elementary, which stayed at the very same number it ended the year with: 1,142.
"Choice in general is what's driving all this, and I think it's important to have choice in our school system," Valentine said. "We all need to take a look at things and realize that things are changing in the way we need to do business, and the way we need to support effective charter schools is just another choice within the district."
Parents driving their children to Imagine and picking them up today certainly saw a difference. Traffic on Town Center Boulevard, going north and south from Imagine, was a snaking, perhaps mile-long line of gleaming metal and glass for more than an hour Monday afternoon as it funneled into the car-rider loop at the school. Nevertheless, Lisa O'Grady, principal at Imagine, said the last child was put in the last car at about 4:15 p.m., 75 minutes after dismissal, this afternoon. Last year on the first day of school, the last child rode out at 4 p.m. So with the addition of 300 students, O'Grady considered the day a success despite the delays, which she says will diminish considerably as students learn their car-rider numbers. "I really do feel like the longer we are building familiarity with the student numbers," O'Grady said, "the process will even itself out."
The car-rider line at Belle Terre Elementary was also very long today. In many cases, parents who will eventually let their children ride the bus prefer to take them and pick them up on the first days.
Imagine has three buses. It will need a fourth, O'Grady said, and plans to have it by October. But with the new, large building on campus, the first day, O'Grady said, "was extremely smooth. It was our smoothest first day yet, students were learning already, it was quiet, the new building, it was seamless—just a lot of happy kids."
The rest of the school district has a very smooth day as well. "We didn't have any issues in school. It was a very smooth start of school," Valentine said.
Except with transportation.
In an attempt to save money, the district combined buses and routes, and had middle school students riding with high school students. It worked in some places, not in others. Valentine said at least five buses were overcrowded. She was aware of at least one case where parents chose to drive their child to school instead of having the student ride the bus.
One bus was reportedly so overcrowded that students sat in the aisles.
"We are collecting all the information we need and making tweaks along the way," the superintendent said. "I think we needed a couple of extra buses."
The first day of school's enrollment figures are significant in many respects. Each student commands the equivalent of $5,600 in state funding. The more enrollment falls, the more funding is lost in the district. But the more students migrate to charter schools, which are also considered public schools–even though they are privately run and, like Imagine, are run for profit–the more money the district loses for its traditional schools. If the figures stay flat overall but decrease in the traditional schools, that means those schools will get less funding.
The first day of school's enrollment may also be indicative of the economic health of county. The county's labor force has shrunk by about 3 percent since last year, suggesting that workers are either retiring or leaving the area. They are, at any rate, not moving in as they used to. Today's enrollment figures point to a slight, encouraging uptick, but the more solid figure won't be clear until after Labor Day.
Just as the traditional schools lost students in elementary schools and stayed almost even in middle schools, they gained considerably in the two high schools. Below is a breakdown of enrollment, school by school, this year compared with last.
Flagler County School Enrollment, 2011-2014
| | Enrollment at End of May 2011 | First-Day Enrollment, August 2011 | Certified Enrollment, Feb. 2012 | Enrollment at End of May, 2013 | Enrollment at end of May 2014 | Enrollment on Sept. 15, 2014 |
| --- | --- | --- | --- | --- | --- | --- |
| Belle Terre Elementary | 1504 | 1424 | 1400 | 1357 | 1343 | 1329 (-14) |
| Buddy Taylor Middle | 1008 | 1013 | 980 | 1006 | 1033 | 1002 (-31) |
| Bunnell Elementary | 1306 | 1224 | 1228 | 1290 | 1281 | 1235 (-46) |
| Flagler-Palm Coast High | 2155 | 2485 | 2338 | 2247 | 2306 | 2442 (+136) |
| Imagine at Town Center | 520 | 809 | 815 | 867 | 896 | 906 (+10) |
| Indian Trails Middle | 892 | 914 | 875 | 806 | 869 | 909 (+40) |
| Matanzas High | 1485 | 1606 | 1587 | 1566 | 1576 | 1606 (+30) |
| Old Kings Elementary | 1142 | 1142 | 1134 | 1131 | 1111 | 1106 (-5) |
| Palm Harbor Academy | 92 | 101 | 112 | 66 | 63 | 66 (+3) |
| Pathways | 88 | 55 | 34 | Closed | Closed | Closed |
| Phoenix Academy | 66 | 72 | 68 | 65 | 79 | 71 (-8) |
| Rymfire Elementary | 1379 | 1298 | 1317 | 1307 | 1268 | 1172 (-96) |
| Wadsworth Elementary | 931 | 860 | 862 | 879 | 901 | 871 (-30) |
Note: the numbers will fluctuate throughout the year, especially in the first few weeks and the last few weeks of the school year. Source: Tom Tant, finance director, Flagler County School District.