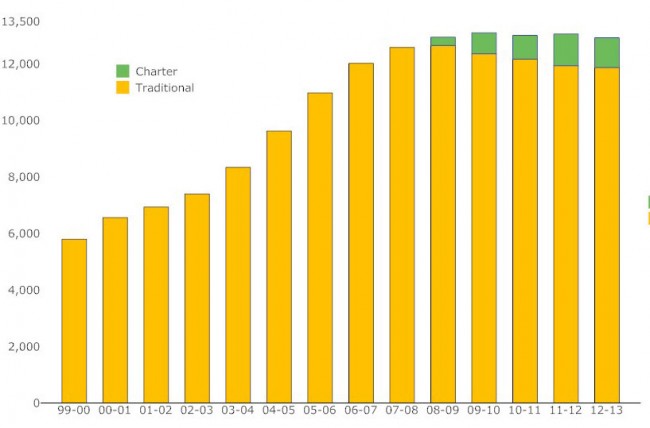 Overall enrollment in the Flagler County public school district remained essentially flat for the fourth straight year, according to preliminary figures released by the district. But for the fourth straight year, enrollment in the district's traditional public schools fell, while enrollment in charter schools exceeded 1,000 for the second year.
The numbers point to two significant trends: first, that while the population of the county has grown modestly, but 2,000 to 3,000 people since the housing crash–according to Census Bureau estimates–new residents are either elderly or retired or childless. New families are not moving in. Second, the district's traditional schools are steadily losing population, amplifying a capacity already around 25 percent unfilled and shelving any immediate need for school construction. But the trend is also indicative of state government's new subsidies for charter schools at the expense of traditional schools: state construction money is now exclusively reserved for charter schools.
And while Gov. Rick Scott restored $1 billion in education funding that he and the Legislature had cut the previous year, local school districts are still reeling from from an accumulation of cuts that has not been made up even as they watch new charter schools opening up and draining further dollars from the traditional-school bucket: charter schools are publicly funded, but privately run, and are under far fewer regulatory demands than traditional schools. Local school boards are still responsible for providing oversight of charters.
In Flagler County, overall enrollment as of Oct. 29 was 12,923 (barely under what it was at this time last year, when enrollment was 13,054). But enrollment in charter schools is 1,050, or 8 percent of the total, bringing the district's traditional enrollment of 11,873 down to its lowest level since the 2005-06 school year, when it was 10,973. Indications are that, absent further overall growth that brings in new families, the trend will continue for the district.
Charter school enrollment remained above 1,000 despite the closure last year of Heritage Academy, a K-12 school that had failed two years in a row, leading the school board to revoke its charter. The reason: A new charter school opened, called Global Outreach Academy, though with an enrollment less than a third its projected first-year capacity of 368. The other operating charter schools are Palm Harbor Academy, with an enrollment of 60, and Imagine School at Town Center, the district's steadiest and best-performing charter school, whose enrollment has grown strongly every year. That enrollment was 875 at the end of October, compared to 810 last year, and 526 the year before. Imagine built an addition last year that virtually doubled its size.
Palm Harbor Acedmy, on the other hand, saw its enrollment decline by more than half. It was at 131 last year. Palm Harbor was rated F last year, the first year when it was eligible for an overall performance grade. It is likely that parents, having seen the fate of the Heritage community after that school's twin F's, may have decided to pre-empt risking a similar fate by withdrawing children. There are just a combined seven students in Palm Harbor's third and fourth grade classes.
The school district's largest school by enrollment continues to be Flagler Palm Coast High School, with 2,388, followed by Matanzas High School, with 1,625.
Here's how the district's remaining schools' enrollment breaks down:
Buddy Taylor Middle School: 1,021
Indian Trails Middle School: 827
Belle Terre Elementary: 1,357
Rymfire Elementary: 1,266
Bunnell Elementary: 1,251
Old Kings Elementary: 1,148
Wadsworth Elementary: 883
Phoenix Academy: 68
Everest Alternative School: 24
iFlagler, the virtual school: 15
Lower enrollment helped the district keep out of trouble, mostly, with class-size rules, which–by constitutional amendment–require class sizes not to exceed certain numbers. When schools exceed those numbers, they're penalized, and must pay the state back a certain sum. That happened in Flagler, but with negligible fines (or funding penalties). The district exceeded the limit by 19 students in grades K-3, by 25 students in grades 4-8, and by one student in high school. Its funding was to be reduced $31,650.
Tom Tant, the district's finance director, welcomed the figures.
"The District has made class size in all of our previous years and we would be in compliance if the class size measurement had continued to be on a school wide basis instead of a classroom by classroom, class period by class period basis, as it has been during the past two years," Tant said in a written statement. "Most of our schools have at least 6 class periods per day and our high schools have seven class periods per day. We would like to commend all principals, teachers and staff members for their continuing efforts to improve Flagler County Schools to be the best in the State of Florida. It take many hours of work and co-ordination to assure compliance to our class size goals of 18 students in grades K-3, 22 students in grades 4-8, and 25 students in grades 9-12 core classroom."
Tant added: "Please invite our citizens to visit our schools to observe the great advances in education we are making every day."