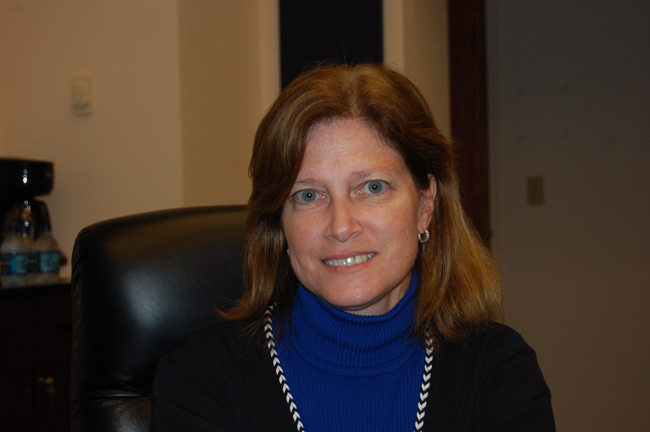 For the first time in its history, the Flagler County School Board will have an in-house attorney. Kristy Gavin, a Jacksonville lawyer who's been representing the district on a retainer since 2006, got the job last week. She was the only attorney interviewed for the job, and the only one who applied. The board approved the job description on June 15.
The position was then advertised but only internally, on the district's website. Gavin interviewed with the board on June 30. Less than two hours later, the board voted unanimously to hire her. Gavin's salary won't be set until July 20. The salary range is $85,000 to $125,000.
The average annual charge for general and litigation services billed by Gavin's firm annually until the middle of 2009 was $163,000. Since July 2009, Gavin's services have totaled &71,817. The figure does not include May and June billing, or an additional $4,827 billed by Sid Nowell, the Bunnell attorney, who regularly contracts with the district.
"If we're looking at an in-house attorney we know that this person has to become, or be, a generalist and kind of expert in many different things. Then we wouldn't have the backing of a firm necessarily," Superintendent Janet Valentine said. "We also have been going out for other litigation services for exceptional education, those kind of things. So we wanted to make sure that if we hired in-house, that we would be able to cover all those things, and we felt comfortable with that."
Gavin, 47, a native of Ohio, is a partner with Jacksonville's Gobelman, Love, Gavin & Wasilenko. She holds a law degree from the University of Florida. She's been commuting roughly twice a week to Flagler County to represent the district (and billing the district $53 just for each trip's mileage). Gavin won't be relocating to Flagler County. She is married and has three young children in private school in Duval County (a daughter who's a sophomore in high school, a son in 6th grade, and a daughter in 3rd grade).
The district's choice for attorney has been a delicate subject. For 16 years until 2006, one law firm–Palm Coast's Chiumento & Associates–and mostly one man (Mike Chiumento) provided legal services for the Flagler County School Board. The school board switched to Gavin's firm because it was perceived to be more objective and independent. Chiumento represented developers who had interests before the school board. The board wanted to avoid legal conflicts. Chiumento & Associates since became Chiumento and Guntharp.
Last year the district again considered hiring a different law firm. Chiumento and Guntharp and Nowell & Associates both bid for the job. Gavin's firm still came out ahead, largely because the fees it was charging would be lower. The board voted 3-2 to keep Gavin. Board members Colleen Conklin and the late Peter Palmer were in dissent. Both argued that the board should go with a local firm to keep dollars in Flagler County.
Conklin was absent when the board hired Gavin last week (Conklin had an event with her children). Trevor Tucker, who has since replaced Palmer, was part of the unanimous vote approving Gavin's hiring.
"The due diligence of going through this was looking at the benefits of the in-house attorney," Andy Dance, a board member, said. "I think having somebody available within the community, here in the building, and being able to keep our staff more attuned with the laws are big advantages, and our analysis the costs, should be neutral, and we get extra benefits with having her in-house."
Gavin's contract was up the night the board voted to hire her. But the hiring doesn't become effective until a salary is set and a contract signed later this month. Gavin assured the board she'd still be representing it.
While it isn't difficult to find job postings on the district's website (a "Work With Us" tab appears clearly toward the top of the front page), job-seekers would have to know to look there to apply. It's not likely that most attorneys looking for work would know that such an opening would be there. "We don't typically advertise anywhere other than our website," Valentine said.
But school districts don't typically advertise for an in-house lawyer, either: this was literally the first time in the Flagler County School Board's history.
If the district was seriously interested in advertising the position, it would have done so in a trade magazine or two, as local governments do when they decide to hire for their top positions. The attorney's position is the only one, other than the superintendent's, that the school board directly hires for. (Flagler Beach, for example, which is looking for a city manager, advertised the position in a minor trade magazine or two and got close to 100 applicants–so far. The position is still open and stacking up resumes.)
The Flagler board was clearly intent on hiring Gavin, and wrote the job description to fit and suit her: there was little question going in, after the June 15 decision to hire an in-house lawyer, that Gavin would be chosen. When the board approved the job description at that June 15 meeting, the description would not have been discussed publicly had Dance not pulled it from the "consent" part of the agenda–that part of the agenda where routine matters are included and voted on with a single vote, without discussion, and where items of considerable public concern sometimes end up dissimulated. "I was a little shocked to see it on consent, and I made sure to pull it so we did discuss it," Dance said.
There's no question, either, that Gavin has fulfilled her duties for the past four and a half years without a hitch, and to the board's great satisfaction. The board's hiring method doesn't reflect on the quality of Gavin's work. But it does show that when a local government agency wants to hire a certain individual over any other, all else is a formality for appearances' sake. In that sense, the district's approach was transparent according to the letter of the law, but nowhere near its spirit.