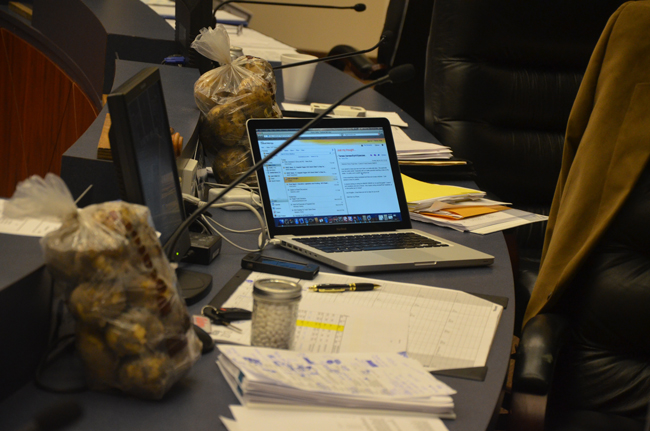 On Tuesday, the Flagler County School Board ended its day-long meeting on how to close a $1.8 million budget gap still $1 million short. Board members came up with two options that actually closed the entire gap. But neither option got more than two votes from the board, leaving full agreement on only about $750,000 in cuts. (See the details here.)
The board reconvened this morning for an emergency meeting to close that million-dollar gap in a way that would get everyone's support, though School Superintendent Janet Valentine had done most of the work for the board.
Everest, the district's alternative school, would close, saving $562,000. And the district's dozen schools and school "sites" would be responsible for coming up with an additional $317,000 in savings, a less insurmountable task than it appears. Flagler Palm Coast High School, for example, has already accounted for more than a third of that when the school agreed on Wednesday to delay for a year a $120,000 expense for band uniforms. Many schools will cut back their combined $250,000 annual out-of-county travel budget. Valentine had met with all school administrations on Wednesday to pare down their budgets, school by school.
The closing of Everest alternative school would be a severe blow to the district—and the county—well beyond the school's small campus, behind Flagler Palm Coast High School, and the 50-odd students it serves at any given time. The school, in operation 15 years, is a pressure valve for many students who, for one reason or another, are not able to function in a regular school environment. The school's existence reduces the number of expulsions and ensures that students who are expelled from their regular school continue to attend school and get more focused attention. It also keeps those students from ending up in the streets, making Everest a adjunct to the county's security concerns.
After Valentine laid out the proposed cuts, that left $100,000 to find. Board Chairman Andy Dance said that amount could be taken from reserves, at least for now, knowing that the numbers are fluid anyway, and that all planned cuts may not become necessary. Along the way, nine media aides survived, so did transportation for elementary students who live less than two miles from their school, so did all "wheel" classes in elementary schools, such as music, art and science.
But service learning programs at Princess Place Preserve and Palm Coast's Linear Park were all but eliminated, six para-professional positions were cut, travel was scaled back, including for some Problem Solvers' competitions, budgeting for the Flagler Youth Orchestra was reduced, but the program survives, library books won't be bought next year, two administrative position s were eliminated, so was a lobbyist's contract. There were other cuts and savings that have more to do with reorganizing services than affecting programs or individuals (such as a $34,000 saving from contracting with Bunnell for waste pick up).
All those cuts, including the closing of Everest alternative school, will be made unnecessary if voters approve a referendum on June 7, asking for a property tax supplement that equates to an additional $28 a year on the average Flagler County house with a homestead exemption.
But keep in mind: those cuts were achieved with the board taking yet another serious chunk of money ($1.7 million) from its reserves. The budgeting discussion began with that assumption, which, in effect, masked the true deficit: it wasn't a $1.8 million deficit, but a $3.5 million deficit, made to look smaller by the dip in reserves. Those dips are unsustainable: the district's reserves will be down to 5 percent of its budget next year, too low to be dipped into again for operational expenses. Andy Dance, the board chairman, stresses that absent success on the referendum, the deficit next year may be far more severe than this year's, and more difficult to close.
Thursday's meeting was far shorter: it was over by 9:45 a.m., less than two hours in. But it was not short on drama and revelations that will likely shake the school district, its 12,500 students and their parents well beyond today's decisions, and whether or not the referendum passes.
Valentine and the board agreed that closing schools may very well be inevitable—not this coming school year, but the next. In the school year ending in June, the district lost 285 students overall. That is the steepest decline in the district's history: in the past, it was never so large as to have such a large proportion of its students vanish. And as Flagler County grew, its school population only grew: that had been the case, uninterruptedly, for at least a generation. The state is projecting that the county will gain students next year. The district is budgeting on another loss of 285 students, which is one reason why it is facing a budget gap.
If, in fact, the district loses that many students again, closing a school, if not two, may be inevitable, though Valentine said that, again, the passing of the referendum may delay that decision.
On Tuesday, the board considered closing a school as party of its immediate cost savings. But it quickly became apparent that planning in May for a school closure by August was logistically next-to-impossible. And board member Colleen Conklin was insistent that if, in fact, closing a school becomes a real possibility because of declining enrollment, the notion should not be made conditional on the referendum:
"I am not confident and comfortable in recommending that we close a school based on the referendum because we may have to close it anyway," Conklin said, "and I don't want to put it out to the voters that if you pass this referendum we won't close a school, because that most likely will not be the case." The board agreed, with caveats.
Early in today's discussion, Valentine served up two options describing what a school closure would mean. The numbers were startling. Under one option, the district would close Wadsworth Elementary and Indian Trails Middle School. Wadsworth's students would be dispersed among four remaining elementary schools. Buddy Taylor Middle would take over the entire middle building currently shared by Wadsworth and Buddy Taylor, and Indian Trails's students would move in there. The savings: $3.2 million.
The district has enough empty seats now to make that happen.
A second option would be to close Old Kings Elementary, and disperse those students among four remaining elementary schools. That closure would yield a saving of $1.5 million.
When those numbers were submitted, board member Sue Dickinson was shocked—not by the numbers, but by the fact that the district is still operating all its schools, when it could actually consolidate and save.
"So we're going to be spending an additional $3.1 million this year when we could have been planning for this and have it happen this year," Dickinson said. "We are not using taxpayers dollars appropriately when we are operating two school buildings half empty." Board members and the superintendent didn't disagree, but any school closure would need broader planning—and more certainty about the enrollment figures, which won't be clear, so far as next year's trend is concerned, until Labor Day.
Dickinson had another issue she turned into a line in her sand, which she didn't want the board to cross: the lay-off of six non-instructional, or para-professional, employees, each of whom makes $18,000, or less than the living wage required to make it in Flagler County. When Dance said that the last $100,000 in the budget gap could be bridged with reserves, Dickinson pounced: if that's the case, then a similar sum could be—should be—found to ensure that those six employees are not laid off. Dickinson said, correctly, that the six would be the only employees who'd have to be looked in the face and told they have no job next year. The 15 teaching positions being eliminated are occurring thanks to retirements and voluntary resignations.
Conklin and Dickinson then battled over the six, with Conklin referring to a recent report that showed the district being 20 positions over its necessary level of para-professionals, and Dickinson refuting the claim by saying that the six were vital to current operations. At that point, a district administrator was summoned to the dais to tell the board that while the district can always use more hands, all of the 20 were not, in fact, vital, and none of the planned cuts would affect such operations as disabled or autistic children in classrooms that Dickinson had referred to. The debate got angry,
"I hope you have a nice mother's day, knowing they won't have a job next year," Dickinson told Conklin.
"Not helpful," Conklin said.
Dance, the board chairman, had to intervene, ending the discussion once it was clear that the board's consensus—and Valentine's recommendation—was for the lay-offs. For now, anyway: the decision was necessary because if those employees are to be laid off, today was the deadline for them to be officially informed of the fact.
The discussion is not over. Thanks in part to Dickinson's insistence, but also because other board members want to continue analyzing the budget, the board set yet another budget workshop for next Tuesday, May 14, at 1 p.m. Valentine's task: to be ready to discuss with the board the district's organization, department by department, with an eye to how departments and employees are used, and another eye to how that could be changed, with cuts in mind. Dickinson was especially interested in how "teachers on assignment" are used: those are classroom teachers who've been pulled from the classroom to be in charge of particular programs, such as drop-out prevention or college and carer readiness, jobs that could, theoretically, be reduced. At least that was Dickinson's argument when she was battling to save the para-professional jobs.
Another surprise in today's meeting: Conklin said that in light of the continuing enrollment decline, the district will have to revisit its resistance to eliminating construction impact fees, the one-time tax levied on new homes to defray the cost of new school buildings. Conklin last year was the swing vote against ending those impact fees, a proposal the local real estate and home-building businesses are eager to see realized. Her switch would be an opening to make that happen.