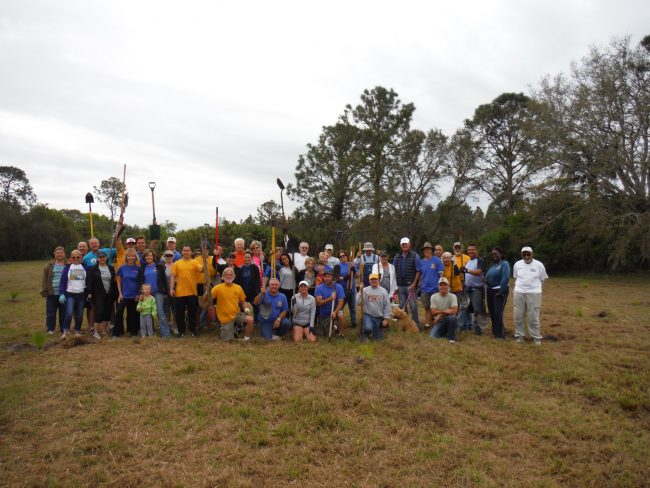 Members of all three Rotary Clubs in Flagler County converged on Princess Place Preserve to plant 220 trees on March 31 as part of a world-wide effort by Rotary International to improve the environment.
The Rotary Clubs of Flagler County, Palm Coast and Flagler Beach planted 220 Long Leaf pines in an open field not far from the eagle nesting observation spot in the preserve. The 1,500 acre preserve is part of Flagler County's Park system.
The project is in response to a call by Rotary International President Ian Risley for the organization to plant 1.2 million trees, one for each member of the international organization.
"There's something about planting a tree that speaks to people in a very primal way," Risley said. "It shows a long-term commitment to the community. Rotary does many wonderful community projects: We build playgrounds and clean up rubbish and many other things. But somehow, planting a tree captures the imagination. "
The Flagler County project was spear headed by the Rotary Club of Flagler County President Tracy Loftus and organized by Mike Kuypers and Bill Butler who worked with the county to select a site and with funds from all three clubs to purchase the seedlings. Club members gathered at the site Saturday morning and with about 60 volunteers planted all 220 seedlings and watered them in a couple of hours on Saturday.
Loftus is service and parts director at Tom Gibbs Chevrolet, Kuypers is retired from the Division of Forestry as the District Forester for Volusia, Flagler and St. Johns counties. Butler is the landscape architect for the City of Palm Coast. All three are members of the Flagler County Rotary Club.
Long leaf pines are the native pine tree for this area of Florida. They are slow growing and more tolerant of fires than the more common Slash pine. The fast growing Slash pines were introduced to the area for their ability to produce sap for turpentine, an important product here in the late 1800 and early 1900's. A slash in the form of a " V " was used on the bark of the tree to drip sap into clay cups, hence the name, Slash pine.
Long leaf pines, which are much less of a fire hazard than Slash pines, have been edged out of the environment by the faster growing Slash pines.
The goal for Rotary International is to plant 1.2 million trees around the world by Earth Day on April 22 this year.