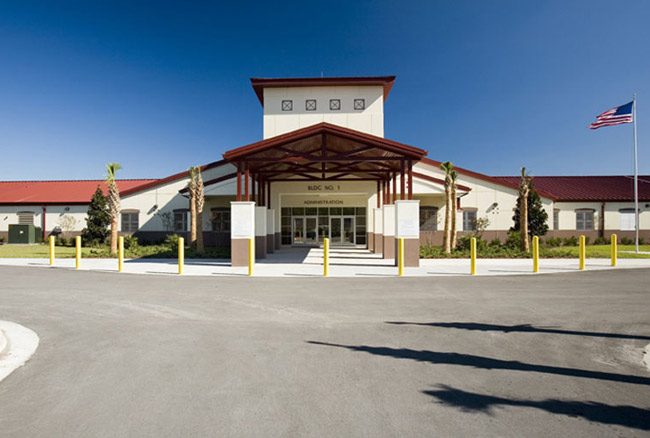 Despite pressure from local health and county officials and school closings in Volusia, Duval, Osceola and Marion counties (so far), Flagler County school officials were electing to keep schools open Friday–until just before 5 p.m., when they reversed course and agreed to close Friday and Monday, to accommodate emergency officials.
County emergency and health officials are eager to get a special needs shelter prepared at Rymfire Elementary (at 1425 Rymfire Drive in Palm Coast) and to do so Friday, because online registrations for special needs exceeded 500 today–more than double the number of people who used the special-needs shelter during Hurricane Matthew last October.
Robert Snyder, the director of the Flagler County Health Department, says a certain amount of those people will still make other arrangements, but the number is an indication of the amount of resources the health department and county emergency officials need to marshal to get the shelter ready at Rymfire.
The district was going to make the school available to the health department at 1:30 p.m. Friday. "There's nothing I can do about it, we will make it work. We will make it work," Snyder said. "My preference would have been Friday morning to have access to the gym, but we will be dealing with 1:30 onward."
The school district's Lynette Shott, April Dixon and Jason Wheeler were among those meeting this morning as part of the Flagler Executive Policy Group, which gathers the county's top administrative leadership, law enforcement, and some elected officials, such as city managers, the county administrator, the fire chief, the emergency management manager, the superintendent (James Tager was at a conference in Gainesville), mayors and some others, to devise unitary policy during emergencies. Sometimes it's not necessarily unitary, as various interests or methods clash.
"Where we are right now, we've got to work though it some more with the school system," County Administrator Craig Coffey said earlier this afternoon, before the district's reversal. He said the district was basing its decision on other districts staying open, a situation that has changed since, though there were other reasons as well.
"We're not going to close early just because everybody south of us is closing early," Wheeler, the district's chief spokesperson, said in mid-afternoon. "Conditions do not warrant us closing on Friday right now." He added, "We talked with Robert Snyder after that meeting and everybody was OK, copacetic with everything. We are making arrangements that he can get his team into Rymfire a little earlier than anticipated but there'll still be plenty of personnel to get that school ready should it be needed as a special needs shelter."
The district was resisting closing schools Friday not because it's reluctant to face the prospect of make-up days–always a complication on school districts' overwrought calendars–but as a matter of safety: "It's a matter of giving our students the safest place to be right now, it needs to be in our schools," Wheeler said, noting that with 13,000 students and still thousands of working parents likely expected to report to work on Friday, the district can't be leaving those children adrift or upending their parents' work responsibilities.
On the other hand, emergency officials cite the need for preparations ahead of the storm–not just their own, but those of families who may want to evacuate or prepare their storm plans. "We feel we still have plenty of time for people if they want to evacuate still to evacuate," Wheeler said. "If they tell us we need to open the shelters earlier, then by all means we'll open up the shelters earlier." Wheeler said that in any case, the district was going by the information and requests of emergency management first.
And in fact the county did agree not to press the point of a Friday closure, as a matter of compromise.
"We make this decisions jointly with them," Coffey said, recognizing that both sides have valid reasons to press their point. He acknowledged the district's concern for still giving 13,000 students a place to be Friday, but he said that also may mean keeping a lot of families "anchored" in the county when they might prefer to evacuate. "It's a balance," he said.
Coffey did expect schools to be closed Monday, however, based on the very high likelihood that the shelters will be activated Saturday at 7 a.m.
Then at 4:47 p.m., Wheeler confirmed that plans had changed–schools would close Friday.
"Out of an abundance of caution, I want to give our families the additional time to prepare their homes for this storm or to evacuate if they feel that decision is in their best interest," Tager was quoted as saying in a release the district issued just before 5 p.m.
Tager could not be reached earlier in the afternoon, but when interviewed in early evening he said he saw matters unfold differently. "I like to make methodical decisions," he said. "I'm not sure anything changed. We just took our time making a decision." He'd been in contact with senior members of hiss staff through the day and with several other superintendents, weighing the evidence and hoping not to have to close schools. "I chose not to make a call until later in the day," he said.
To prepare Rymfire as a special needs shelter, the county will send staff members to help the health department's officials load vehicles with medical supplies and other needs Friday morning, so they're ready to unload at 1:30 p.m., Snyder said. The shelter will occupy the gym area. If it overflows, there's a lot of room in adjoining rooms and the cafeteria.
Last year during Hurricane Matthew, the shelter had to take in the patients from Grand Oaks, the rehabilitation and nursing home on Palm Coast Parkway, which was found to have a poor evacuation plan in after-action reports and had to be evacuated to Rymfire during the storm. This time, Snyder said, he checked with the home's administrator, a solid evacuation plan is in place, and if it comes to that, the home will be evacuating its patients to Jacksonville–thus leaving more space at Rymfire.