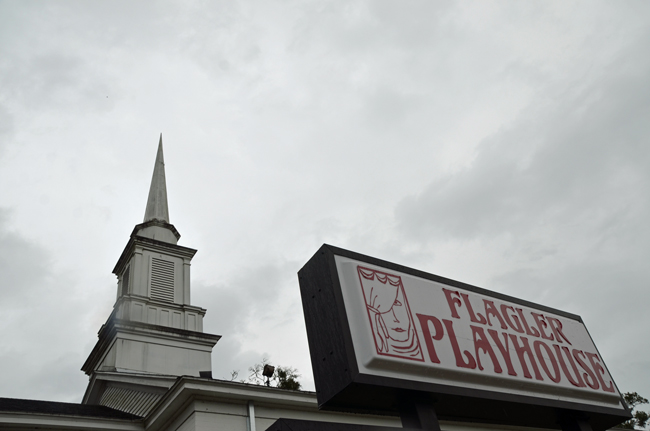 Beyond healing their spiritual woes and receiving absolution for their sins, some people would say they go to church for the sense of community, to be part of something bigger than themselves. Others might confess that they go for a little theater.
It's fitting then that the Flagler Playhouse, the county's oldest community theater, moved into a church six years ago. After all, the theater, a non-profit driven by a robust volunteer effort, depends on believers for its mission of providing the community "with a diverse, live theater experience by offering high-quality productions and creative opportunities for all ages and cultures." It also needs those believers if it's going to make ends meet.
"There are only a limited number of season performers, but there are a countless number of individuals who'd like to become season performers," says Pat Love, the Playhouse president. All in all, there are about 300 volunteers, Love says, working in one capacity or another to make everything possible. Volunteer hours range from 10 to 20 hours a week for some, up to 40 or 50 hours a week for Love during a production.
Before the theater moved into what was formerly the First Baptist Church in 2007, it was an itinerant organization with performers alternating rehearsals in each other's living rooms and performing wherever they could rent space, whether that be at the Flagler Auditorium or the old post office.
Nancy Howell has been with the playhouse since it was called "The Little Theatre of Palm Coast." The theater changed its name after it was clear it was attracting people from all over the county. One of the first things Howell—a school teacher of 30 years who is also on the board—did when she became active with the playhouse was take it upon herself to become the theater's official historian. Howell has seen a major transformation over the years in what would indeed be a congregation if its members were an actual religious group. When she first became involved, Howell says, the company was more like a "club." Times have changed.
"We have a 'home,'" she says. "In the early years, only two or, at most, three shows were done in a year.  A season could not be planned. Today, we are a theater!"
When the playhouse finally found its home, the Flagler Tourist Development Council granted the theater money to turn a pulpit into in a real stage with lights. Last year, just before the season-opening performance, Flagler College donated theater seats to replace the old pews.
The old church is a two-story building with an annex. In the main building, the nave opens onto the stage, and there is a lounge where patrons can grab either candy, soda, or wine during the intermission. The room is adorned with costume displays from past shows, Love says, because "seeing them once on stage is not enough."
There are also dressing rooms, administrative offices, dance rooms, meeting rooms, multiple storage spaces, several rest rooms, costume rooms, a music room and a children's theater. Someone might wonder why a small-town church would have needed so many rooms, but Love isn't complaining.  "Does it get any better than that? I don't think so," she says.
Love intends to rent out some unused space to different artists. In the past, it had leased a room to an Internet radio station. Meanwhile, the board wants to make better use of the space it has. The playhouse is waiting to hear back from the Florida Division of Cultural Affairs as to whether or not it will be awarded a grant for a renovated kitchen, so that the company can perform cabaret. Also in the planning stage is a shop for building stage sets where set-building workshops could also be offered.
In early November the stage was set for Ken Ludwig's "Moon Over Buffalo," a comedy revolving around a husband-and-wife team of traveling actors, which opened November 1 and finished its run on the 17th. It was directed by Jean Rahner, the cofounder and retired artistic director of the Limelight Theater in St. Augustine. Love calls the show "uplifting," a word she would use to describe most of the company's offerings.
It's the sort of mainstream production that plays to the theater's demographic. "There are a lot of '50s references that should be familiar to them," Love says of an audience that is made up largely of retirees. "We have a pretty specific audience, so we know what they like."
This season began with "Baby," continued with "Moon Over Buffalo," and will follow with "Annie Jr.," "On Golden Pond" and "Sylvia." There is a different director for each show.
The playhouse managed to weather the area's economic downturn, but the board is careful not to take too many risks with "offbeat" productions, Love says. "We had to do more mainstream productions. That was a choice we made to stay financially viable. Ever since purchasing this building, it's been more of an issue," Love adds, referring to the steeper overhead for a building she calls "a blessing."
Nevertheless, this season concludes with a play called "Urinetown," an edgier offering that's had its share of band and attempted bans on highs school stages, and that is something of a departure for the theater.
Love would like to find a way to integrate a second season that would be able to take on less traditional, more ambitious shows and, perhaps, even introduce some original work. To do that, though, would require even more volunteers than the theater currently has.
In the meantime, in order to keep ticket prices low the playhouse must find other sources of revenue. Right now, ticket prices are in the range of $15-20, and, according to Love, the number of season-ticket holders has increased from 78 in the 2009-12 period to 317 this year. (Tickets that are unsold 15 minutes before the show go for $5.)
Not that the theater is in any financial difficulties: Its latest-available tax filing in 2011 showed its net assets at $1.2 million, with ticket sales totaling $93,000 and total revenue totaling $114,500., against expenses of $115,500 (including $15,861 in royalties and $16,500 on insurance.
Love says that to ensure the financial health of the theater it is important to reach out to a younger audience. "Needless to say," says Love, "we can't just keep having retired folks, because sooner or later we're going to lose them."
That's where Jamie Irvine, the playhouse's new Theater Education Coordinator, comes in. The playhouse was able to hire Irvine with a grant from the Florida Division of Cultural Affairs. Irvine—who, at 32, says she's been a performer all her life— "brings experience with the vibrancy of youth," Love says. Irvine started working with children at the theater on August 1st, and while the other directors do receive small stipends for expenses, Irvine is the only person involved with the playhouse who is not working on a volunteer basis. Love was impressed enough to approach Irvine about the position after watching her audition for "Baby," and also after reviewing her robust resume.
Irvine, who had just moved to the area from Pittsburgh, was instantly taken with her new surroundings. "It felt like home because it was very reminiscent of the theater that I worked in," she says.
In addition to running the summer camp musical theater, Irvine, who has a degree in musical theater, breaks the kids into age groups for the different workshops she's started. Lasting about four hours, each workshop focuses on something different, whether it be preparing for an audition, stage movement, or speaking on stage. Irvine has also started a senior citizens' readers' theater, an improvisational troupe, and adult acting classes. "Education is such a broad term," she says.
By the time Irvine's year is up, the hope is that the playhouse will have generated enough funds from her activities to keep her. "It could really take a good year to get where we want to be. It takes time to build a program," says Love. "This was not intended to be a one-year proposition."
So far, the new programs haven't yielded much of a profit, but the playhouse is still trying to get the word out. "I don't know what business gets to be profitable in three months," Love says. But it's not so much about profit anyway, she adds. If they can just break even and keep Irvine, that'll be enough.
One strategy for spreading the word has Irvine volunteering at Buddy Taylor Middle School twice a week, so she can help musical theater students prepare for an upcoming thespian competition. Recently, Irvine took a group of her students to do a presentation for seniors at the Benton Village Senior Center.
A student who participated in the event told Irvine it was one of her most rewarding experiences, and the feeling was obviously mutual. "I cried a little that night," says Irvine.
In the end, though, there's no greater priority than getting money from the state, according to Irvine, because "the education out there isn't just for children. There are a lot of adults who want to get involved but don't know how."
Irvine will also direct "Annie Jr.," a kids' production, which has more than 27 youngsters in the cast. For many of them, it will be their first experience on stage. "It's getting kids involved in all areas—it's not just performing," says Irvine. Those who are interested can also work backstage, whether with sound or lighting.
So why are so many willing to devote so much time to the Flagler Playhouse? For Love, the answer is simple. "It's transformative to watch live theatre, but even more so to be part of it."