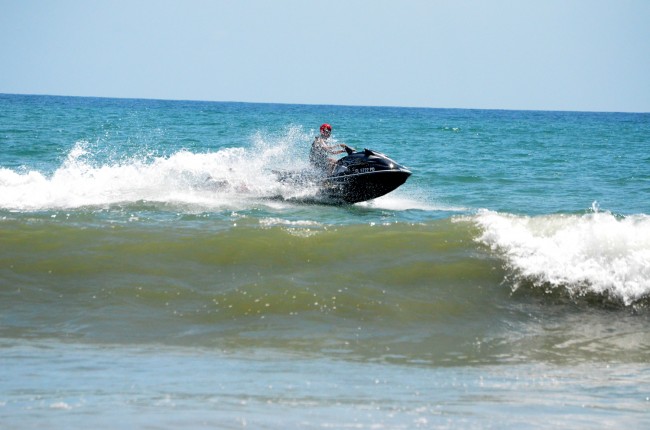 More than a year and a half ago residents of Sea Colony were complaining to the county that despite a near-drowning on their beach, the county wasn't equipped to do much for beach-goers' safety: no lifeguards, signage, no red-flag, green-flag system. Flagler County Fire Rescue was equipped and trained to do so-called surface-water rescues (lakes, rivers, the Intracoastal), but not ocean rescue—entirely different, more elaborate and demanding capabilities. It would take a policy decision, however, for the county to start up something like an ocean rescue unit.
In January 2010, the county commission gave that directive to the administration. There was little interest in a lifeguard program beyond the $80,000 the county was giving Flagler Beach every year: it wouldn't be cost effective on sparsely treaded beaches. There was no interest in a flag system, which could implicate the county in liability issues. But there was interest, from county commissioners Barbara Revels and Milissa Holland especially—both having as much affinity for the sea as for land—to go the ocean rescue route.
Over the July 4 weekend, county residents and visitors got a glimpse of that ocean rescue unit for the first time: a $10,000 jet ski, an $11,000 Polaris all terrain vehicle, and four men (or rather three and a half: the fourth isn't yet certified), heading it up: Mike Pius, Aaron Price, Drew Hardesty and Richard Bennett. Visitors and residents saw the unit in the Flagler Beach parade. A little later, they saw it launch and perform two rescue drills in the ocean, with Bennett as the drowning victim (Bennett is the one still working on his certification).
Not long after those drills, the unit also performed an actual medical call: a young boy had been stung by a jelly fish a half dozen blocks north of 10th Street North. (He was treated and was fine.) The unit was on the beach beginning last Friday through midnight the night of the fireworks, responsible for everything north of the Flagler Beach pier and to the Matanzas inlet. Expect the unit on the sands again every time there's a large crowd.
"For special events," Flagler County Fire Rescue Chief Don Petito said on the 4th, when he, too, was on the beach, "we'll have a team on the beach, but during the normal day when it's not a special event, when we're not expecting a large crowd, we'll be stationed at Station 41 in the Hammock, where the launch point is 16th Road. I don't know if we're going to be doing a permanent presence as we are today, but we're looking at expanding it until we have extra personnel trained and extra equipment located on the beach."
The Flagler Beach Fire Department has a jet ski, and it has rescuers trained in ocean rescue, but logistics limit the unit's capabilities, Bennett said. The county unit will add versatility anywhere north of the pier. Tom Gillin, Flagler Beach's parks and recreation director (and the city's lifeguard in chief), sees the county's addition as a necessary plus, echoing what Revels had said in January 2010: county beaches are no longer the sparse venue of her youth, but busy places that, by sheer numbers, mean more incidents.
Pius explains the drill he'd just completed: "Our first priority is having a swimmer with the victim, so what we did was immediately get a swimmer out there. A jet ski will be launched, and that jet ski can then pick up the swimmer. If need be the swimmer can take the victim in, but if you have heavy surf, to where if you have someone who's already exhausted physically, it may be hard for me to hold this victim with a rope in place and having large surf coming down on our heads, so it may be a little safer in that atmosphere to take a jet ski."
"I know it looks like we're having a good time," Pius continues, "but the thing is that this is just one more facet of all the disciplines we do in rescue. It's not fun running medical calculations, but we do it. This just happens to be something that's a little more enjoyable, and it looks fun, but we treat it with the same dedication that we treat knowing our fire behavior in the wildland atmosphere, knowing our building construction, knowing where fire is going to go, knowing the human body and knowing how to treat that."
Petito is bracing himself for the sort of criticism that's become virtually automatic these days when public safety or government agencies add visible, and visibly flashy, equipment to their arsenals. An exchange between Bennett and a plumpish, 40ish man on the beach made the point. "New toy?" the man asked, pointing at the red ATV.
"Yes, sir."
"I thought so. That's a new toy too?" The man points at the jet ski, out by the breakers. Bennett nods. "I thought so," the man says, in a tone indicating something less than full approval. "Have fun."
On the other hand, Bennett said, beach-side residents have also been complimenting the team for merely being on the beach, and beach-goers aren't shy about summoning it for help.
The ATV unit is essentially an all-terrain ambulance, equipped with most of what an ambulance has, and able to perform all ALS functions—advanced life support, Bennett said. What the unit needs are more personnel able to run it.
Eighteen fire rescue paramedics are trained in surface-water rescue, but "the ocean rescue is a whole different animal," Bennett said. The two-week training period, conducted at the Freeda Zamba pool and at St. Johns County's Solomon Center, begins each day with a two-mile swim and other endurance exercises. "Guys went through a lot of training to get to that point. It's just a lot of training. You've got to build up to a certain level. Ocean obviously is much more dangerous than the Intracoastal per se." Flagler has a cooperative agreement with St. Johns, which provided the training at no cost. "There's a lot of work that goes into being on this team, and there's a lot of people that won't even be able to make the swims," Bennett said.
"You have to qualify," Petito said. "You have to be a very strong swimmer."
Pius, a natural swimmer, is asked if Petito could make it. Pius pauses just a brief moment, for diplomatic effect. "The chief," he said, "is more suited in a role of administration to keep us safe and funded. We would rather have our chief working his magic in the office."