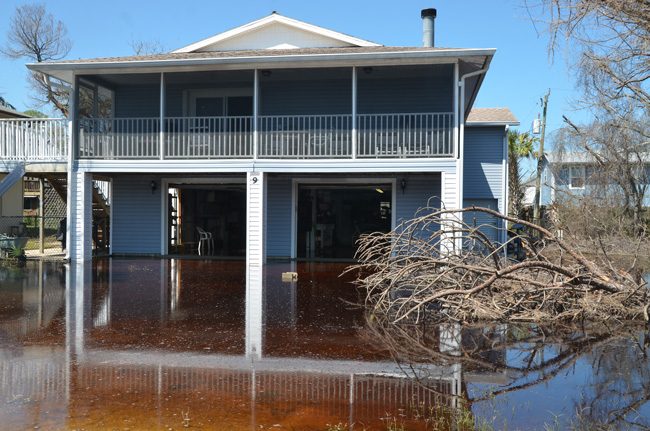 The after-shocks of Hurricane Irma in Flagler County have moved from an emergency to a humanitarian response, with much of those humanitarian needs driven by the persistent lack of electricity.
"We're running into a lot more humanitarian issues because of the length of the power outage," County Administrator Craig Coffey said at midday today during a comprehensive interview about current conditions and what to expect in coming days. He spoke as the county still had about a quarter of its customers, most of them residences, without power.
On Thursday, county crews and firefighters were distributing meals ready to eat and water through Daytona North, which was heavily struck by flooding, and where residents are without power or water, as they all depend on power-operated pumps for their well-water. Today, similar operations have shifted elsewhere.
The county is working on two major areas of concern today, Coffey said: Small, community-based assisted living facilities that operate out of homes, and that don't have the same regulatory requirements as more commercial facilities, and Bulow Plantation, where 500 to 600 residents are without power or water, because the management there fried connections after a generator malfunction.
The county and health department officials have gone to each one of the small assisted living facilities, some of them still without power, to make sure that there's no local repeat of the Hollywood, Fla., assisted living catastrophe, where eight patients died earlier this week, at least six of them from heat-related problems. There was no air conditioning at that facility.
"We personally went to each one of those, the State Attorney's Office was checking as well," Coffey said of the local facilities, "assessing patients for dehydration and medical issues. By and large we discovered very few problems, even the ones without power, and we prioritized the restoration of power for those facilities. Most of those ae in Palm Coast."
At Bulow Plantation, county fire and health officials are going door to door, along with Sally Sherman, the deputy county administrator and the emergency manager, handing out information fliers, meals ready to eat and water, basic toiletries and information on how to register with the Federal Emergency Management Administration.
The Palm Coast City Council met in a special meeting this morning to get a Hurricane Irma update from all departments. Again, the story was about power restoration as the priority, though City Manager Jim Landon said FPL had been cooperative in addressing many of the city's individual wastewater systems, or pep tanks on individual properties, which are dependent on electricity. But there was little precision about how and where FPL had been cooperative, other than that the number of people without power was creeping down. "The one priority is get their power back up," Landon said. "They are working as hard as they can they've got 21,000 people in the state of Florida," the manager said, repeating FPL's standard line. But few of those crews are in Flagler.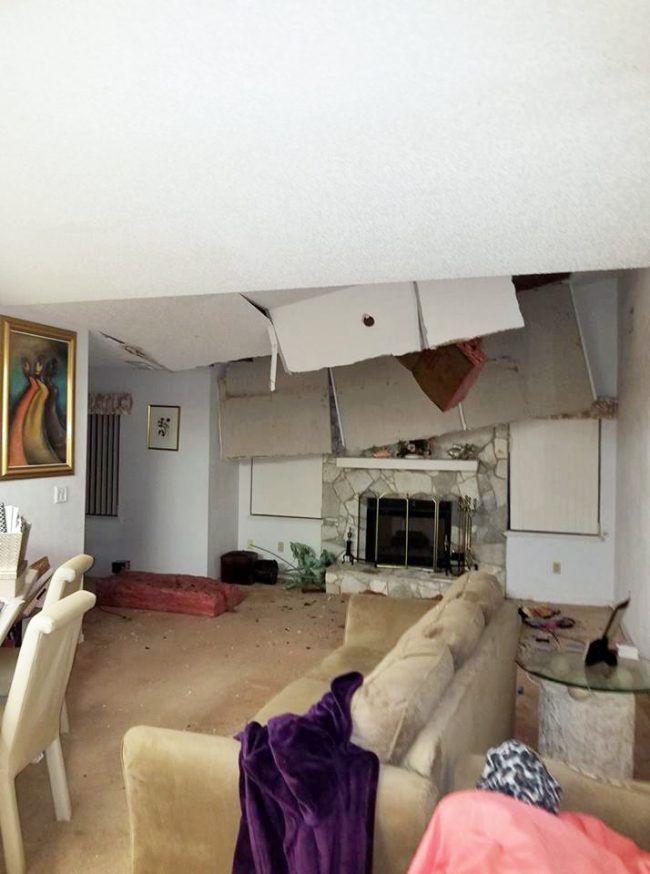 In fact, County Administrator Craig Coffey said just a quarter of the crews that were here for Hurricane Matthew are in Flagler this time: the mass of crews are in the south end of the state, which is why power reconnections in Flagler have dragged so much. Mayor Milissa Holland referred to another chronic issue: how residents have put in repair requests through FPL's ticketing system, been told that their ticket was addressed, only to find out that the information was wrong. Holland said the system has been overloaded. "The president indicated they're going to fix that next time," she said, referring to Eric Silagi, FPL's president.
But Landon summed up the current situation for residents: "If you don't have power, everything is bad right now." He added: "FPL is predicting—I wouldn't count on it—but they're hoping everyone will have power by this weekend."
In Palm Coast, some 1,100 properties received some kind of damage, and two homes were lost—one to fire, one when a tree went through the roof. "If you don't think it was a major storm, I guarantee you to people who lost their home it was a major storm," Landon said.
So far, the city has estimated property damages at $26 million, the county at $67 million. Coffey said the county's figure will likely be rising, with damages to county structures and costs of tree debris removal added in. For Hurricane Matthew, the county's bill for debris removal ran up to between $2.3 million and $3 million, with 130,000 cubic yards that was removed. This time, the county is estimating between 30,000 and 60,000 cubic yards, depending on who's doing the calculation. That's an indication of the lesser severity of the wind damage in the county, compared with Matthew.
"We're looking to start debris operations starting next Thursday. We're finalizing all those details now," Coffey said.
FEMA will reimburse 85 percent of the city's and the county's costs, for the first 30 days of pick-up. The problem with that benefit: the clock on those 30 days started when the federal emergency was declared, four days before the first tree fell in Flagler, and 15 days before the first pick-up will actually occur. It's one of those absurd quirks that will essentially wipe out half the period of the benefit. The next 30 days are reimbursed at a lower threshold.
At the county's assistance center at the public library on Palm Coast Parkway, things are going smoothly, but the county is stressing that it is not a food-assistance center. It's intended to help people register for assistance to take care of their damaged homes. Thirteen families have been identified so far as having homes that are not structurally safe to live in, with up to 20 expected. FEMA has a program to place people in that situation in hotels for a while. The problem: FEMA has been nowhere to be found locally. "Nobody from FEMA has been giving answers about that," Coffey said. And that voucher program is available only through September 23 or 24.
FEMA's arrival in Flagler will be the next issue, after power is restored. It tok FEMA two to three weeks to set up its presence in Flagler after Hurricane Matthew. It'll be longer this time. "My experience with Matthew tells me that it's a process and it'll be slower than we would like," Coffey said.
Meanwhile, the county is ramping up Red Cross operations to feed people in need in the county and in Flagler Beach. "That may start as soon as tomorrow," Coffey said.
Events were moving even faster than that: "[the] We have been told that Red Cross truck will station in front of museum today at lunch and dinner both to distribute food," Teri Pruden, director of the Flagler Beach Museum, said today. The museum has become Flagler Beach's de-facto assistance center every day, seven days a week, between 10 a.m. and 4 p.m. or later when meals are served there, as they already were Thursday evening thanks to a Palm Coast church's donations. "We are still collecting and distributing documents and information." (The museum is at 207 South Central Avenue in Flagler Beach. Any questions, call the Museum at 517-2025.)
Gerling Travel in Flagler Beach is offering a free breakfast Saturday morning.
Two shelters ae still operating today, with about a dozen people at Rymfire Elementary's special-needs shelter and some 18 at Church on the Rock, many of them possibly homeless. Th county will seek to shut down the Rymfire shelter and possibly combine the two operations, with First United Methodist in Bunnell stepping up to help. But the school district needs to prepare its schools for Monday's re-opening.
"Schools have been great to work with, the non-profits have stepped up, churches have been great," Cofey said.
Jason Wheeler, the school district's chief spokesman, said every school in the district will be a dropping off point for non-perishable food items next week, as will the district's community outreach division at the Government Services Building. With increasing needs at the county's food pantries, which Wheeler says have been "slammed" with needs, the district is asking all local residents who can spare non-perishable foods to contributed to the extent that they can, and to take advantage of the drop-off points in the schools.
The county is not out of the woods, nature-wise: Hurricane Jose is far out in the Atlantic, yet its storm swells will be felt in Flagler, and with vulnerable beaches, where dunes have been wiped out, that's a new worry. "We will experience winds and tides from Jose that will concern us," Coffey said. "Even if we get some breaches, we don't anticipate them being major breaches."
Seven houses in the Painters Hill area, built on the beach, have been red-tagged, meaning that they are uninhabitable until an engineer or a building official clears them. They are some of the same houses that were damaged by Hurricane Matthew. There's a plan to dump $3,000 worth of sand in front of each of those houses (the cost is per house, and will have to be borne by the homeowners). The county has an even larger protective plan in the works.
Ironically, the county is still waiting for its first dime of FEMA money from Hurricane Matthew, with $1.4 million in the state, but not yet delivered to Flagler. "We will receive our first dollar probably a year and a month after Matthew," Coffey said.
Coffey concluded: "In the big scheme of things, as far as damage, there are a lot of places that were hit much worse than us," Coffey said, "so even though we're dealing with a lot and people are suffering a lot, we have a lot to be thankful for, if you look at the big picture."

The Flagler County Assistance Center is now open at the Flagler County Public Library on Palm Coast Parkway, from 9 a.m. to 6 p.m. through Friday, at 2500 Palm Coast Parkway NW. Those without transportation who need a ride should call the Flagler County Transportation Department at 386-313-4100.
For help in Flagler Beach, go to the Flagler Beach Museum at 207 South Central Avenue in Flagler Beach any time between 10 a.m. and 4 p.m., seven days a week, or later when meals are being served there for those in need, as they will be today. Any questions, call the Museum at 517-2025.
Remember: every public school in the district will be a drop-off point for non-perishable food through next week. Please consider donating food that will be turned over to local food pantries, whose supplies are being exghausted by great need.