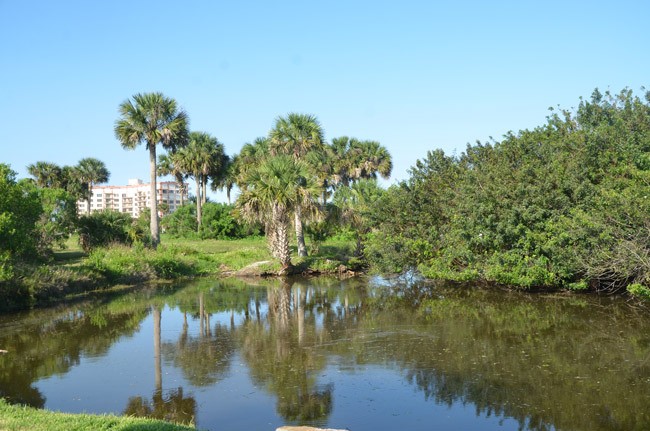 The Flagler Beach City Commission voted unanimously last week to start negotiating with a novice local firm to lease and run the old Ocean Palm Golf Club at the south end of town. But the unanimity masks a lot of questions, red flags and outright skepticism a majority of commissioners verbalized about signing a deal with the company even as they drew loud applause for finally agreeing at least to negotiate.
Commissioners had little choice. When they asked for proposals from companies interested in running the 34 acres as a nine-hole course again, only one company submitted a written response meeting some of the parameters the city asked for. That was Flagler Golf Management LLC, the company local resident Duane McDaniel and his cousin Terrence McManus established with the express intent to pitch for the old golf course. Two other companies showed some interest but did not formally apply. The dearth of proposals was not a surprise: the golf industry is reeling from contraction across the country. Golf courses have been closing in scores every year, though nine-hole courses are showing signs of life.
Commissioner Joy McGrew has been leading city government to a deal with Flagler Golf. It was at her initiative that the commission set up a special meeting last Thursday (Oct. 8) to take the sort of step that would allow the city administration to begin negotiations. That much commissioners agreed to, as each one of the commissioner wants to see a viable golf club enriching the south end again. But there's much less unanimity beyond that.
Commissioners have two strong concerns: the first is Flagler Golf Management's lack of history or so much as a business plan. The company has no track record, though the company it intends to contract with to redesign the course—Fazio Design—does. The second relates to the up-front conditions Flagler Golf set out in its proposal. The company wants a 40-year lease. And it wants the first five years of that lease to be free of any financial obligations to the city. In other words, it wants to run the course without a dime's return to the city for those five years. Rather, the company is asking that the city, which spends $14,000 maintaining the course, turn that money over to Flagler Golf. On the other hand, Flagler Golf pledges to rebuild and run the course at its own expense, with no exposure to the city.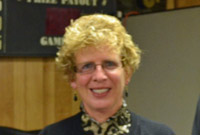 Even Commission Chairman Marshall Shupe, who is otherwise supportive of Flagler Golf taking over, has a problem with the 40-year lease and the $14,000. And he acknowledges other unanswered questions. Nevertheless, if the company were to take over and fail a few years hence, "chances are what they've already done is an improvement for us. I'm looking at that," Shupe said. "It seems to me that we as a city if we just sit on this for another year or six months, all we're going to do is spend money, if nothing else, on maintaining the property, whether we can do it with the eight mowers or whether it has to be 16 eventually, to me it's money being spent, and if we turn this over in a negotiation, then that something at least we don't have to pull out of your pockets and everybody else's, and at the same time it should be an improvement down there." That got some applause. "We're all saying essentially the same thing. We really are."
Whether that's true or not will become more apparent during the negotiations with Flagler Golf. But so far, McGrew alone was without questions about the prospective company.
Commissioner Kim Carney spoke her reserve explicitly. "I believe the company was formed just for this purpose. I do not believe it's a viable business that's operating in Flagler County. I did not see any financials for them," Carney said. She too is opposed to a five-year lease at no return for the city. "I want to make sure we have no risk, and that will be part of the negotiations," she said. "The negotiations part is going to be where I'm going to be more focused than whether or not we use this company or not. They obviously are the only bidders and I do think we should sit down and talk to them."
Commissioner Steve Settle lives on a property that abuts the golf course. He's been most critical of the process that led to this point—not because he doesn't want a golf company to take over, but because he claims City Manager Bruce Campbell did not do enough to secure proposals from which the city could pick. (Campbell countered that he had no control over the number of companies that could submit bids, let alone the dire economics of golf.)
Settle is unhappy with the lack of information provided so far, even regarding Flagler Golf. "We have very little information to go on," he said. "I'm fine with taking the time to understand who we're dealing with. If we want to go forward I agree, let's go forward, but let's take the information we wanted when we sent out that RFP and have whoever wants to deal with this give us exactly what we were asking for in the RFP. If they want to make the commitment, give us a business plan, give us your financial background."
Mayor Linda Provencher echoed some of Settle's concerns, noting that if the company that takes over goes out of business, it's a subsequent commission's problem all over again. And she raised another concern: Flagler Golf says it will refurbish the clubhouse on the course. But the city's building inspector says the clubhouse must be demolished. "I don't know how we get around that," Provencher said.
Commissioner Jane Mealy has been closer to McGrew's position—eager to start negotiating, with some caveats about the company's planned subcontractor. It's not Flagler Golf she's wanting to research, but Fazio Design, though she intends to look at Flagler Golf's budget more closely. "But I definitely want to move forward with this company," Mealy said, particularly since the city has nothing to compare it to.
McGrew, for her part, had summed up her eagerness for Flagler Golf at the start of the special meeting with a brief history of the search for a solution for that course, and her reasons for negotiating with the new company. She summed up those reasons in six words: "What do we have to lose?"