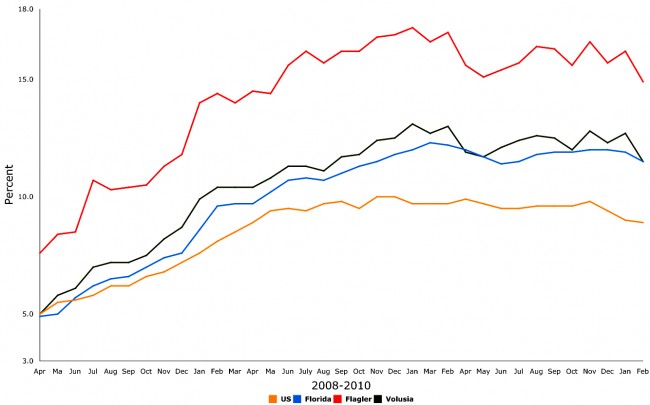 Flagler County's unemployment rate fell to 14.9 percent in February as employment grew by 360 over January while the labor force shrank slightly, by 53, in the same period. That's the lowest unemployment rate in the county since May 2009, when it was 14.4 percent.
But Flagler is holding on to the distinction of having the highest unemployment rate in the state, and by a full percentage point. Hernando County is in second place, at 13.9 percent, followed by Hendry (13.4 percent) and Marion (13.2).
Florida's unemployment rate dropped from 11.9 percent to 11.5 percent, the lowest rate since last July, as the breeze of job activity that had been rustling across the nation in the last few months finally reached the Florida peninsula. The state added 22,000 net jobs in February, lowering the number of unemployed Floridians to 1.07 million.
Even construction picked up in Florida, adding 4,400 jobs since January, for a gain of 1.3 percent (over the past 12 months, construction is down 4.5 percent). Other sectors adding jobs included professional and business services (13,800 jobs, or a 1.3 percent increase), administrative and waste services, information technology, educational services, health care and social work and, to a lesser extent, wholesale trade and real estate (the latter picked up 700 jobs).
Sectors losing jobs included leisure and hospitality (3,300 jobs, or a 0.4 percent drop), government (1,200 jobs lost, a 0.1 percent drop; most of the losses were in state government), retail trade, which lost 7,500 jobs, or 0.8 percent, and management (300 jobs, or 0.4 percent).
Monroe County has the state's lowest unemployment rate (6.9 percent), followed by Liberty (7.1 percent), Alachua (7.7), Leon and Wakulla (7.9) and Okaloosa (8.1). Most of the counties with the lowest unemployment rates are those with relatively high proportions of government employment.