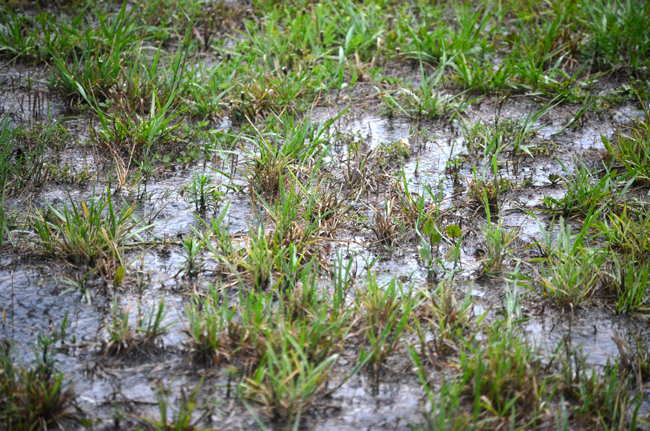 Last Updated: 6:30 p.m.
The skies have opened.
At 4 p.m. today, strong storms heavy with rain, thunder and lightening coalesced over Flagler County and moved slowly east over the next 90 minutes.
At 5 p.m., the National Weather Service issued a flood advisory for northern Flagler County, then followed at 5:28 p.m. with another advisory for central Flagler: that means the Espanola region, and the Espnaola fire, which previous storms had managed to skirt more than rain on substantially.
At 5:28 p.m., the national Weather Service was reporting "heavy rainfall of 2 to 3 inches in the past hour over northern Flagler County including Espanola and Andlausia. Additional rainfall amounts of 1 inch are possible in the advisory area." That's smack into the Espanola fire perimeter–a rainfall bulls eye firefighters have been waiting for, and many Flagler County residents have been praying for, since the wildfire season turned as intense as the drought conditions earlier this month.
Thursday's storms were especially lightning-rich east of State Road 11, triggering nine new fires, most of them small. One of them, in the Mondex (or Daytona North), a 0.1-acre fire, is suspicious, county officials are reporting, and is under investigation. Rain was slight and brief–a half inch or less, according to Bob Pickering, the Emergency Operations Center's weather guru. This morning, he predicted the possibility of "locally heavy rain." (See more details on today's fires, and a news briefing's audio, here.)
It will not be clear until Saturday, possibly even Sunday, to what extent today's lightning will have triggered additional fires. Expect a few. But the amount of rain dumped Saturday suggests that it was much likelier to have done more good than what lightning strikes may have triggered: the rain is bringing the drought index lower, and with more precipitation in the weekend forecast (including a 50 percent chance of rain tonight and on Sunday), conditions are pointing to a de-escalation of the county's emergency in coming days.
For more than two weeks, the county's firefighters have been on extended duty of 36-hour on, 36-hour off shifts. Today, the Division of Forestry replaced its 200-man team fighting fires in Flagler County for the past two weeks with another, most of it still focused on the Espanola. Fire Chief Don Petito said only persistent rains would ease the emergency and reduce the need for DOF's intervention on such a wide scale.