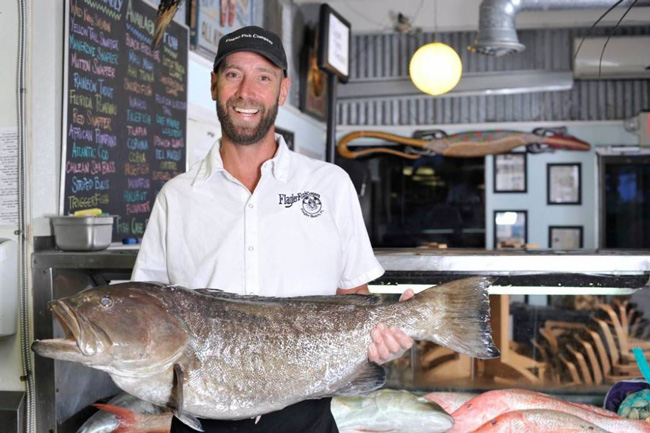 When you dial up the Flagler Fish Company's new website, the sliding images make it look as if the enticing food is right at your table, as if you were sitting in the restaurant: lobster bisque, clams, oysters, an assortment of shrimp, crab and scallops, a glass of red evoking the wine-dark sea that yields all that bounty. It's part of the restaurant's make-over on its near-decade in Flagler Beach.
"We are so proud to be celebrating our nine-year anniversary," Flagler Fish Company co-owner Chris Casper said. He owns the restaurant with his wife Carolyn. "We are grateful to our locals for supporting us throughout the years, all the visitors that stop in and see us, as well as our amazing staff." Casper can be hunched over his duties at the restaurant one day and delivering school supplies to children in the remotest parts of Nicaragua's jungle the next–as he noted on the restaurant's Facebook page earlier this month.
The restaurant's new website which includes the full menu, the ability to buy gift cards online, and those photographs. People familiar with his work won't be surprised to find out that they're by A.J. Neste, Flagler Beach's award-winning photographer.
Flagler Fish Company, at at 180 South Daytona Ave., or FFC to locals, opened its doors in in 2005. The restaurant offers a wide selection of fresh fish and shellfish, varying daily, as well as prime beef products, appetizers and dinner specials. FFC is registered with the "Fresh from Florida" program as a restaurant that uses Florida fish, shellfish, and produce. The restaurant prides itself on its green credentials, recycling daily, paying more to be able to use recyclable take out containers (no Styrofoam), and carry only recyclable straws, to-go containers, drink cups, and cutlery.
Flagler Fish Company continually supports local charities such as The Tommy Tant Scholarship Fund, The Turtle Patrol, Rally for a Cure, Friends of A1A, church organizations and many more, striving to live up to its slogan – "Food To Knock Your Flops Off."
FFC is open Monday through Thursday and Saturday from 11 a.m. to 9 p.m., Fridays from 10 a.m. to 9 p.m.