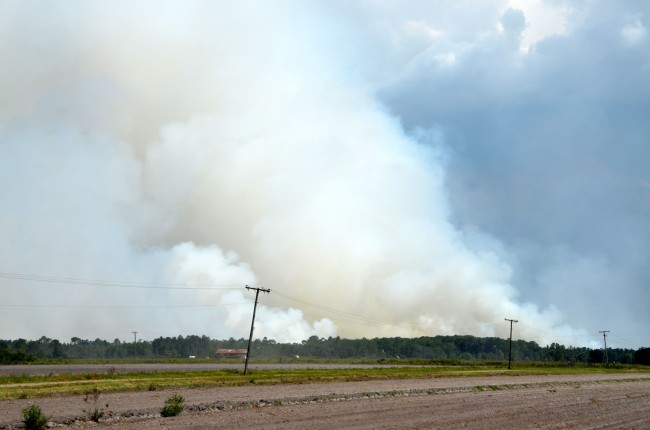 This morning I attended the 9:30 a.m. "stakeholder meeting" on wildfires at the Flagler County Emergency Operations Center. The meeting takes place every morning since the broader emergency response to the wildfires was activated, much in the way that EOC is activated during a hurricane emergency.
There were some 25 to 30 people in there—fire chiefs (including Palm Coast's), deputy chiefs and captains, several senior lieutenants, the Division of Forestry, the county administrator, two county commissioners—Milissa Holland and Barbara Revels—several members of the Northeast Florida Incident Management team, the so-called "Gray Team" brought in to assist the county with coordination and strategy, and several home or land-owners affected by the Espanola fire. The meeting was also piped out by close-circuit TV to staffers in the county administration building, including constitutional officers. I thought I'd attend, since there is no greater stakeholder than the public's thirst for the most precise and up to date information about these fires.
True enough, the meeting was richly informative—and reassuring. There was an update on each of the fires. The Espanola fire, the largest, had grown by 300 acres to reach 2,800 acres by the previous evening, but was still burning strongly. The White Eagle fire jumped its lines yesterday afternoon but again was kept away from homes by the Palm Coast Fire Department and the Division of Forestry, who threw quick-strike resources at the sudden flare to prevent it from doing damage to anything other than brush (the details were described here). Other fires "have been very good to us," in Operations Section Chief James Burnsed's words, meaning they've not jumped their containment lines or become unruly.
He described the Volusia, Clay and Duvall resources now helping locally, and how: For example, Clay, Jacksonville and Flagler resources (firefighter units, trucks, engines, etc.) have been combined to form two attack strike forces that are essentially on stand-by at EOC as a rapid-response force to any sudden flare up, whether a new fire or a suddenly unruly one where help is needed. Several similar rapid-deployment forces, particularly ones able to protect homes or other kinds of structures, are being positioned strategically around the county in case fires become threatening to actual property other than brush or trees. That's what concerns people most, and what officials explained best: the system is in place, and getting honed all the time, not only to control existing fires, but to counter-attack where it matters most: around homes and businesses, should that become necessary. On top of that, help from St. Johns County is one phone call and a brief drive away, as Fire Chief Don Petito is on the phone with those folks daily. Jacksonville has made a similar commitment.
I had not, to this date, heard as detailed and reassuring an explanation connecting one type of firefighting (in the woods) with another (around structures). "I feel pretty confident with what we have today based on the weather," Burnsed concluded.
The Division of Forestry's Mike Kuypers spoke next, describing the way the Strawn and Tattoo fires in  southwestern Flagler were being controlled: two difficult fires to access, but Strawn's bulldozer lines were widened and completed yesterday and tractors moved to Tattoo, completing lines there in late evening. What that means is that both fires have "drivable lines," enabling firefighters to control them more easily—and freeing a tractor to move to the White Eagle fire or be ready for other needs. An 8-member DOF incident management team is assuming command of the Espanola fire by Saturday, relieving a Flagler team. And yet another strike team of engines is coming in to help mop up various fires other than Espanola. "Knock on wood, Volusia County is pretty quiet, thank goodness," Kuypers said. "Hopefully we'll be able to continue that and concentrate on the fires in Flagler and St. Johns in anticipation of lightning starting later this week."
The floor was opened to questions. County Administrator Craig Coffey asked about the state: when would it be declaring a state of emergency? This was revealed: Last night, an official said, the state forwarded a request for a "presidential" disaster declaration, which would open up Federal Emergency Management Agency resources—and reimbursements down the line, which is key: the county has been spending $40,000 a week in overtime, Palm Coast's overtime costs are running about 400 hours a week for its professional firefighters, or about $10,000. That overtime would be reimbursed should a state of emergency be declared.
Coffey raised another concern, reflecting the concern on many residents' minds: "The biggest concern has to do with the wind change. The western wind has been our salvation to this point. If we get an easterly wind and good lightning strikes and we have all our resources deployed, we'll need some outside resources, not in a couple of days, we'll need them immediately."
Bruce Scott, the Gray Team's deputy incident commander, addressed that concern: Those resources would not be available in a matter of days, but a matter of hours, he said. The plan in place ensures that enough resources are available at least to hold the line in case of a sudden emergency, enabling enough time for additional structure-firefighting equipment to arrive. "The purpose of this meeting really is to bring you up to date, to let everybody in this room know where we're at, and operations did an outstanding job of that," Scott continued. "The second part of this meeting is to address concerns. We definitely want to take what you have as concerns, landowners, agency administrators, county commissioners, fire chiefs—anybody that has a concern, something we're not addressing, I want to know about it so we can put a process in place to make it better. So if you don't feel comfortable in an open forum, when this meeting adjourns, grab a hold of me, have a discussion, and I can promise you when we go into our command and general staff meeting here in just a few minutes we'll do what we can to address it."
Scott told Holland, who asked a question about when and how the county's overtime costs would be reimbursed, how the incident management team's presence is here also to ensure that help is provided literally down to the necessary paperwork required to make those reimbursements a certainty: "That is another reason why this management team is here. To make sure that the documentation is in place, that we have an instant action plan every day that shows the use of those resources, so in the event that we do get a declaration and funding does become available, that we'll have all the paperwork in order and the documentation in order to go back to that point and start recouping some of the county's money. We want to be good stewards. As an instant management team, our job is to make sure not only are we getting operations everything they need, but we're also being stewards of your money, and we want to make sure we're not wasting it, and we want to make sure we're accounting for what we do."
Music even to tea partiers' ears—but more to the point: key information about the financial underpinnings of what's turning into a seriously expensive operation, and that taxpayers will be paying for over the next several weeks, possibly months. The reassurances were not just about fighting fires, but about taking care of the county's kitty. I had not previously quite heard that level of detail and explanation about the incident management team's capabilities, either—nor had it occurred to me as a reporter to make the connection between firefighting muscle and bean-counting: the two are apparently a joint task force through that incident management team, to Flagler's benefit, although to be fair, Palm Coast's fire department has also been keeping very close track of its paperwork, going back to the first week of May, to make sure that those reimbursements are there should the county get its disaster declaration.
"I really want to make sure that everybody understands that there's a lot of people working really, really hard, to make sure that we don't lose houses, that we mitigate as much as possible damage to timber," Scott concluded. "There's a lot of folks out there working hard from a lot of different agencies, a lot of commitment from a lot of people, and we thank you."
Flagler Fire Chief Don Petito then declared himself "the luckiest department head in the county because of the work that my employees are doing. I can tell you that I do have the best employees. And I want to let everybody know that we have some great friends out there," meaning neighboring counties' fire departments. "But one of the concerns that I heard out there is that I've been removed from the process or that county fire department's been removed from the process, and I want to dispel that rumor as much as I can. The team is here to help us. I still have a fire department to run, we still run thousands of EMS calls. During the break-out of the Espanola fire, we had a house fire come in at the same exact time. So we had fire trucks running every which direction. There still needs to be somebody to coordinate all that. So I'm definitely not removed from the process, I'm still running the fire department, and the team that's here is here to assist us, organize this chaos that's going on right now."
He reminded the assembly the extent to which various counties—and various county departments within Flagler County—are contributing, from fleet department repairmen going out to fire scenes to repair engines to fuel trucks fueling on the line to what began to sound like a cooperative assembly line of help. (This wasn't part of the meeting, but it's worth mentioning: the school board also contributed today, after it was asked to lend a couple of pick up trucks and other resources.)
Mark Spalding, a property owner whose woods are in the Espanola fire's scopes, then asked to speak—only to commend the teams in the field. "I've heard it said—you can't believe what these people are going through. This stuff, it's nasty, dry, hot, smoky, you name it." But the resources have been there, he said, and the help has been inspiring: "to watch these people work is an art," he said.
The meeting was soon adjourned. And that was it: about 25 minutes of hard, important, detailed, extremely valuable information, much of it connecting dots that no news release has done so far—nor any reports, on FlaglerLive or elsewhere, has done—along with some well-deserved back-patting. There cannot be enough of that, considering the hell these men and women are going through. I was grateful to Petito and his hardest-working deputy for showing me first hand last week what the fires were doing to the county. I was just as grateful to be able to hear the strategists, coordinators and  tacticians behind the firefighting, providing as accurate and first-hand information—with incredible succinctness, efficiency and eloquence, I should add—as they did this morning.
This is what the public needs to hear. This is what makes for infallible credibility and trust in our agencies, particularly our public safety agencies. This is what reassures and lifts morale, and what makes one proud of the organizations and the people in place to do thankless, dangerous and often dispiriting work. I wish the "stakeholder meeting" had been piped out to the whole county to see and hear, C-Span style, not just to government buildings, because it would certainly get a lot of interest, and it would put down a great deal of false rumors, dispel fears, and even build pride in what our tax-dollars are paying for—and what these public buildings, at times derided for their extravagance, are doing for us.
Good thing they call them "stakeholders meetings," too: there are no more important stakeholders than the public at large. I'd be a fool not to cover these meetings every morning.
So you can imagine my surprise—and yes, my indignation, which was shared by many—over what happened next.
Troy Harper, the county's emergency operations chief, approached me, with John Ward, the Clay County-based public information officer (PIO) for the incident team in tow. Troy has always been gracious with information before, and personally gracious to me, so this salvo took me by surprise.
"Tomorrow," he told me, "this meeting will be closed for the media. It's really just a stakeholders' meeting with those who have a vested interest—the property owners, the cities, the counties, elected officials, and things of that sort. That's the message that came from the incident commander. County administrator has endorsed it. So tomorrow unfortunately we won't be able to have you in this meeting."
"But if you've got landowners and county commissioners," I began, or rather babbled, before he cut me off.
"They have a vested interest," Troy said. "It'll be a closed meeting."
"But we have a vested interest, too–." He cut me off again.
"It'll be a closed meeting, and there will be a deputy here in the room," he said.
That little threat was a bit of a stunner, whatever Troy's patronizing words that followed: "It's nothing against you, don't take that personally, you know I've been good to you."
"But what was said today that shouldn't be known?"
"Nothing."
"Why would you close it then?"
"It's at the request of the incident management team," he said, "and the county manager [sic.] has endorsed it."
Actually, it's a directive from Coffey, the county administrator, who told me he'd "consulted" with his team, including Troy, the PIO, Bruce Scott and Don Petito. Petito has been among the most accessible sources for immediate information, any time of day or night.
Both county commissioners present were surprised—and in Holland's case, incensed: "I don't understand his logic at times, and I certainly don't understand his reasoning," Holland said of Coffey, "not to mention this is a public facility, this is paid for with public dollars, this isn't private business." This being not just the meeting, but the substance of the meeting. Alan Peterson, chairman of the commission, was not at the meeting but after initially finding reason to dispute Coffey's decision, he warmed to it, saying the "stakeholders" can have their time at 9:30, the press later, which was also the Palm Coast Observer's John Walsh's take after I spoke with him.
To be clear: there are several staff meetings, including tactical and operational and other kind of meetings, at EOC during the day, that are no one's business, necessarily. They have every right to be closed, and no one is pressing for those to be open. But the "stakeholder" meeting is different, even by its own definition, and by its broad accessibility, which appears to exclude the press specifically, while including every government official and her sister-in-law under the sun. To be just as clear:  this is not a sunshine-law issue (though the piping of the meeting to constitutional officers and the broader administration building staff, and the inclusion of elected officials, sheds more than a few rays of yellow in the grayish area). It is certainly a press-access issue in the midst of the most important public matter unraveling now. If the strictest reading of the law is on Coffey's side, logic, good sense, and respect for the public's right to know are not. Coffey is not only showing contempt for access to information he doesn't in one way or another control. He's mistrusting firefighters to speak or dole out information without hand-holding.
But that's nothing new with Flagler County, where many parts of local government seem to think that the public it serves are barely on a need-to-know basis, if that.
Near day's end Coffey told me he'd set up a daily 11 a.m. press conference, beginning Saturday, which is nice but literally not the whole story. News conferences are a poor translation of reality. I avoid them like I avoid most PIOs (the good ones are as rare as perfect pearls). The value of the 9:30 meeting is that it's unvarnished, unfiltered, un-staged, real-time information that no PIO nor press conference can replicate. That's why you'll see commissioners at that meeting, not at press conferences. Take today's news release and what's posted on flagleremergency.com: it's mostly old news, and barely a fraction of the information in this morning's meeting. (And nothing about the state emergency declaration, which people are asking about. More on that soon.)
The fires will go on, so will the reporting. But expect to see a hell of a lot more unnamed sourced as far as the fires are concerned: they're out there, in the trenches, they know what they're talking about, they're not fond of the county's Big Brother act, and they like the public to know what's going on. Too bad they must go unnamed—or that much of the raw, morale-lifting, rumor-busting stuff of that 9:30 meeting will never cross the closed-circuitry of administrative contempt and control.
–Pierre Tristam
Late-night fire update from the trenches (11:32 p.m.): The fires today behaved: no break-outs, no fires crossing fire lines, not a single new fire: an unusually fortunate days, relative to the week just ending. But the next two days portend high winds, which might create difficult conditions, and Monday, a wind shift is in the forecast. Until now, winds have been blowing from the east, pushing west. That will change, blowing smoke–and who knows what else–toward Palm Coast.