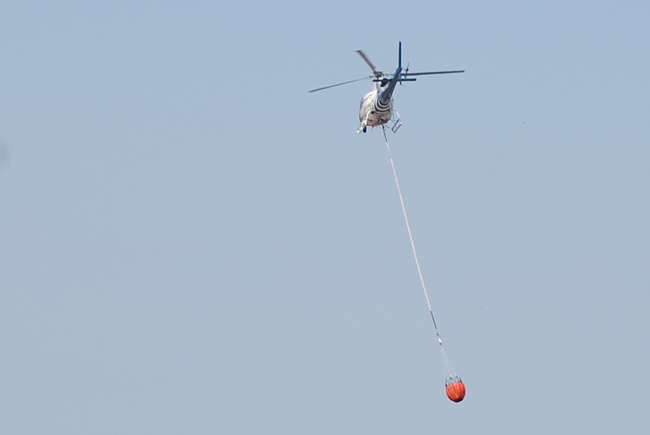 Last Updated: 6:45 p.m.
Flagler County's Fire Flight helicopter, which has been flying and dumping water relentlessly as brush fires have multiplied, was grounded briefly this afternoon after experiencing mechanical trouble as it was flying toward a fire in the northeast part of the county.
"They called out with a mechanical problem that they had to go back to the airport. They flew back to the airport and landed safely," Flagler County Fire Chief Don Petito said. Less than two hours later (at about 5:45 p.m.) the copter was cleared to fly again. Petito described the problem as an overtorque sensor that triggered a warning light, likely caused by winds gusting to 20 or 25 miles per hour. The sensor was reset.
Fire Flight was being flown by Brady Winslow, who flies the helicopter solo when fighting fires.
Firefighters are depending on the helicopter as 12 fires are burning across the county, four of them declaring themselves on Sunday, at least one on Friday and the others smoldering and burning since last week or longer. A 350-acre bog fire near Old Brick Road, the largest one in the county, has been burning for several weeks and is 90 percent contained.
Petito appeared before the Flagler County Commission Monday afternoon to update commissioners on the fires. Commissioners extended the burn ban in effect all over the county since last December–except for a brief spell–as dry conditions persist despite short bursts of recent rain.
Today, the Division of Forestry issued a red flag alert until early evening, meaning conditions favoring wildfires, including very low humidity which will persist through tomorrow, are at their worst. Even controlled burns are banned.
The latest spate of fires began Friday evening, after a lightning-rich thunderstorm rolled through the area. A lightning strike triggered what's now a 1-acre brush fire in the western portion of Daytona North, also known as the Mondex, near Logwood Lane. Among the 12 now burning in the county, that fire is the closest to any residences. The fire is in a lot adjacent to two homes and a clothing ministry.
Besides the Old Brick Road and Mondex fires, the others are as follows; the Flagler County Fire Department has assigned each fire a name, usually connected to the a geographic landmark:
The Dog Pen fire, just south of Old Brick Road, on Dog Pen Grade, is the largest aftter the Old Brick Road fire, at about 44 acres. It had been contained. "It flared back up," Petito said, "now we're getting spotting out of it, jumping out of the lines and spreading a little bit."
Old Railroad fires, just south of the Dog Pen fire: two separate fires on the old railroad beds, about 4 acres each.
The Spalding Fire, on West State Road 100, north of the roadway, past the Mondex. That one is 4 acres.
The Peterson fire, south of Flagler Estates in the northeast part of the county. That's 4 acres, 80 percent contained.
The Allen fire, between State Road 11 and County Road 304, near U.S. 1, 6 acres, contained.
The Austin fire, just west of Espanola, along SR100, 1.5 acres, contained.
Two fires at the high-voltage power lines between County Road 304 and SR 11 have consumed some 21 acres, and are 50 percent contained. Firefighters are referring to those fires as Power Line 1 and Power Line 2.
The Barton fire, also between CR304 and SR11, 15 acres, "we're considering that one contained," Petito said.
Most of the fires are in wooded areas difficult to access, either roadless or connected to obscure and unmapped roads–which makes the Fire Flight helicopter that much more critical. "If the fires start growing quickly or if it starts spreading, we call it spotting, where an ember will jump away from a fire and start another fire, the helicopter above can usually see them and put them out before it grows bigger," Petito said. Without it, pressure mounts on firefighters on the ground to battle and race ahead of flames.
Palm Coast Fire Department and Bunnell Volunteer Fire Department firefighters have joined the battle, as has the Division of Forestry and the county's public works department, whose bulldozers are being used to dig lines to prevent fires from growing.
Pictures from the Dog Pen fire: