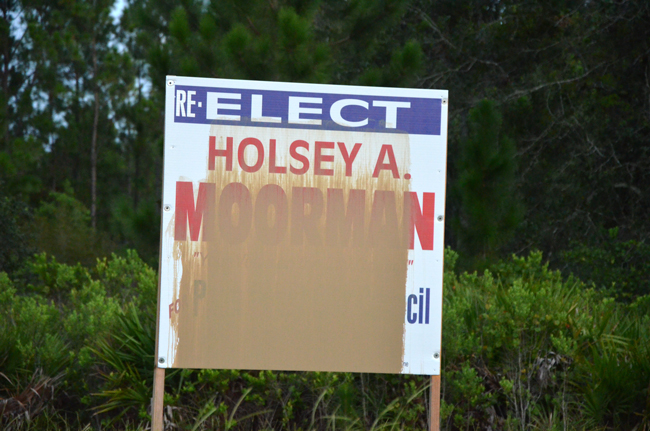 Campaign signs are the invasive weed of every election season. They're ugly, messy, and meaningless: they never say anything more than vote for this guy or that gal. But in local elections where most people don't vote and most of the rest don't know their councilman from their plumber, name-recognition plays a disproportionate role, and campaign signs are the in-your-face equivalent of TV ads in national races. All ugliness being equal, they have to be tolerated—and defended.
At the intersection of Belle Terre and 100, on the southeast corner, five signs have gone up for five of the seven candidates in the three Palm Coast City Council races. Incumbent Holsey Moorman's sign is in the middle of the pack. Some idiot has defaced it with brown paint, what looks like a hurried, thief-in-the-night job, with a roller no less. The paint covers the Moorman part pretty well, but the "re-elect Holsey" part is still visible, as you can see in the shot above.
Moorman is obviously upset about it and has every right to be. He carries a picture of it in his mobile phone. "At first it upset me, then I got angry, now I'm back to bewilderment," he said Wednesday evening after a campaign forum at Grand Haven. "Somebody has a distinct dislike of me, they don't want to see me elected or whatever. I don't know why anybody would do that. If it's a dislike of me I'd rather they come to me and tell me to my face why they don't like me instead of sneaking behind my back to do this."
It happens frequently of course: one campaign will steal the signs of another, knock them down (isn't it amazing the way wind patterns can sometimes have partisan affiliations?), smear them up with paint the way they do with words in other settings, always with the trademark cowardice of anonymity. When I made the mistake of telling Moorman's campaign manager that it does happen all the time, he justly replied that crime happens all the time, too, but it doesn't mean judges should excuse the criminal.
---
Video: George Bush's Willie Horton Tactics[media id=238 width=350 height=250]
In this case there's something more disturbing than the defacing of the sign: there's the color used to deface it. Why brown? Is the idiot a bigot, too? One does often beget the other. He may be trying to send a message about Moorman's skin color. If the first George Bush could so cynically do it with his Willie Horton ad to scare up the white southern vote in his favor (and it worked), it would certainly not be beyond the ken of a local Lee Atwater wannabe to do the same here.
Bill McGuire is Moorman's opponent. It would be out of character for McGuire—or for the tenor of the kind of race McGuire and Moorman have been leading so far—to have had anything to do with this: both men have comported themselves quite honorably, staying away from slimy attacks, verbal or otherwise. Moorman spoke of the defaced sign to his colleagues Tuesday morning, before the council meeting. McGuire stood to the side, waiting to have a moment with Moorman. "I told Holsey Moorman to his face at the Tuesday city council workshop when I learned  about it that morning that I regretted it, nor did I have anything to do with it," McGuire said. He also told him that "if I were to find out who did this I would report it to the FBI as a hate crime." McGuire (who says he's had his own signs stolen on Old Kings Road) has no illusions about the intentions behind the defacing: "I suppose somebody thought they'd demonstrate their feelings towards blacks or people of color by doing so. I find it hard to believe that anybody could do that at probably the busiest intersection in the city. How it could be done and nobody sees it is as big a mystery to me as to why anybody would do it."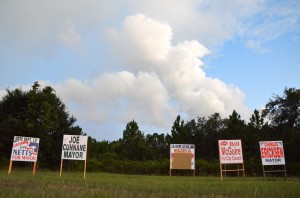 If candidates are serious about ending this sort of juvenile vandalism, maybe they should agree from the outset that the moment a candidate's sign is stolen or defaced, his or her opponent will immediately replace it at his expense. Whether "his people" had anything to do with it or not becomes irrelevant. The moment anyone's vandalism becomes an expense to the campaign the vandal might be supporting, there's less to gain and more to lose from the oldest tactic in campaigning. McGuire calls that no more than "a nice platitude" because often enough the vandals may have no horse in the race, as may well be the case here. Not to mention the disparity in war chests that may come into play (Moorman's war chest is about eight times the size of McGuire's).
Moorman for his part has decided to leave the sign where it is for the length of the campaign. Good for him: if anything, it might draw more attention to his name ("Re-elect Holsey" might be good enough for drive-by voters anyway), though the stupidity isn't over by any means: When Moorman left the candidate forum at the Hilton Garden Inn Tuesday evening, where all seven candidates spoke, someone had stolen the magnets on his car. Also in daylight, in a parking lot jammed with cars.
Gated Democrats: Why Grand Haven Excluded Charlie Ericksen
The Grand Haven Democrats held a forum of their own at their clubhouse Wednesday evening. I learned about it in late morning from Charlie Ericksen, one of the candidates for mayor, who said he'd be there. Not having received an invitation, and knowing how these gated communities love their gates, I called Art Dycke about an hour or so before heading there to be sure I could get in as someone's guest. Dycke, Palm Coast's historian laureate, is the group's organizer. I asked him if all the candidates would be there. He said no: just Holsey Moorman, Jason DeLorenzo and Jon Netts, the incumbent mayor.
Moorman and DeLorenzo are Democrats. Netts is Republican (a New Jersey Republican, which puts him to the left of most Democrats here). I could understand if the group was inviting just Democrats: Republican clubs do that all the time, though if Democrats did the same, they'd hardly have any candidates to speak of at most functions, Democrats in Florida having so much in common with dodos these days. (As Doug Beaven, head of the local Democratic Club, put it, "It has not been sexy to be a Democrat in Flagler County. We're trying to bring sexy back.") But if Netts, fresh from his clobbering of his two challengers at Tuesday's forum, was there, why not the other two candidates? Joe Cunnane, the retired IBM manager who's found a new career as a stand-up comedian and permanent candidate, is the third name on the ballot. All three are Republicans.
"This was a private function of Grand Haven Democrats," Dycke said. As for Netts being the exception: "Democrats can decide he's the best man for the job." Well, yes, but in the letter Dycke sent to Grand Haven's 473 registered Democrat (a surprisingly high number for Palm Coast's highest geographical tax bracket), he'd said clearly enough: "Let us 'know and care' enough to vote for the candidate of your choice in the upcoming election.'" What choice?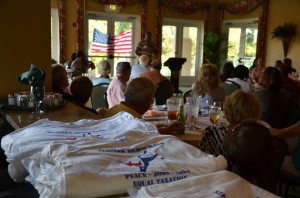 This is what gives me heartburn about Democrats. Here I was during the forum, leaning against a counter covered with Flagler Democrats t-shirt that said "PEACE – JOBS – LOVE" AND "EQUAL TAXATION," there they were playing the exclusion card and discriminating at the same time. Hypocrisy isn't my kind of liberalism. And yes, I understand: Republicans do worse. They're masters of the gates. They don't even acknowledge the existence of Democrats, and Republican arrogance in Florida these days, a one-party state resembling a reactionary version of Hugo Chavez's Venezuela every day, is second only to Utah's. That doesn't mean Democrats should ape the gorillas.
To his credit, Dan Parham, who chairs the local Democrats executive committee (I think that's what it is: it's impossible to keep straight who's over what club or committee or caucus anymore), spoke up against the exclusion at Grand Haven. "We have to give equal time," he told the crowd of about 40. "If we don't do that, then the state party can come down on us."
Ericksen had literally stood against a back wall while the three sanctioned candidates spoke. Dycke went through the history of why he wasn't allowed to speak, then gave him the floor for a short statement. "Two words," Ericksen said. "Vote Ericksen." That was it. To my knowledge, Ericksen, who has appeared at all Republican-only functions, has not gone out of his way to press for Democrats to be invited there.
Ironically, when the Flagler County Tea Party held its candidates' evening last month, everyone was invited. Time for some Earl Grey.
Challenging Supervisor of Elections Kimberle Weeks: Take a Number
The race for Flagler County Supervisor of Elections promises to draw a busload of candidates—not just because of the $94,000-a-year salary and generous benefits, but because incumbent Supervisor Kimberle Weeks will be the most vulnerable of all local elected officials in 2012: her three years in the post have brought a little touch of Tripoli to Flagler County, if not Imperial Rome: it's not a good sign when people go to a meeting of the county commission for entertainment—as one potential challenger to Weeks told me he did earlier this week—knowing that Weeks was making an appearance there. Those occasions have turned into gladiatorial spectacles almost without fail.
I kept hearing about this person and that person looking to run. I finally drew up a list and asked them in person and came up with a lot of distant maybes and only two for sure.
Pam Richardson, the realtor, is all up to it. She was the Republican candidate for the position in 2008, and polled 35 percent against Weeks's 49 percent (Carl Laundrie was third with 15 percent, as a non-party candidate). Weeks, the story goes, stood longer at her street-corner, waving.
Trey Corbett is also "absolutely at a point where I'll be filing." He'll do so after the September primary for the Palm Coast mayor's race. Corbett, 44, is the vice president of America's Choice Title Company in Palm Coast. "It's time now to do more than simply wave signs and stand on the corner and smile," he said. He's been involved in several campaigns, always voted, he's putting in his time as a poll worker. He terms himself a moderate conservative and would run as a Republican. Weeks's performance, particularly her inability to preserve the respect of the government agencies she's been working with, is part of the reason Corbett is running, he said.
I kept hearing about Patrick Kelly, the former Flagler County Chamber chairman and host of Free For All Fridays on WNZF, preparing to run. "I've considered it but as of now I've not made a decision that that's what I'm going to do," Kelly said. "I've never said anything stronger than I'm considering it." He too would be in the Republican column.
Same story with Matthew Wilson, the Realtor at Coquina Real Estate (he works with Barbara Revels, the county commissioner), and the only interested Democrat so far: I've considered it but Off and on through the entire tenure of Kimberle because of the hi-jinks going on," Wilson said. But while the door is still open for a run, he said, "if it came down to making the decision today, it would be a no."
There's Herb Whitacker, also a Realtor. He challenged George Hanns on the county commission four years ago, got 48 percent to Hanns's 52 percent. Whitacker said today he'll either challenge Hanns again or challenge Weeks. It may depend on how redistricting goes. He's now in Hanns's district. But one of the three options the county commission and the school board agreed to when they narrowed their redistricting choices bumps Whitacker out of Hanns's district. The politicians and administrators working on the plan will claim with their best imitation of Joe Isuzu that it's never political, that they never aim to exclude a potential challenge to an incumbent (or include one: there was word that Jon Netts was interested in jumping to the county commission to run against Hanns, too, but his address still appears to be outside all three current options). But computers don't draw boundaries.
What about Carl Laundrie, who ran four years ago? He's the county's communications director. He said he's not interested in running again. The last election cost him $10,000 of his own, he's four years older (and closer to retirement), he's not interested in going through more upheavals.
I called Weeks to find out if she was running again. I was told she was in a meeting and would I send her an email. So I asked her by email if she intended to run. She replied within 20 minutes: "Of course, why would I not?"

Art Dycke responds:
This letter regards your August 25th story entitled, "Gated Democrats: Why Grand Haven Excluded Charlie Ericksen."
I have been registered with the Board of Elections as a Democratic Party committeeman for district 31 (Grand Haven) since 2008. In that capacity I purchased a copy of the recent list of registered Democrats from the Board and I and other Grand Haven Democrats started to create an email list to reach as many of them as possible. Invitations to a "Meet and Greet" on August 24 were sent to this group. The bold, large-type heading stated, "GRAND HAVEN DEMOCRATS" in its first line and "MEET AND GREET" as the second line. It continued, "Please join us in a meet and greet for city council candidates: Jason DeLorenzo, Vice Mayor Holsey Moorman, Mayor Jon Netts and Flagler Democratic leaders. Take the opportunity to become knowledgeable about the 2011 elections, socialize with neighbor Democrats and invite interested friends from the Palm Coast/Flagler community." The invitation later emphasized the necessity for early sign-up in order to arrange for an adequate set up of tables and snacks and concluded with, "Invite friends of any political persuasion but anyone outside the community must be a guest of a Grand Haven resident."
The Palm Coast municipal election is officially non-partisan. The selection of candidates to our "meet and greet" was not based upon their party affiliations. This was not a public forum like the one sponsored by the Chamber of Commerce for all candidates the night before our event. It was a private "meet and greet" and, to labor the point a bit, you hold a "meet and greet" to meet folks that you want to greet. Grand Haven Democrats and their guests signed up and paid to hear the candidates listed in their invitation.
Mr. Ericksen must have known all this for how else would he have known other details of the event? Mr. Tristam, you knew this before you wrote your story because I gave you a copy of the invitations at the event. You had called me while I was in the shower 10 minutes before my leaving for the event to ask if you could attend in order to compile some information about the candidates and I said, 'yes."  You then informed me that Mr. Ericksen was going to go to the event. Did he tell you that he was going? I expressed to you my utter surprise because he was not an invited speaker and his name was not on our list in payment for our snacks, table seating or a nametag. Neither he nor anyone else had signed up Mr. Ericksen. When he presented himself at the entry table he was clearly not even a signed-up guest and certainly not an invited speaker.
After a short wait, a Grand Haven resident took Mr. Ericksen inside the room as his guest and you came in and mingled with the guests and listened to the agenda of hearing the invited candidates and party leaders, ballot amendment discussion and audience questions. DEC chairman, Dan Parham had asked that Mr. Ericksen be given the opportunity to speak. Upon completion of the agenda items and my explanation of the circumstances that I have just written about, Mr. Ericksen was extended the opportunity to speak. Being the gentleman that he is, he said, "Vote Ericksen." That is my side of the story regarding the August 24th event.
I take full responsibility for choosing the candidates invited to our Grand Haven Democrats "Meet and Greet" and I apologize to my fellow Democrats if this caused them any discomfort or embarrassment. Mr. Tristam, I fault your self- proclaimed "no bull" journalism when it inaccurately headlines, "Gated Democrats: Why Grand Haven Excluded Charlie Ericksen" and begins with, "The Grand Haven Democrats held a forum (AD – It was a 'meet and greet') of their own at their clubhouse (AD – The privately owned Grand Haven Golf Club is not "our clubhouse") Wednesday evening. I learned about it in late morning from Charlie Ericksen,…." ( AD – AHA, That answers my previous question). The article then "slams" our gated community but does not report anything substantive about the speakers and contents of a well-attended and informative meeting.
I understood that your comment about "Democrats in Florida having so much in common with dodos these days" really referred to us being an endangered species and my last name has been misspelled countless times, but being characterized with the words "playing the exclusion card", "discriminating" and "hypocrisy" makes me really angry.
I am a long-time fan of your writing. I like your colorful language, frequent allusions to history and your biting invective in pursuing the "bad guys."  I just don't like it when you write wrongfully about ME!
Thank you for your attention.
Art Dycke