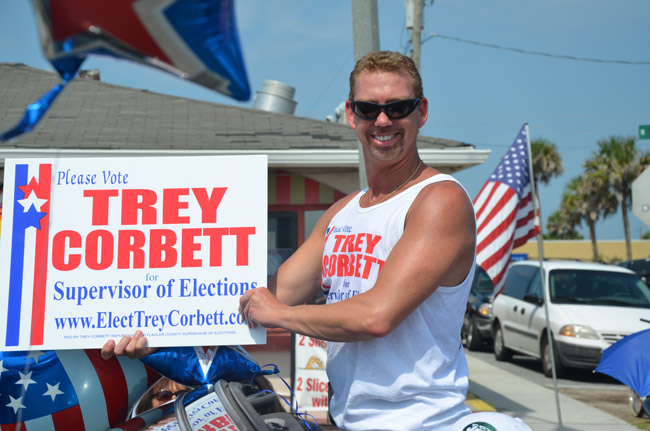 Last Updated: 10:16 p.m.
All precincts are in for Flagler County, all ballots have been counted. All tables updated.
Quick links to the races:
The chatter, the campaigning, the mud-wrestling and the voting is over. So is the counting. The biggest loser was again the Flagler County voter: turnout was another dismal 25 percent, barely better than the 24 percent of the 2008 primary, and a bare improvement over the 2006 and 2010 primaries.
As for the actual voting, by 8:30, it was over: with all ballots counted, the following candidates had won their races: Gail Wadsworth for clerk of court, Colleen Conklin and Sue Dickinson, each winning their fourth Flagler County School Board election (defeating Debbie Laury and Bill Corkran, respectively), Jim Manfre winning the Democratic primary for sheriff, incumbent Don Fleming winning the Republican race and beating Ray Stevens by 5 points, with John Pollinger polling third, Milissa Holland winning the Democratic primary for State House (against Doug Courtney), and Bill Nelson and Connie Mack winning their respective races for U.S. Senate.
The school board's half-cent sales tax is the big winner of the evening, getting renewed with close to a 2-to-1 margin.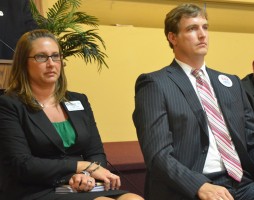 Craig Atack and Melissa Moore-Stens, as expected, are headed for a run-off in November in the Flagler County Judge race. Atack won the race, but with 25 percent of the vote, to Moore-Stens's 23 percent. Marc Dwyer ran a distant third in that race, with 16 percent of the vote.
Ron DeSantis won the Republican race for the 6th Congressional District, taking a strong 39 percent of the vote in a field of seven. Ormond Beach's Fred Costello, the Florida House member, ran second, with 24 percent, and 28 percent in Flagler. John Mica used to be most of Flagler County's representative until he decided to move to the new 7th Congressional District and challenge one-term incumbent Sandy Adams. Mica won, trouncing Adams with 61 percent of the vote.
Heather Beaven easily won the Democratic primary for the 6th District, taking 81 percent of the vote district-wide and in Flagler, against newcomer and lawyer Vipin Verma.
In the Republican primary for supervisor of elections, Trey Corbett barely edged out Pam Richardson. And Charlie Ericksen, who lost his bid against Palm Coast Mayor Jon Netts last year, has defeated incumbent Alen Peterson in the County Commission District 1 race, by just under 140 votes, in what should rate as the evening's biggest jolt.
Here's the run-down.
Flagler County Judge and Flagler County Sheriff: It will be the surprise of the night if the race for county judge is decided tonight. It most likely won't be, because an outright winner will need 50 percent of the vote or more. In a field of seven strong candidates, that would require a suspension of disbelief. The top two vote-getters will head for a run-off on Nov. 6.
In the sheriff's race, it'll be a rematch between Fleming and Manfre, who faced each other four years ago, with Fleming winning by a small margin.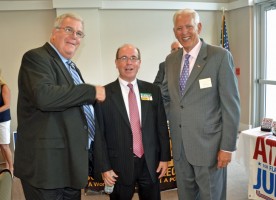 Fleming and Ray Stevens could not be reached. John Pollinger was with his supporters at the Elks Lodge in Palm Coast.
"Life has other plans for me I guess," Pollinger said. "Obviously I'm disappointed for my supporters. I had a stake in this and the outcome of course but all the people that worked so tirelessly on my campaign, I'm more disappointed for than then for myself. I did call the sheriff and left him a voice mail congratulating him. I'm still proud of the campaign that I ran, that we ran, and in hindsight I wouldn't change a thing." Asked about his next plans, Pollinger said: "I'm going back to being me again, just John Pollinger, resident of Flagler County."
Stevens and his supporters claimed all along that Pollinger wasn't in the race to win it (the $25,000 of his own that he poured into the race notwithstanding) but to split the vote and open a path for Fleming's win. The results may vindicate the theory.
Manfre was with friends at home, savoring his victory and looking forward to the race ahead.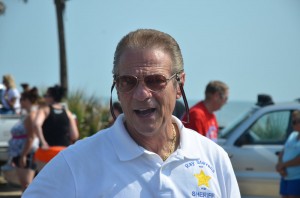 "I'm very humbled by the overwhelming victory," Manfre said. "I think it's recognition that we spoke issues that are on voters' mind. Number one, people are concerned about the ethics of the sheriff, and I made that my number one priority. People are concerned about law enforcement and its relationship with the community," and how the sheriff spends money in these economic times.
Manfre, a lawyer, was quick to analyze the Republican contest in these terms: "What happens was what happened four years ago: the two candidates split the anti-Fleming vote, and Fleming got in. It doesn't show much support for the incumbent when he gets 38 percent of the vote," Manfre said, with his opponents splitting the rest of the vote. In the primary four years ago, Manfre noted, Fleming had 52 percent of the vote among three candidates. "So this sheriff doesn't have broad support with the public. Didn't have it in the last election, and didn't have it in the primary, and I believe that will be my key to victory."
Flagler County Court Judge and Flagler County Sheriff
| Races and Candidates | Votes in Flagler | Percent in Flagler |
| --- | --- | --- |
| Flagler County Court Judge | | |
| Don Appignani | 1144 | 7.15% |
| Craig Atack | 3938 | 24.61% |
| Josh Davis | 1054 | 6.59% |
| Marc Dwyer | 2703 | 16.89% |
| Sharon Feliciano | 1415 | 8.84% |
| Melissa Moore Stens | 3670 | 22.93% |
| Scott Westbrook | 2080 | 13.00% |
| Flagler County Sheriff, Republican Primary | | |
| Don Fleming (I, R) | 3938 | 38.96% |
| John Pollinger (R) | 2525 | 27.81% |
| Ray Stevens (R) | 3018 | 33.23% |
| Flagler County Sheriff, Democratic Primary | | |
| Jim Manfre (D) | 3574 | 66.88% |
| Karl Tozzi (D) | 1770 | 33.12% |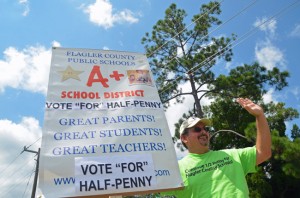 Flagler County School Board: The big question tonight was the half-cent sales tax. Flagler County voters have been generously supportive of their school taxes, most notably with that very tax 10 years ago, which they approved by a 3 to 1 margin, and with a referendum two years ago approving the continuation of a modest surcharge on their property taxes. That surcharge is expiring in June, and will not be renewed, resulting in a tax break for residents and businesses. The district has also lowered its taxes for the coming year, resulting in a very substantial tax cut that will radiate across property tax bills after January.
Still, many voters had been telling people like Andy Dance–the school board member who's led the campaign to renew the sales tax–that they see their school taxes increasing. Myths perpetrated by noisy talking heads have a way of overwhelming facts and reason.
Also on the ballot, of course, were two women who got elected together 12 years ago, and who were going for four more years, and got them: Sue Dickinson and Colleen Conklin. Both faced tough challenges. Dickinson faced a head-on challenge from the teachers' union, the Flagler County Educators Association, which fielded Bill Corkran. The JFK-quoting Conklin faced a challenge from the smart but temperamental Debbie Laury, a member of the right-wing Ronald Reagan Republican Assemblies that's been shaking up local races with candidates, activism, mercenary write-ins and the occasional lawsuit. Both Conklin and Dickinson were particularly anxious, and may have had good reason to be. Still, they prevailed, and relatively easily, especially Conklin, who got the most votes of any candidate running locally in any race.
"Honestly I feel relieved, because I was honestly concerned. I felt I was a target, and that I was definitely on the list of individuals that certain people wanted to have removed from the school board, and I was quite concerned," Conklin said, "because the political antics have been a bit concerning. And you just never knew what to expect. I think more than anything, more than that, I'm excited about the half-penny, and that in itself is a statement about our community, to our school district, about the importance and value of education, and I'm so humbled and so grateful to the citizens of Flagler County for supporting that half-penny."
"The statement that it truly sends is that it was a union challenge but as always not everyone in the union feels the same way as the board of the union, and I think that came through as well as anything else," Dickinsons said after winning. "I still had name recognition within the school district, with the teachers and the administration, and the fact that over the years, when we could do things for the teachers and did increase salaries, we did what we could do. I think that was remembered by a lot of faculty and staff."
Flagler County School Board and Half Cent Sales Tax Referendum
| Races and Candidates | Votes | %Percentage |
| --- | --- | --- |
| Half-Cent Sales Tax Referendum | | |
| For | 9928 | 63.65% |
| Against | 5669 | 36.35% |
| School Board District 3 | | |
| Colleen Conklin (I) | 9355 | 61.34% |
| Debbie Laury | 5896 | 38.66% |
| School Board District 5 | | |
| Bill Corkran | 6807 | 44.62% |
| Sue Dickinson (I) | 8450 | 55.38% |

Flagler County Commission, Clerk of Court, Supervisor of Elections: These races weren't bunched together by accident. These are the races that were open only to Republican voters, and closed to Independents and Democrats. In the supervisor of elections' race, Democrat Kimberle Weeks was unopposed in the primary. She will face Republican Trey Corbett in November.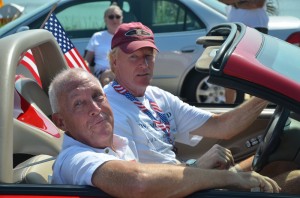 The county commission race pitting incumbent Alan Peterson and Charlie Ericksen should have been open to all voters: they're both Republicans, there are no other serious candidates running, and tonight's winner–Ericksen–will, in fact, be the next county commissioner. But the presence of a write-in will stretch the charade to November, when Ericksen's name will again appear on the ballot. It also ensured that the race be closed to Independent and Democratic voters until then. The same ploy was used in the Clerk of Court race, which has Republican Ken Mazzie and incumbent Republican Gail Wadsworth facing each other.
The County Commission District 2 race, with Republicans Frank meeker and Dennis McDonald facing off, only decided a winner–Meeker– will face Independent Abby Romaine (who is not a write-in) in November.
"I think I told you 500 votes or less," Ericksen said this evening, after winning. He was at the Republican campaign headquarters near Staples in Palm Coast, where the crowd was thinning out after 9 p.m. "I think there's a little bit of a surprise with Don Fleming's win, but other than that people have been most complimentary to me," Ericksen said.
"I appreciate the friendship that I had with Alan so that our race was without any mud-sling," Ericksens said, "and I'll continue to listen to his comments during the remaining county commission meetings, and put my own particular style into place at the commission and working with the other four commissioners. I tend not to get overexcited on good things and under-excited on bad things, I tend to stay middle of the road, listen, and make a decision, but I'm pleased as punch to be a commissioner-elect."
Meeker for his part sounded almost as if he'd lost the race.
"I'm happy for the win but I'm disappointed in the turnout," Meeker said. He beat Dennis McDonald, but by a mere 444 votes out of 8,300 cast, a much slimmer margin than he'd anticipated, or wanted. "I'm disappointed, I really thought that the electorate would look at the issues and recognize the difference between the two candidates on the issues." That, however, should be the case in his race with Romaine. "I'm looking forward to that," Meeker said.
Flagler County Commission, Flagler Supervisor of Elections, Clerk of Court
Races and Candidates

Votes in Flagler

Percent in Flagler

Flagler County Commission,
Ditsrict 1
Charlie Ericksen (R)

4183

50.84%

Alan Peterson (I, R)

4045

49.16%

Flagler County Commission,
Ditsrict 2
Dennis McDonald (R)

3947

47.34%

Frank Meeker (R)

4391

52.66%

Flagler County Clerk of Court
Ken Mazzie (R)

3033

33.98%

Gail Wadsworth (I, R)

5892

66.02%

Flagler County
Supervisor of Elections
Trey Corbett (R)

2928

34.77%

Kimble Medley (R)

1350

16.03%

Pam Richardson (R)

2847

33.81%

Allen Whetsell (R)

1295

15.38%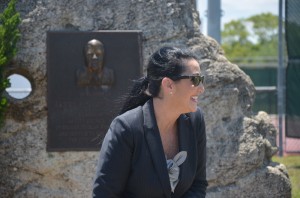 State Attorney, State House, Congress, U.S. Senate: These contests wrap up the ballot with some of the most consequential races of the summer, though, ironically, they're also the sort of races that get the least voter interest. The State Attorney race between incumbent R.J. Larizza and former Volusia County Judge Stasia Warren was open to all voters, because they're both Republicans and there was no Democratic primary (and no write-in shenanigans).
Larizza won it with 56 percent of the vote in Flagler County, and 54 percent of the vote district-wide. The 7th Judicial District, which includes Flagler, St. Johns, Putnam and Volusia counties.
Milissa Holland and Doug Courtney were facing each other in the Democratic race for the new state House seat created with Flagler at its center. Holland was expected to win that race, and did, with 73 percent of the vote in Flagler and 68 percent of the vote district-wide. But Republican Travis Hutson, who has no primary opposition, will present a huge obstacle to victory–not because of his experience, which is lacking, or his name recognition, which is equally lacking, but because of a campaign fund that overwhelms Holland's.
The newly formed 6th Congressional District also includes all of Flagler County.
State Attorney for the 7th District, Florida House 24, 6th Congressional District, U.S. Senate
Races and Candidates

Votes in Flagler

Percent in Flagler

District-Wide Vote

District-Wide Percentage

State Attorney
R.J. Larizza (R, I)

8093

55.68%

45497

54.35%

Stasia Warren (R)

6442

44.32%

38210

45.65%

Florida House, District 24,
Democratic Primary
Doug Courtney (D)

1468

27.03%

1954

31.61%

Milissa Holland (D)

3964

72.97%

4228

68.39%

Congressional District 6,
Republican Primary
Richard Clark (R)

862

9.72%

4450

9.61%

Fred Costello (R)

2491

28.41%

10924

23.6%

Ron DeSantis (R)

3328

37.96%

17974

38.83%

William Billy Kogut (R)

141

1.61%

516

1.11%

Craig Miller (R)

1283

14.63%

6404

13.83%

Alec Pueschel (R)

84

0.96%

527

1.14%

Beverly Slough (R)

589

6.72%

5494

11.87%

Congressional District 6,
Democratic Primary
Heather Beaven (D)

4264

81.05%

23,835

80.74%

Vipin Verma (D)

997

18.95%

5686

19.26%

U.S. Senate,
Republican Primary
Connie Mack (R)

4965

62.87%

598066

58.62%

Mike McCallister (R)

1164

14.74%

141963

13.91%

Marielena Stuart (R)

543

6.88%

74459

7.3%

Dave Weldon (R)

1225

15.51%

205834

20.17%

U.S. Senate,
Democratic Primary
Glenn Burkett (D)

1086

19.55%

166668

21.06%

Bill Nelson (I, D)

4468

80.45%

624630

78.94%
Note: The newly formed Florida House District 24 seat includes all of Flagler County. Travis Hutson is unopposed in the Republican primary for that seat. The newly formed Congressional District 6 includes all of Flagler County, most of Volusia, St. Johns and parts of Putnam.

Precincts reporting: In district-wide races, keep in mind that the percentage of precincts reporting will vary from county to county.