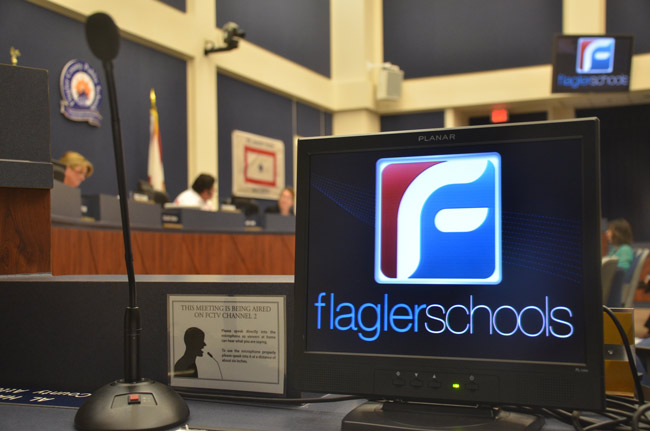 The numbers stack up: three meetings, eight days, 13 hours, 15 teachers cut and two administrators cut, along with six para-professionals, an entire alternative school for 50 students eliminated, and a slew of other programs eliminated or reduced, all to add up to $1.8 million in cost cuts for the Flagler County School Board ahead of next year's budget. That's not counting a $1.7 million dip into the district's reserves to fill a projected $3.5 million shortfall, or close to 4 percent of the district's school budget.
It all ended today on the approach of 5 p.m. as five school board members, some more reluctantly than others, signed off on a budget plan they will formally ratify in a vote next Tuesday, during an official school board meeting. But even that won't be the final word.
The final word will take place on June 7, a Friday, when Flagler County voters will go to the polls (at least those who haven't voted already: many have done so, by way of absentee ballots), to decide the fate of a tax referendum for Flagler schools. The district is asking voters to approve a small addition to their property taxes. The levy equates to 50 cents per $1,000 in taxable value, or the equivalent of $50 for a house valued at $125,000, with a homestead exemption. (The exemption applies only to the first $25,000, unlike exemptions for county and other taxes, which apply to $50,000).
The money, the school board says, will not only restore the cuts projected for next year, but enable the board to restore 45 minutes to the school day–45 minutes eliminated from middle and high school students' days two years ago in a cost-saving measure. The cut has affected academic choices and quality. It has also affected parental schedules, as students are returned home (or to streets) 45 minutes earlier. The property tax supplement will raise roughly $4 million a year, which will also enable the district to pay for school cops at all levels, not just in middle and high schools (as is the case now), though in retrospect, the board may have recognized that making that pledge put it further on a limb than it wanted to go: the school-cop issue is not nearly as urgent as it was in the aftermath of the Newtown massacre in December, and may have created a backlash that could hurt rather than help the referendum on June 7.
Briefly, the district considered several more drastic budget cuts it did not finally approve: closing one or two full-service schools (Wadsworth and Old Kings Elementary were discussed, as was Indian Trails Middle), which would have saved around $1.5 million per school. Eliminating busing for elementary school students who live less than 2 miles from their school. And eliminating "wheel" classes, or such things as art, music and science classes, in elementary schools, to enable a 45-minute cut in that school day. Each of these options found a strong enough coalition of champions on the board to prevent it from making it onto the cut list. Nine media aide positions were similarly saved–not because board members advocated for them, but because principals did.
But Everest alternative school could be history. The school serves roughly 50 students at a cost of $916,000. Some of the students, who have felonies on their record, would not be allowed on a school campus. So the school's closure mans expulsion to them. Others will have to be accommodated by designated teachers at individual schools. But the school's closure is a blow to the district, and to the county's larger security concerns, as many troubled students who would otherwise be receiving an education, under proper supervision, will be left to their own devices again. The school was dispensable, however, because it has no real political constituency to speak of: if other segments of the district's operations could draw on tenacious defenders, Everest was not likely to get championed by a constituency made up of students who've been expelled from their own schools. It was a soft target, and it accounted for more than a quarter of the projected cuts. Again: Everest would remain open if the June 7 referendum passes.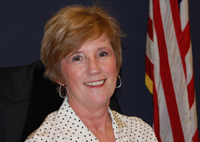 And while 15 teachers and two administrators' positions would be cut, none of those 17 positions would have required a principal or an administrator to face an individual and say: you're fired (or laid off). Each of these positions was cut thanks to retirements or attrition. That's not the case with the six para-professionals (that is, support personnel in the exceptional or special education department), who will end up losing their job. Board member Sue Dickinson fought hard for them, flirting with anger when it appeared as if the board and the administration were stacked against her. She stretched the battle well into today. But by the middle of the afternoon, she raised the white flag.
"I tried to save the jobs, I lost. Let's move on," Dickinson said, as Tracy Umpenhour, the director of exceptional education, was concluding an equally compelling case to cut the "paras," as para-professionals are known in the district.
"I don't think anyone would ever deny that we could use more people and more hands. There is always more need for: Teachers, Bus drivers, Administrators etc.," she'd written in a plan justifying the cuts. "Paras are no different. If we have the people we will always find a way to utilize them, but there has to be some method or reason to justify." And enrollment didn't justify staying at the same level. Umpenhour laid out a case that showed the district essentially 22 positions over its absolute need.
"Just end it, please. Don't get me started again," Dickinson had said at the end of the discussion. Para-professionals make very little money: $18,000 a year, less than a living wage in Flagler County. The cuts will yield $112,000 in savings.
The Adult Education department was under a microscope for two of the three meetings, with board members demanding clear numbers showing whether the department–which is supposed to be self-sustaining–is living up to its mission. Assistant Superintendent Jacob Oliva said that by year's end, the department would be showing a surplus of around $80,000 this year and next, but that next year the department's workforce development funding (a federal and state supported funding source) will be cut 16 percent, or $344,000, requiring serious cuts in the Adult Education department. Those will include the elimination of the culinary program, for example, the elimination of two community education teachers and several other cuts totaling $332,000 in savings.
At the end of the meeting, board members summed up the toll by offering up a few final suggestions of their own. Trevor Tucker suggested eliminating the board's membership in the state and national school board associations. Board members agreed–but only for a year or two, saving roughly $17,000 a year. Board members travel to association events to keep up with their position's legalities and broader board issues, and to train as board members. Tucker, who runs his own business, is not fond of those trips, though Colleen Conklin wryly told him that she was all for cutting the budget next year of the year after Tucker would join his fellow-board members in some training.
Dickinson wondered what the legalities are for the district to stop funding–to the tune of $180,000 a year–its students enrolled both in the district and at Daytona State College. The state now requires local districts to pay that bill, an "unfunded mandate" Dickinson finds outrageous, considering the mission of school districts: to educate children in kindergarten through 12th grade, not in college. "Where does it stop and we can take the dollars and put it in the general education?" Dickinson asked. "What's the fine if we don't do it?"
Janet Valentine, the superintendent, cautioned that "It is Florida statute and it is very specific on dual enrollment."
Undeterred, Dickinson said, looking at the board attorney: ""Ask around and see what kind of penalties there might be. That could be a big cost saving."
Andy Dance, the board chairman, suggested that the district revive its business advisory committee and examine the board's organizational structure, which board members had analyzed for two hours Tuesday, in hopes of perhaps detecting further cost savings in future years.
Lucky for the board, another local government advisory panel had reserved the chambers Tuesday evening. With that in mind, Dance adjourned the meeting, which had nevertheless been the best attended of the last eight days' three workshops: aside from school personnel, there had been at least five or six people unaffiliated with the district in attendance. It's more than Conklin's weekly Wednesday information session on the tax levy managed to draw last week. That number was zero.