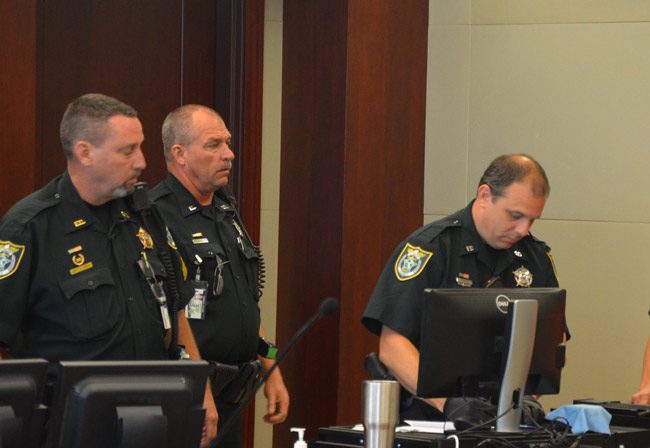 It's the last thing judges want to hear about taking place anywhere near their chambers: racial, homophobic and sexual improprieties involving their staff and their bailiffs, who are there to protect them and not only reflect the judges' own sense of order and decorum in the courtroom, but enforce it: not so much as a ballcap kept on one's head is tolerated in the courtroom, let alone any kind of misbehavior, perceived or actual. Bailiffs make sure of it. They are even more strict with defendants.
Then came allegations of a sexually-oriented image being texted by a deputy to court staff, of allegations of "child porn" on a deputy's phone, of vile and bigoted statements by two deputies about blacks, of foul language directed at a staffer, and of a general atmosphere of intimidation and disrespect by uniformed personnel against court staffers.
What had developed as an "untenable work environment for the staff" at the Flagler County courthouse, as the administrative services director of the circuit headlined her memo on the affair prompted the intervention of three judges, including Raul Zambrano, the chief judge of the entire circuit (which includes Flagler, St. Johns, Putnam and Volusia counties). Zambrano has zero tolerance for improprieties, even when they involve a fellow-judge.
After internal affairs investigations by the Sheriff's Office, two bailiffs have been disciplined and reassigned out of the courthouse, bailiffs have a new supervisor, and one judge's administrative assistant lost her job as his assistant. Sgt. John Bray, who had been the bailiffs' supervisor and was recognized by the sheriff a few months ago for his 25 years of service, was assigned a desk job at the Palm Coast precinct, without supervisory authority. (The position was previously held by an unranked deputy.)
For a courthouse already in turmoil over the ongoing disciplinary action that has resulted in the suspension of Circuit Judge Scott DuPont—and his indefinite expulsion from all courthouses in the circuit—the issue with staff and deputies has further complicated an administration wrestling with reassigning a slew of cases from DuPont's dockets to other judges and their support staff while further blotting the reputation of this part of the circuit, which until the DuPont case had been spotless.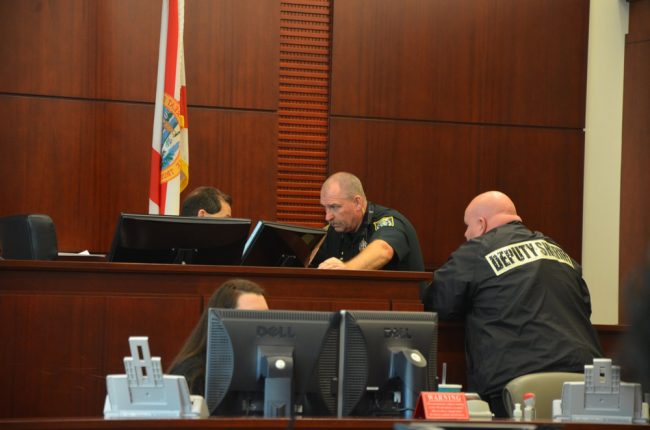 It started last Nov. 29 when Circuit Judge Dennis Craig, the senior judge in Flagler, summoned Cmdr. Brian Pasquariello to his office. Pasquariello oversees detention and courthouse deputies. Craig proceeded to relate an incident brought to his attention by Circuit Judge R. Lee Smith regarding Craig's own assigned bailiff, Jeff Puritis. (Every judge is assigned a specific bailiff for his or her protection. The bailiff escorts the judge everywhere the judge goes while on the clock.)
Puritis, Craig told the commander, in September had texted the image of a woman visibly naked beneath lingerie to Smith's judicial assistant, Kenley Matejka. Smith confirmed it to Craig: he'd seen the picture. Matejka confirmed it with the commander, who considered the image inappropriate. ("The picture was of a woman sitting on a couch wearing see-through negligee where her breasts and nipples could be seen," Pasquariello noted in a memo that became part of a sheriff's disciplinary report.)
Puritis explained the matter this way in a rebuttal memo: it was lunchtime in the breakroom and "a friendly conversation was started in regards to a specific women's [sic.] apparel 'lingerie,'" he wrote. "Those present were other Deputies and court staff. Upon the completion of lunch, Kenley, who was one of the biggest participants in the conversation, said to everyone that if they could ever find a picture of the specific lingerie, to send it or show it to her. An image was later texted to me of a woman wearing the mentioned apparel. I later forwarded the image to Kenley, who advised while laughing, that it was exactly what she was talking about earlier. There was never any indication that Kenley was uncomfortable about this topic and in fact, she was more encouraging about it than anything. Many conversations of similar nature have taken place in the past with Kenley and others. After discussing this with my supervisor, I will avoid these situations in the future."
Matejka didn't want Puritis fired nor did she want to make a formal complaint, but Pasquariello reported she'd been offended by the picture. Puritis's action was in violation of sheriff's policy on conduct. He was issued a written reprimand. Craig agreed with what was considered a resolution of the issue. Puritis was reprimanded formally on Dec. 15. He carried on as Craig's assigned bailiff. (Puritis has been at the Sheriff's Office since 2011. His only disciplinary action until then had been a 2013 written reprimand following complaints of "horseplay" on the police radio.)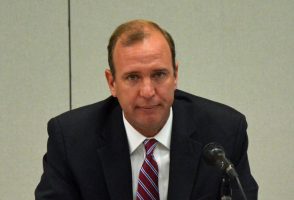 Five days later, Undersheriff Jack Bisland was driving on U.S. 1 south of the Bunnell city limits when he saw Puritis passing him in his department-issued patrol car at 85 mph—20 miles in excess of the posted limit. Puritis was not responding to an emergency. According to a memo Bisland wrote on the incident, he caught up with Puritis and told him to slow down, then had a phone conversation with him on "the necessity to operate your marked patrol car within the speed limit for safety as well as public perception," he wrote. "Essentially, you advised you were on route to work and not focused on your speed."
The memo was written on Dec. 29. By then Bisland learned from Staly that the sheriff himself had had a similar experience with Puritis, on U.S. 1, and had followed up with a call to Puritis to express similar concerns. Puritis had told the sheriff he'd been driving home for lunch and to care for his dog. Since his encounter with Bisland had actually been a second offense, and what Bisland called "your disregard for your first warning," his privileges of driving a department-issued patrol car were suspended for 20 working days in January. "It is my sincere hope that this suspension serves to illustrate the gravity of your actions and the need to operate your issued vehicle in a safe and lawful manner," Bisland told him.
As with Bisland discovering that the speeding he witnessed was not the only instance of that problem, so did Pasquariello and others at the Sherioff's Office discover after yet another internal-affairs investigation in mid-February naming Puritis, Bray and John Freshcorn, that the lingerie-picture incident was not the whole story. By then Anne Landolfa, the administrative services director for the seventh judicial circuit, who works out of an office in Daytona Beach, had authored a December memo to Mark Weinberg, the circuit's court administrator, outlining numerous, disturbing allegations and recommending reassignments.
Landolfa had not been aware of the lingerie incident. In December, Weinberg asked her to meet with two of the court staffers at the Flagler courthouse, Antoinette Arcuri and Matejka, the employee who had been the recipient of the lingerie picture Puritis texted. But Weinberg was only relaying the concern of Zambrano, the chief judge, who by then "was aware of allegations of inappropriate behavior occurring at the Flagler County Courthouse that warranted inquiry," according to the sheriff's internal affairs investigation.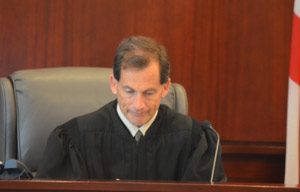 Most of the allegations were made by Arcuri, who claimed that Puritis and Freshcorn had discussed the existence of "child porn" on another deputy's phone, that Bray and Puritis had made racist statements about blacks, that Puritis had gotten oil for the car of a drug-court participant and told her he could get fired and get divorced over the matter, that Puritis had sent Arcuri a text asking for for a "boob shot," that there'd been a Puritis temper tantrum with vulgarities and thrown furniture at the office, and that Bray had had his own temper issues directed at staff.
According to allegations provided the investigator by Landolfa, Puritis asked Arcuri why she listened to "nigger music," told her that she is sick if she were to date a black man, and advised her to tell her daughter to leave her boyfriend "so I can teach her what a real man is." Bray, Landolfa reported by way of Arcuri, returned from a trip to the mountains and said the air was clean there because there are "no niggers there." Arcuri reported that Bray once lost his temper with her on a day when she was looking for a bailiff to escort a visiting judge. "Don't tell us how to do our fucking jobs," she reported Bray telling her, at which point she asked him to step into the hallway and asked him if he had a problem with her. "Ya," she said he replied, "I have a problem with your fucking mouth, your [sic.] always running your fucking mouth." She said the exchange took place in front of Pasquariello, who said he saw them obviously upset but "could not be exactly certain what was exactly said but it was something similar or close to what Ms. Arcuri offered in her statement."
Bray asked Pasquariello: "Do you wanna tell her what's gonna happen to her?," implying a threat to her job.
Deputies had apparently learned that Arcuri's days at the courthouse were numbered, or that they'd have a meeting about her and speak to Craig. The judge spoke with Arcuri about the issue. She told him she did not want to make a formal complaint, according to the investigation, but that she thought what the deputies were doing was wrong.
The inquiry was not as thorough as previous internal affairs investigations have been: the deputy who was accused of having "child porn" on his phone, for example, was not interviewed, telling the investigator he did not want to be part of the inquiry because he works with the deputies involved every day. It's not clear why it was up to a deputy rather than the investigator to decide who would be part of the inquiry, even though the deputy, according to Arcuri, reported to her that "the whole group were conspiring against her just like they did to him." The investigation notes that the deputies involved eventually apologized to Arcuri, but she did not consider the apology sincere.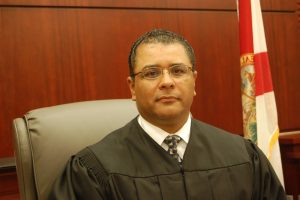 Arcuri concluded her interview with the investigator by saying that she and Matejka "no longer feel safe at work," with deputies creating "a very uncomfortable workplace" for them both. She broke down and cried, saying "she has always been very pro law enforcement but the interaction she has had to endure with these officers has made her very concerned and hurt, ultimately changing her overall outlook."
Matejka was to be interviewed the same day. She did not show up. After numerous attempts to contact her, the investigator finally met with her on Feb. 9, only for Matejka to say she would not participate. "What's done is done," she said. In essence, that left the investigator without independent corroboration of several of Arcuri's claims, though Pasquariello had in the main corroborated the exchange with Bray.
Bray in his interview with the investigator denied ever using racist foul language, though in another apparent investigative lapse, the investigator never asked about the racist comment Bray is alleged to have made. He acknowledged speaking firmly to Arcuri, but only by saying, "No, I don't have a problem, it's your mouth." In Bray's view, Arcuri was "pitting" deputies against each other and creating problems for them.
By the time the investigator, Randall Doyle, concluded the inquiry on Feb. 15, Bray had been transferred to the Palm Coast precinct, Puritis had been transferred to road patrol, and Arcuri was being replaced as Craig's judicial assistant effective Feb. 28. Puritis hasn't in fact had his first day of patrol yet, having had a medical issue in early March. It's not clear if Arcuri has been merely transferred or has lost her job, and under what circumstances, from court administration's perspective. (A court administration official said an answer would be forthcoming later Friday afternoon.)
"We could not substantiate a disciplinary charge," Chief Mark Strobridge of the Sheriff's Office said—aside from the reprimand Puritis was served in the earlier incident—but what we do know is there was too much familiarity in the courthouse and the environment had to change."
Sgt. Kim Davis, who had formerly been an internal affairs investigator, is now the supervisor of the courthouse deputies.