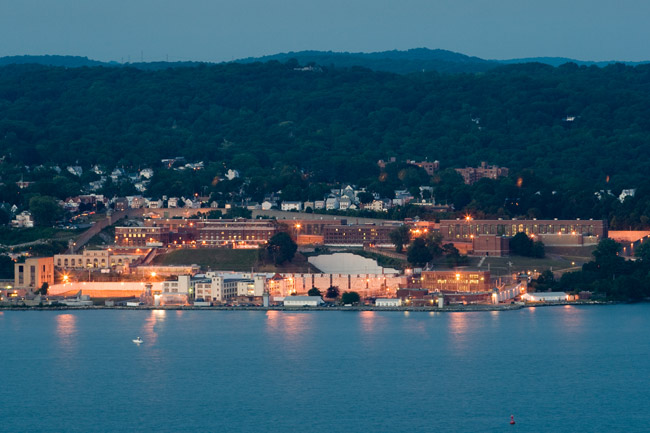 Francis X. Clines, in a 1993 New York Times column on Sing Sing, the maximum-security prison in Ossining, N.Y., on Kobutsu Kevin Malone, a Buddhist priest who'd bring Zen meditation to prisoners: "Squat and merry-eyed with short gray hair, Mr. Malone seems more leprechaun than priest until he dons his long, deep blue Buddhist robe and enters the maximum-security prison. (He ascends to the black robe today when his abbot ordains him.) The background clang and clamor of men kept from freedom nibbles at the serenity of the zendo in a basement meeting room. Initially, he found mostly convict dabblers looking for a social outlet, more than a spiritual inlet, when Mr. Malone, a strictly nonfelonious outsider, took over direction of an informal Sing Sing meditation group 18 months ago. "A typical meeting consisted of 15 minutes of desultory meditation and the remainder of the two hours dedicated to jailhouse politics," Mr. Malone recounts in a deep voice laced with amusement at life's turnings. […] Of course, Zen is useless for most people, but there is that 1 percent who can handle it. It's a method of becoming sane, I tell the inmates. There's no beliefs involved. It's a life practice and is probably the most effective way to bring about change on a fundamental level." […] Prison officials have been skeptical, especially when Mr. Malone arrived with a traditional kesaku, a firm, slender paddle that, in ritual procedure, is used to relieve muscle tension with the delivery of a sharp blow. "They were reluctant but they finally allowed that in," he says, smiling."

Following are the daily booking reports for the Flagler County jail, as provided by the Flagler County Sheriff's Office. The jail is located at 1002 Justice Lane in Bunnell, and can be reached at (386) 586-4860.
Previous Jail Booking Reports
To search for inmates, past or present, on the sheriff's website, go here.
To send mail to inmates at the Flagler County jail, the envelope must be addressed in the following manner:
Inmate Booking Number (RE: John Smith – 07-000000)
1002 Justice Lane
Bunnell, Florida, 32110
Visits at the Flagler County jail are limited to one hour. A maximum of two people may visit per hour. However, only one person will be allowed into the visitation room at a time. Children under the age of 12 are not permitted to visit. Children 12 to 17 are permitted to visit with an adult who is on the visitation list, and must be immediate family only. A Birth Certificate to prove relationship is required. Photo identification, such as a drivers license is required of each adult visitor. Visitors must arrive 15 minutes before the appointment time or they will not be allowed to visit. All visitors are subject to search. See the full visitation brochure here.

Feb. 29-March 1, 2012
Download Flagler County Jail Bookings, Feb. 29-March 1, 2012

Feb. 28-29, 2012
Download Flagler County Jail Bookings, Feb. 28-29, 2012

Feb. 27-28, 2012
Feb. 24-27, 2012