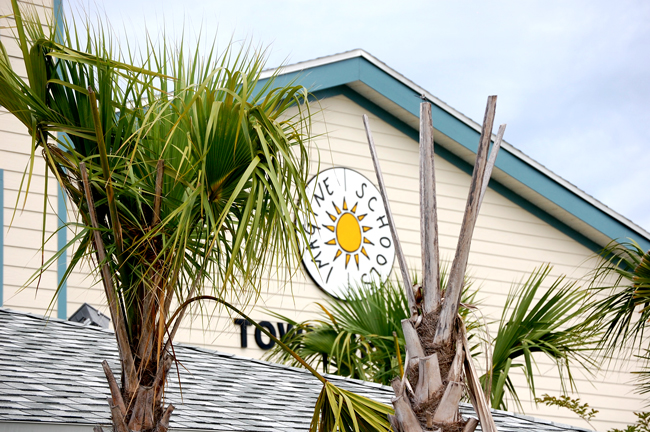 On Tuesday, Florida finally released FCAT scores, after a five-week delay. We broke down those scores and posted them here, school by school. Charter schools were not included.
Brett Cunningham, a teacher at Imagine School, the charter school at Town Center, commented: "It sure would be nice if the county's charter schools were actually represented here as they are indeed schools, filled with students with parents and families all the same."
Cunningham is right. They are indeed schools filled with parents and families. That's about where the comparison ends. Comparing charter schools to regular public schools, on the same plane, gives the impression that charter schools and public schools are of equal stature. They're not. Charter schools are to public education what double-A ball is to baseball: a training ground, perhaps an experimental ground, although in double-A baseball the rules are the same as in the major leagues in a way that they're not when comparing charter school regulations to regular public schools. Charter schools get a bye on significant regulations. I'll get back to that.
For the record, and since Brett Cunningham raised the matter, FCAT passing score rates at Imagine are below district levels in every grade, in math and reading, except for 4th grade reading (significantly higher: 89 at Imagine–based on results for 45 students–77 in the district) and fifth grade math (by 3 points). That's it.
Otherwise, the results are middling to dismal: 42 in 6th grade math (compared with 57 for the district), 67 in 6th grade reading, 51 in 7th grade math–11 points below the district–and, horror of horrors, 35 in eighth grade reading, compared with 55 in the district (not that the district has anything to be proud of in that regard, or the state, for that matter, which also comes in at 55). And eighth grade math? : 53, compared with a district average of 70.
Did you really want those figures highlighted, Mr. Cunningham?
An important point as far as Imagine is concerned is this: it's barely a two-year-old school, and analyzing scores for a school that young should itself be put in its proper perspective, which Lisa O'Grady, the principal at Imagine, did: "We were a D school last year and our proficiency percentage this year increased across the board dramatically, and I think that's the message that my staff is very, very proud of," O'Grady said. "We are trying to raise the bar for charter schools in our community and we have shown good faith in our second year. The progress is outstanding."
No question. And luckily for Imagine, there's always Heritage Academy, one of the other charters in town, to make it look better, though it's like Arkansas pointing to Mississippi and saying look, things are worse over there! They unfortunately are, disastrously so, and this is no laughing matter, because children are not guinea pigs, though charter schools make them so (and parents, who put their children in there in the first place, play along).
Heritage has been open in one manner or another since 2005, so the young-school syndrome doesn't apply. It recently re-branded itself, from Academies of Excellence, which ran Cornerstone Elementary, Summit Academy and Heritage High School in Bunnell, to the combined K-12 Heritage Academy (kind of like British Petroleum doing the BP thing with a bright green flower around it). Scores are not only below district averages in every single reading and math category, in every grade (fifth-grade reading being the single exception). They are horrendously below district and state averages. Some examples: Heritage's 7th graders, in math: 15 percent passed, compared with 62 percent in the district. Seventh grade reading: 40 percent passed, compared to 67 percent in the district. Ninth grade is just as bad: 18 percent passed in reading and math, and just 14 percent passed in 8th grade reading, and 12 percent passed in 10th grade reading.
Amazingly, the Flagler County School Board just this month approved extending Heritage's charter by an extra year. But state legislators made sure that local school boards, which are ultimately accountable for charters' performance, have very limited authority to deny a charter's existence. It's one of those calculated no-win slams legislators imposed on school districts. (Palm Harbor Academy is in its first year with just 45 students spread out over three grades. Its results are also very poor.)
So much for the details. A quick explanation as to why charter schools weren't included in FlaglerLive's round-up of public school results. It's not just a matter of leagues or quality.
Charter schools are entirely paid for with taxpayer money. Entirely. But charter schools get a pass on regulations and standards regular public schools must abide by, which means that Florida from the outset, when it wrote the charter school law in 1996, lowered the bar for charter schools, an ideologically driven decision that has nothing to do with education, except to undermine the concept of traditional public schools in the name of innovation. Some charter schools have been fantastically innovative under that model. Most have not, and have cheated students of the far better education they'd be getting in the regular public school setting.
Charter schools are exempt from the Florida K-20 Education Code, with exceptions when it comes to students with disabilities, civil rights and so on, and public record requirements. Promotion rules that apply in regular public schools don't apply in charter schools. Grading standards that apply, by law, across the state's public schools don't apply in charter schools, so an 85, which would be a B in public schools, could just as easily be an A in an inflationary charter school. Health and PE requirements? Don't apply. General curriculum requirements all the way down to more specific civic education or even more specific but critical requirements, in Florida law, to teach (for example) the Holocaust "in a manner that leads to an investigation of human behavior, an understanding of the ramifications of prejudice, racism, and stereotyping" (that's the law's actual language) don't apply in charter schools. Nor do requirements to teach "The history of African Americans, including the history of African peoples before the political conflicts that led to the development of slavery." Waivers like that are inexcusable, and downright backward.
Obviously, that means charter schools can also exceed state standards. But academic results suggest strongly that the race is to the bottom, not the top.
Many building regulations don't apply to charters. Local school board policies don't extend to charter schools, even though school boards authorize those schools. And of course charter schools can, like private schools, pick and choose students in a way that public schools may not, including limiting the number of at-risk students taken in.
Also, the Legislature just passed a law exempting charter schools from abiding by the sort of class-size limits that are badgering school district budgets and site-based school management. The exemption, slipped into a bill by Polk County's Sen. J.D. Alexander in the last session, was a straight-out favor to Alexander's constituents in a county with 22 charter schools. It had no justification that couldn't apply just as much to regular public schools. (Charters can still go by school-wide averages instead of class-by-class ratios, as regular schools must this fall.)
All of that would lead one to believe that charters are set up to focus on their core mission and excel. They don't.(Especially not in Flagler County.) It's the reverse. Florida legislators are setting up public schools to fail while promoting charters. I'm with Flagler County School Board Chairman Evie Shellenberger on this one. She summed it up perfectly on May 18: "The folks in Tallahassee, to me, their goal is to shut down public schools. Shut down public schools and go to charter schools."
The charter craze began in the 1990s when public schools were getting slandered by reactionaries as part of that anti-government mentality that worshiped deregulation and free markets in all things, schools included. It was all about vouchers and charters. Those who opposed them were labeled troglodytes who opposed innovation. Parents don't respond well to their children being treated like commodities, so the charter movement came up with one of these ingenious word plays, calling it "school choice."
Diane Ravitch was one of the leaders in that craze. She wrote policy in the first Bush's Department of Education and in the Clinton administration that fostered the voucher-and-charter epidemic. She was supportive of the early versions of No Child Left behind. Gradually over the last few years, she reversed course, realizing that the data of a decade and a half of the experiment never matched the promise. She ridiculed how states, Florida among them still, "responded to NCLB by dumbing down their standards so that they could claim to be making progress." And she owned up to her own mistake about charter schools. Yes, they had great promise, she wrote in the Wall Street Journal in March,
But the promise has not been fulfilled. Most studies of charter schools acknowledge that they vary widely in quality. The only major national evaluation of charter schools was carried out by Stanford economist Margaret Raymond and funded by pro-charter foundations. Her group found that compared to regular public schools, 17% of charters got higher test scores, 46% had gains that were no different than their public counterparts, and 37% were significantly worse.

Charter evaluations frequently note that as compared to neighboring public schools, charters enroll smaller proportions of students whose English is limited and students with disabilities. The students who are hardest to educate are left to regular public schools, which makes comparisons between the two sectors unfair. The higher graduation rate posted by charters often reflects the fact that they are able to "counsel out" the lowest performing students; many charters have very high attrition rates (in some, 50%-60% of those who start fall away). Those who survive do well, but this is not a model for public education, which must educate all children.

[…] Given the weight of studies, evaluations and federal test data, I concluded that deregulation and privately managed charter schools were not the answer to the deep-seated problems of American education. If anything, they represent tinkering around the edges of the system. They affect the lives of tiny numbers of students but do nothing to improve the system that enrolls the other 97%.
Parents are trained to detect snake oil, which explains why that 3 percent isn't a larger number. That's another reason not to play up charters' importance more than they should be when reporting about public schools: they don't deserve equal time, because they don't have it, and they don't provide it. Advertising them, or reporting about them, as if they did (in the same context as public schools) misrepresents the facts. That would be an example of false balance.
Don't get me wrong. They'll be reported on. I've been tracking Flagler's charter schools—their financial reports, their issues with the school board—and look forward to walking their halls should the occasion arise. But while Florida has lowered the bar of charter school standards, I've raised mine as far as they're concerned: rather than play into the rah-rah reflexes of applauding charter schools as "choice" and "competition" and other such meaningless clichés, the burden is on charter schools to prove why they deserve to be considered on the same level as the traditional public schools, let alone be given anywhere near the attention regular public schools get and deserve.