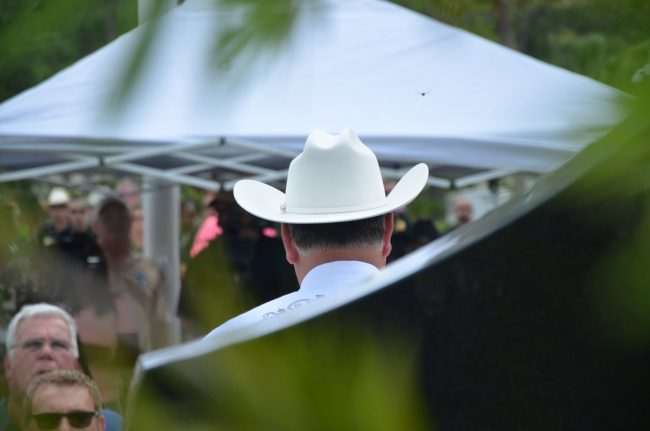 It took a centennial to do it, but the Flagler County Sheriff's Office and Rick Staly, its reigning, Stetson-wearing, Smith & Wesson-armed chief pulled it off Monday despite sun and heat out of Dante's Inferno: they gathered four living sheriffs at the same occasion, a celebration of the agency's 100 years.
The four surviving sheriffs go back almost two generations, starting with Dan Bennett, a former Flagler Beach police chief who served from 1981 to 1983, and has the distinction of being the only Flagler sheriff ever to be removed from office. Jim Manfre served from 2001 to 2004 and again from 2013 to 2017, Don Fleming served from 2005 to 2012, and Rick Staly took over in 2017. Their survival is itself a feat that would impress Dante, since some of them were at each other's throats for many of those years, if they didn't have a knack for self-destruction: The Florida Senate unanimously voted to boot out Bennett after accusations of sexual harassment and exhibitionism (accusations he denied).
But each in his own way has been an exemplar of gallantry regarding his predecessors or successors, once electoral or political seethes have cooled.
"It's a great honor to be standing, period," Bennett, colorful now as he was then, said, remembering the day when the department under his command had just 17 deputies. "Probably won't be at the next centennial," he added to laughs, introducing his wife of 52 years.
"It's kind of like when all the presidents of the United States get together," Staly said in an interview later. "We're from different political parties but we all have the same bond that we were either the current or a former sheriff of Flagler County, which is just very unique in itself."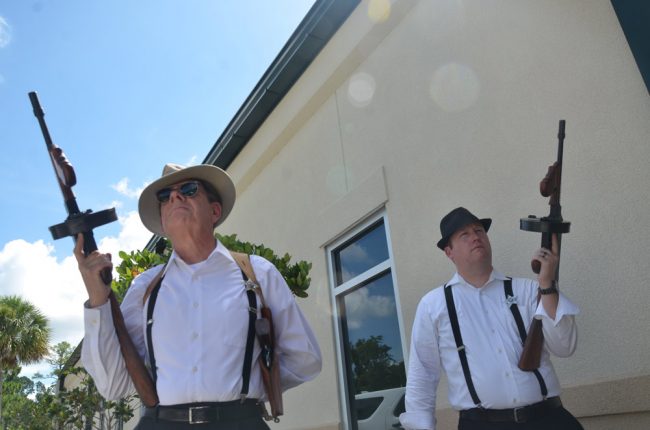 The ceremony's most moving feature was a recollection of all 17 past sheriffs by recognizing their surviving family members. Eight past sheriffs had family present, among them Flynn Edmonson of Bunnell, whose father, Phillip Alexander "Zip" Edmonson, was sheriff from 1965 to 1981. The younger Edmonson lived at the jail when he was younger. Edmonson marked his 72nd birthday in his brief appreciation speech on behalf of his father.
"It's simply one reason, to serve the public, there's no better occupation in the world than to serve the people of this county and the people of American" Manfre said when it was his turn as he spoke of the importance of recognizing the history of law enforcement in the county, and why individuals choose to put their lives on the line for the job. Fleming accepted the commemorative medallion that was given each sheriff or his family members by adding the echo of an endorsement for Staly: "I think we're heading in the right direction," Fleming said.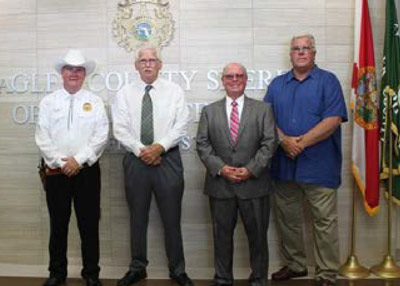 Staly gave a brief history of the past 100 years starting with the appointment of the very first sheriff on July 9, 2017, the days when sheriffs housed inmates in their own homes, when inmates complained of lacking syrup for their pancakes, of the years of illegal stills and moonshine through the 1950s, then the evolution into what became the war on drugs (Staly didn't use those words), and how many of the crimes the agency has fought over the years are still the same crimes it fights today, with technology as a difference. The agency is creating a centennial yearbook and will have commemorative firearm.
Then he explained the matter of attires. "You may also see deputies wearing some new attire," he said. "I've authorized deputies to personally purchase and wear black boots and white western-style hats as part of their uniform during our centennial year." The sheriff himself wore one of those hats, bought the very day when he was briefly diverted from his shopping expedition with his wife by a man who had allegedly just shot a neighbor and later led deputies on a brief chase through the R Section. "In the early years it was common for the sheriff and his deputies to wear western hats and boots. You can see many of our deputies in the back are wearing them today. This may be a one hundred year old agency, but it is an active, modern and proud agency. Our strength comes from the diversity of our employees and a community we serve. Our mission over the past one hundred years has been to protect this community and keep our residents and visitors safe. Today we've laid the foundation for our next one hundred years of service."
After the ceremony concluded, the sheriff invited a large crowd—likely around 200—to visit the agency's new museum, though two main courses in that regard could not be on display inside: the agency's 1938 Buick police car, and a couple of Prohibition-era Tommy guns.