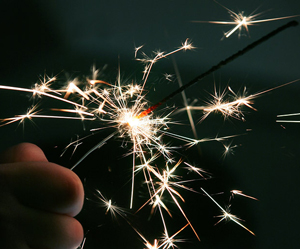 The Flagler County Commission this morning will ratify a decision last week by the county's fire chief to restore the burn ban lifted only weeks earlier. The original ban was imposed on Dec. 21.
The decision was prompted by last week's forest fires, including a small one in western Flagler that burned about 50 acres, a much larger one just across the county line with St. Johns that extended over some 1,000 acres, and a colossal one just south of the Volusia County line, in Brevard, that spread over more than 3,000 acres.
A combination of January's February's colder weather and a dearth of rain resulted in very dry conditions on the ground as dead brush and grass has turned to kindling. When fires start, they accelerate quickly. Aside from the possibility of scattered thunderstorms on Thursday, the National Weather Service projects no rain for the region for at least the next 10 days, adding to a rain deficit.
The emergency ban applies to all residents in Flagler County, including residents of Palm Coast, Flagler Beach, Bunnell, Grand Haven and Hammock Dunes. The ban outlaws open flames outdoors except for barbecue grills. Penalties include a warning for the first offense and fines of up to $500 or 60 days in jail for subsequent violations.
The law specifically bans the use, sale or discharge of fireworks including sparklers; open burning, use of open fire pits and containers; parking vehicles with catalytic converters in high grassy areas and throwing matches or–a particularly pronounced local offense–cigarettes from vehicles.
County fire officials are calling for area residents to be very careful during this period of dry weather. County Fire Services will be responding vigorously to any wildfire reports. County crews, Flagler County's Fire Flight helicopter and the Division of Forestry respond to all reports of wildfires.