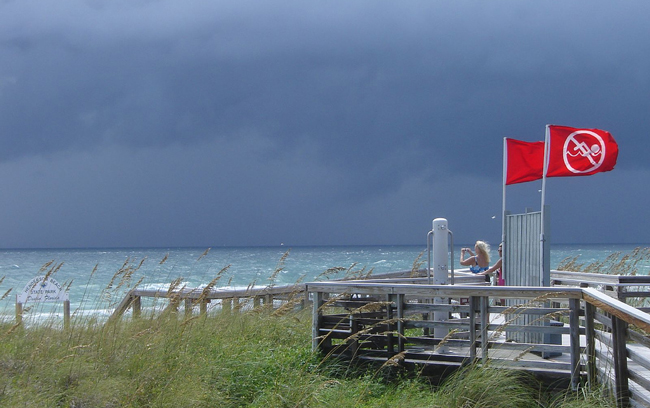 A flag system warning of dangerous conditions is unlikely to appear on Flagler County beaches any time soon, although the Flagler County Commission will revisit the issue in coming months when it discusses next year's budget. Commissioners are wary of installing a system that would require constant monitoring, possibly exposing the county to lawsuits should someone get hurt or drown after misinterpreting a flag—or should a flag not have been switched in time.
"We definitely could find a way to do it," County Administrator Craig Coffey said, estimating that a set of hurricane-resistant flagpoles embedded in concrete would cost around $2,000. "The question is, should we do it from a liability standpoint." County Attorney Al Hadeed counseled caution: "Other than having an active monitoring system, that is where we affirmatively take the responsibility to monitor conditions and post those conditions," he said,  "creates an increase in the county's liability exposure, because now you've assumed a duty you are not required to undertake." (A look at Florida's beach-warning flag system.)
---
Listen to the Full 20-mn Discussion on Flags[media id=18 width=250 height=100]
Red-flagging was the subject of a 20-minute discussion at the commission meeting Tuesday morning when Sea Colony resident Roger Treidel urged the county to improve beach safety on a four-mile stretch of beach along State Road A1A, from 16th Road to Washington Oaks, where some 600 families live. "We feel very vulnerable regarding the issue of riptide warnings," Treidel said.  Last November two people almost drowned right outside Sea Colony on a day when the National Weather Service identified that the conditions were life-threatening, he said. There was no rescue device on the beach. When 911 responders arrived, they said they couldn't go into the water, because they weren't trained to do so nor did they have the equipment. The Coast Guard's reach was limited, too.
Treidel said he'd been working on the issue with Coffey for six months without success, to which both Coffey and Commissioner Milissa Holland took exception. Following a Jan. 20 discussion of the same issue at a county workshop, Coffey ordered two sets of signs warning of riptides and the absence of lifeguards on duty. The county just received 25 of the 50 signs and was installing them at what Coffey called "semi-private and semi-public" beaches, such as Sea Colony. "They're already up at all the public parks and dune cross-overs."
A link to the National Weather Service's beach conditions has also been added on the county's redesigned webside. But installing flags wasn't a decision Coffey could make without commission approval. "The problem," he said, "is that the courts in Florida have continually held that when you put up these flags, they're typically associated with lifeguards on duty."
The county also contributes $80,000 a year for Flagler Beach's lifeguard program, or about half the cost of those wages. And although Flagler Beach has five miles of beaches, even there, Commissioner Barbara Revels noted, active protection is limited. "When they have their lifeguards in place, they're only covering four or five blocks both ways from the pier, and their flags only fly at the pier, they do not have a warning system anywhere else on all their dune walk-overs."
Holland initiated the discussion of added beach protection in January. "I was I guess a little confused about the tone of the letter of us not taking any action," she told Treidel, "because we have taken action. It might not have been as expedient as one would have liked, but at certain times in government, there is a process we have to follow, this is public dollars, so that's why we have to wait until we get through these budget workshops to discuss how we're going to tackle this issue."
When the matter is picked up again at a budget workshop later this spring, the liability issue is likely to take precedence over the county assuming a nanny role in beach safety. As Commissioner Alan Peterson put it, "In my view it's not a question of the cost of the poles or the fact that the flags are free. I'm extremely concerned with the legal liability, because the county really doesn't have the resources to monitor or protect those residents that might be utilizing the beach, particularly when the flags are flying. So I don't want to give the public the impression that there is protection when there really isn't."