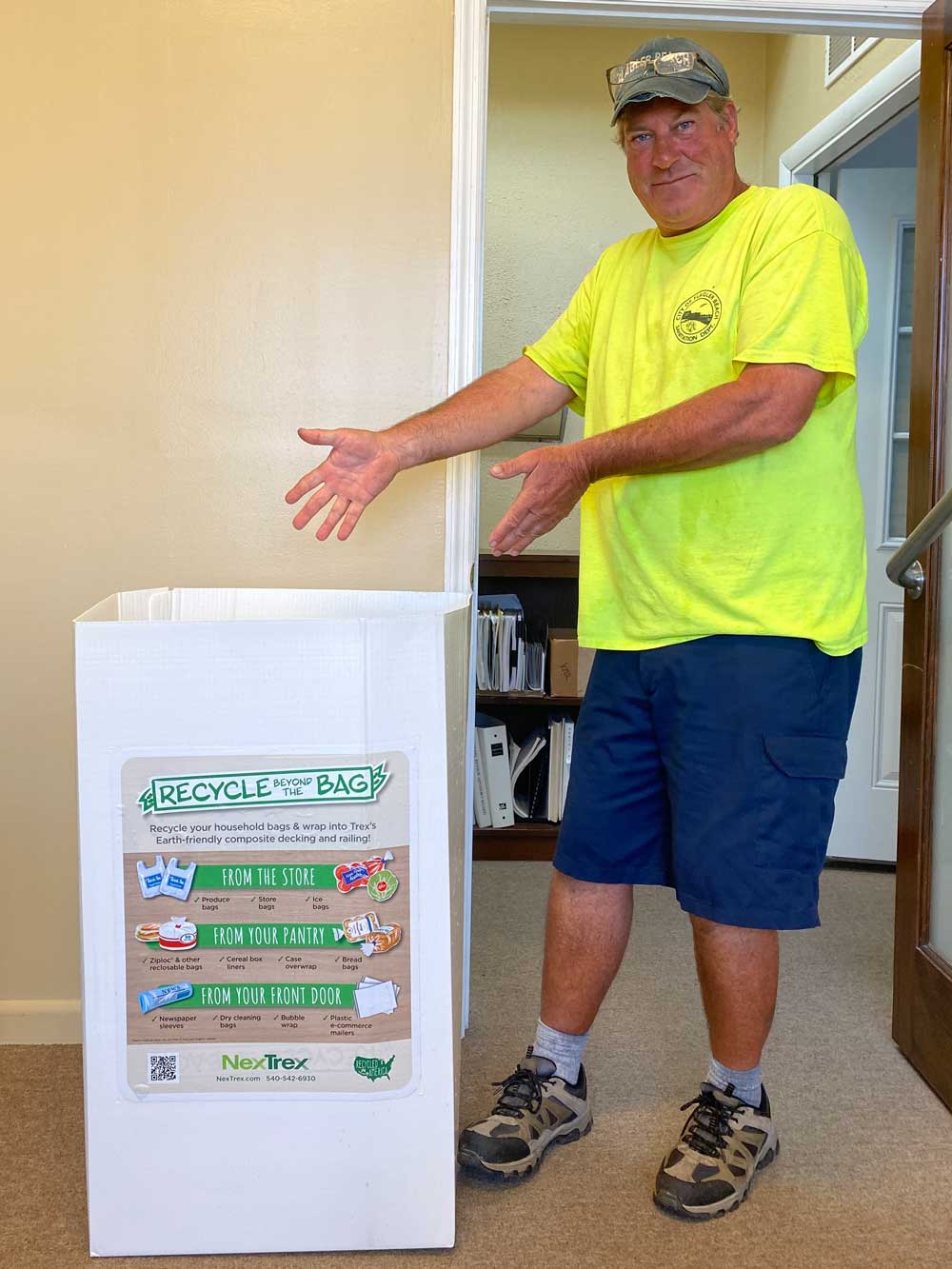 Beginning on May 15, Flagler Beach residents and businesses may recycle plastic bags and plastic film through several receptacles that will be placed around the city. It's not curbside recycling just yet. But it is City Sanitation Director Rob Smith's latest effort gradually to bring back recycling of most materials the city had suspended in 2021.



"This is a initiative of what we as a city have talked about for some time with Rob spearheading it," Mayor Suzie Johnston said. "While we aren't able to recycle all plastic, which is our goal, we will be able to recycle some plastic. Rob Smith is doing a great job and he is the guy to get us to that goal. Its exciting to imagine our residents recycled plastic items being repurposed into new items that could potentially be used in the City."
"We are excited for this next step in expanding the City's true recycling program that will further reduce trash going to the landfill," Interim City Manager Mike Abels said. In 2018, Americans sent 27 million tons of plastic to landfills around the nation, double the amount in 1990. The 27 million tons represented 18.5 percent of all solid waste sent to landfills. Plastics are not biodegradable. (In 1967, when Mr. McGuire was telling Dustin Hoffman's Ben Braddock about "a great future in plastics," the stuff was a bare blip of 2 million tons a year in landfills. Mr. McGuire was more right than he knew.)
Only 3 million tons of plastics were recycled in 2018, according to the Environmental Protection Agency. Another 5.6 million tons were burnt and converted to energy. Every pound of plastic Flagler Breach residents divert from landfills would be recycled into usable materials.
"The known demise of every single plastic bag collected can only be considered a win," City Commissioner Rick Belhumeur said in a text. "Rob Smith and Ken Bryan have been to a couple of recycling conferences where Flagler Beach has been the envy of others because of our Sanitation department's recycling efforts (especially the glass). Looks like we'll be back out in front again by implementing this initiative of collecting all types of film plastics." Bryan was a city commissioner until March.




Examples of items that can be recycled in the receptacles include produce bags, store bags, ice bags, Ziploc© and other reclosable bags, cereal box liners, case overwrap, bread bags, newspaper sleeves, dry cleaning bags, bubble wrap, and plastic e-commerce mailers. Plastic bags and film packaging that stretches when pulled can be recycled. Polyethylene films labeled 2 & 4 can be recycled. Packaging that tears like paper, that is shiny, or that makes a crinkly or crunchy sound should not be recycled in the receptacles.
In 2021, because of a market that was no longer absorbing recycling efficiently enough to not be costly for cities to recycle, the city stopped recycling glass, plastic, metals, paper, magazines or newspapers. A year later, at Smith's initiative, the city launched Big Blue, its glass-crusher that enabled it to resume recycling glass and selling crushed, powdered class. Smith and the city won an environmental award for that one.




The city will be holding a dedication for the new Film Plastic Recycle Program on Thursday, April 27, from 5:15 to 5:30 p.m.–just ahead of the city commission meeting that evening. The event will take place on the front lawn of Flagler Beach City Hall at 105 S 2nd Street. The City is partnering with Trex Company, Inc. to collect recycled film plastic that Trex will recycle into Trex Composite Lumber. Trex specializes in recycling materials into outdoor deck boards, railings, fencing, outdoor furniture, stairs and the like.
Mayor Suzie Johnston, former Commissioner Ken Bryan, and Sanitation Director, Rob Smith, will make remarks during the dedication.
The city will eventually provide more specific location information for the receptacles.