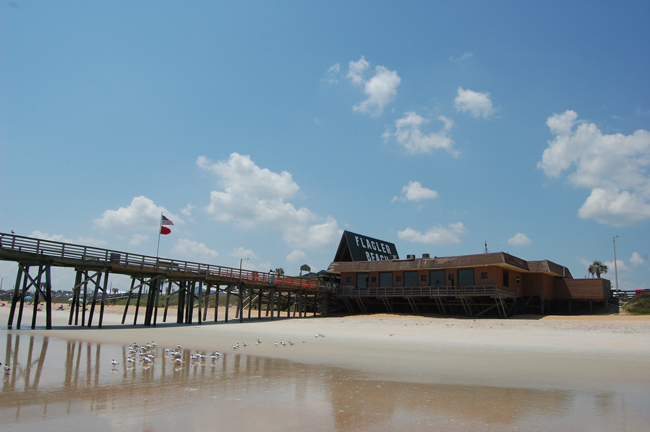 When he looks at Flagler Beach's Pier Restaurant, Raymond Barshay has a dream. And $500,000 to invest. He wants to "bring a vision and personality to life that marries the history of Flagler Beach with the casual feel of a charming coastal community," and do so in a casual-dining atmosphere of Southern cooking unafraid to flirt with mouth-watering favorites "from New England, New Orleans, The Islands, Italy" and other regions worth their delectables.
Kaitlin Meyer, the current lease-holder on the Pier Restaurant, likes what she's hearing. She wants to do business with Barshay, who owns a few restaurants in Ormond Beach and elsewhere. Meyer is urgently interested: she wants to bail on her 20-year lease, which has two years left. And the two had "an ironclad deal" enabling Barshay to take over the lease now, in the words of outgoing Flagler Beach City Manager Bernie Murphy.
One problem: Meyer and Barshay may be two restaurateurs in private business, but they're negotiating over public property. They don't have the final say over who gets to run the Pier Restaurant. Flagler Beach owns the place, along with the bait shop next door. It leases both. The restaurant lease is up in 2012.
Since hearing of Barshay's interest in the restaurant late last year, the commission has been uncertain over how to proceed next. Granting Barshay's request to take over the lease might look like it was enabling a "sweetheart deal" (in Commissioner Ron Vath's words). Getting in the way of Barshay and Meyer might look like getting in the way of two private businesses, and look anti-business, worried Commission Chairman John Feind.
Three months, three meetings and a 35-page "white paper" into the debate, the commission on Thursday finally agreed to advertise the availability of the restaurant for lease for the next 20 years. The ad is not soliciting proposals but merely testing the market for interest in the restaurant. The ad won't appear in much of a market, either, at least in print: it would be sent to newspapers in Orlando, Tampa and Jacksonville. Daytona Beach wasn't mentioned. Commissioners sound uninterested in having a major chain run the place.
Before that decision was made, Barshay made one final pitch to get a crack at the property now. He got plenty of help from Feind, as he has in previous meetings. "I'm a little taken aback," the chairman said. "We're being very negative toward business, toward the owner who has an opportunity to sell a business that she feels she has an opportunity to get out of. She is a local businessman, and we're getting in the middle of that."
Other commissioners wouldn't bite. "This is city property being paid for by the tax payers of Flagler Beach," Jane Mealy said. "So I do think we do have the right to interfere in what happens with this business."
Commissioner Steve Settle said it was a matter of getting some competition going before settling on the next lease-holder. Whether the commission will get that competition in the current bleak market, and by limiting its search to Florida–where the recession is hitting harder than anywhere but California–is another matter.
The restaurant, its various owners and the commission share a history as storied as it's been fiery. The restaurant burned down in June 1981 (not, Flagler Beach Fire Chief Rob Creal said at the time, from arson). An oil fire started it and spread quickly. The tackle shop next door and the pier were not damaged. At the time, Peers Inc., owned by Jeff Seale, held the lease to the restaurant. Against the objection of one commissioner (Dominic Savino), the Flagler Beach Commission voted to suspend Seale's rent payments until he could operate a restaurant again. "You're fighting a dead dog over there," Savino told Seale.