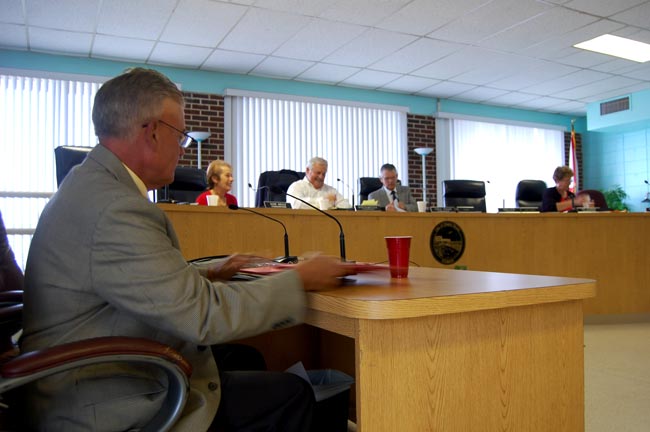 "I'm glad for your second interview because you did not impress me the first time around," Flagler Beach City Manager Joy McGrew told Bruce Campbell, one of three city manager candidates re-interviewed this afternoon, before she asked him her first question.
Mayor Alice Baker–who does not take part in the vote to hire a manager but is given the courtesy to ask questions–had just finished pitching Campbell, her top pick, a series of softballs ("Do you consider yourself a strong leader"?). McGrew is more of a fastball pitcher: she's not interested in polite subtleties when the issue in play is beyond the ceremonial. She made that clear the last time out, when she let a large audience know that she did not appreciate the public campaign on Campbell's behalf looking like his candidacy for manager was "being rammed down my throat."
One of McGrew's issues with Campbell, who works for Flagler Beach as a maintenance worker but has a long history as an executive in the private sector, is the dearth of government experience in his background. Campbell says that won't hamper his ability to run a public organization. McGrew isn't so sure. "I didn't come here as a maintenance man," Campbell told her. "You've seen my credentials' I've done it. I can still do it." McGrew's questions probed at those abilities, but it wasn't clear whether she was satisfied with the answers.
Campbell came not ready for an interview as he was ready to set his own agenda. He tried. He handed the commissioners a packet with an outline of his approach broken down into three sections: one addressing the issue of his background in the private sector (what he considers his principal strength, because he sees government as a business); another laying out his strategies and objectives for 2010-11; and a third, portentously, entitled "First 100 Days in Office."
But commissioners had their own questions to ask, and little time to do it in, until Commissioner Steve Settle's turn came: Settle, like a defense attorney who's coached his client well, fed him the question that would enable Campbell to get into his "packet" when Settle said: "Educate me." So Campbell delved into his experience "by subject area" in order to show how he knew about labor relations, agency reporting, employer relations, and so on. County Commission Chairman John Feind, who gets exasperated at the sight and sound of laundry lists, whoever their author, briefly massaged his forehead, reclined, waited. "I've served multiple gods, ok? I've served multiple agendas," Campbell said.
Then he brought Jim Landon, the Palm Coast city manager, into it, citing a meeting with Landon, who told him during an hour-and-a-half conversation that he believes "he can go private just as I can go public." Landon's best advice: Campbell needs to learn to "tell a good story" to his commissioners, in the sense that translating complex issues into good narratives would win him points.
Each interview was scheduled for about 45 minutes. So they didn't quite take the bait. Still, it was obvious that Campbell, already assertive in his first interview, wanted to project a more comfortable, more in-control persona: he swiveled his chair to face the commissioners (as opposed to sitting flush against the desk, twisting his head, as he had in his first interview, and as every candidate has), leaned back, and set his right hand on the desk, a copious binder in front of him.
The chamber was a third full–about 30 people–, a reflection of the degree to which the commission's process has mixed populism, politics and, when the commission whittled down the candidates to these three in mid-September, something of a circus atmosphere. That popularity contest (again on display in smatters, this afternoon, as a few people in the chamber applauded a few times when they liked something Campbell was saying) is what some commissioners have been resisted.
Settle asked Campbell to clarify two rumors–that he attempted to unionize some Flagler Beach employees, and that he covered up a problem he had knowledge of at the maintenance department. The question was meant as an easy way for Campbell to explain and bat down rumors (which he did). It also underscored the very thing that made some commissioners queasy at his candidacy: his immersion in personnel issues and beyond, before his first day on the job as a chief executive. After his interview McGrew compared the way a mass of people have latched on to his candidacy to the sort of liability Scott Janke, the former front-runner for the job, ended up with when he couldn't get past issues involving his wife, who's in the porn industry. Nevertheless, McGrew said she was more impressed by Campbell's second round.
Campbell was preceded by Edward Sealover, the details-oriented older candidate who last worked as county coordinator in Nassau, and he was followed by Gary Word, who's leaving as city manager in Surfside.
"Are we strong, are we weak, are we moving forward?" McGrew asked Word, who's clearly, on paper, the strongest candidate in the field if long public experience and clarity of purpose are the criteria. Word handled the question with subtlety: the city is progressing, he said, though without going into detail. McGrew's question was prefaced with the sort of direct points she's known for: given the city's issues, why would Word want to return for more? (Word also had applied for the job four years ago.) That question wasn't answered beyond the standard one: Word wants the job. One of the reasons he does is his situation in Surfside: he announced he'd leave the city in spring, when he felt the commission there was no longer supporting him–when the entire panel turned over in the March election. In other words, those who hired him are no longer there. "I'm leaving Surfside on good terms," he said.
Word also confirmed that Surfside is under investigation by the FBI and the IRS over corruption charges of long date. He's not involved, he said, beyond cooperating with the two agencies in their investigations.
The most revealing question of the afternoon wasn't asked by a commissioner. It was asked by Word, who put commissioners on the spot when he asked them at the end of his interview, now that they'd heard him for the second time, why they had asked him back, and where he stood in their eyes. "You weren't my first choice," Feind told him, though he was his second. "Some people don't like to blow their own horn," Feind told Word. "That's my impression of who you are." The comment subtly contrasted Word's interview with Campbell's, when horn sections, both in the audience and on the interview seat, were seldom quiet.
McGrew said the same thing: Word hadn't been her first choice. "I like you a whole lot better this time," Jane Mealy–still not a rousing endorsement. Settle was blunt: the city has a chance to hire in-house, he said. "I firmly believe that's an opportunity we should seize upon." Any doubt that Settle's mind was open to candidates outside the city at any point in the interviewing process, which involved 140 applicants, was dispelled with that comment. So, most likely, were Word's chances.
For the Flagler Beach City Commission, the choice would have normally come down to two strong personalities–Word and Campbell–and a more earnest one in Sealover. Judging from the commissioners' leanings, it looked like a battle between Word and Campbell, if not Word and Campbell's large constituency–large enough to carry him to a commission seat, should he run.
Essentially, two commissioners' minds are already made up: Settle and Commissioner Ron Vath are pushing for Campbell regardless. The remaining three commissioners have done more to push back, against Campbell, than for a particular candidate, though Word and Janke were their former top picks. McGrew sounded as if she was laying the groundwork for accepting Campbell when she referred to the "outcry" from the community wanting its man. "There seems to be a desire and a hope that we can select someone from our town," she said–much more deferential words toward that movement than she'd had for it two weeks ago. Still, the next manager will have to be hired with at least four commissioners' votes.
Vath was not part of the interviewing process, and he's missed every meeting of the commission, including the interviews, going back to mid-August, though he took part by phone in the earlier decision to cut the candidates down to the last three. He said he'd be back in early October.