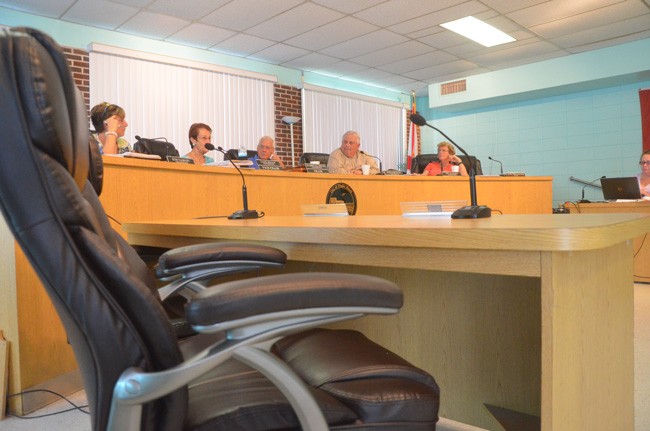 Flagler Beach city commissioners on Thursday gave the go-ahead to give their own staff preference and first crack at the city manager's job, which Bruce Campbell is leaving in September. A broader search will seek candidates who have experience in small, coastal communities. The job will still pay what it has for the past five years: no more than $90,000.
Commissioners, who mad those decisions in an afternoon workshop Thursday, tried one more time to convince their colleagues that they should hold on to Bruce Campbell as city manager. Joy McGrew said he's been good for the city and could not easily be replaced. Marshall Shupe said that even though Campbell made it clear he's done, "he's had a change of heart." He could be convinced to come back.
Not so, three commissioners said. It's too late. And as Commissioner Jane Mealy put it, "I don't think he's not good for us, but I don't think you give somebody a third chance. We can't keep doing this." Campbell has taken issues personally, she said, which he shouldn't have. "I think it's time to move on. Nothing personal against Bruce at all."
When even Steve Settle, Campbell's one-time champion, said he didn't think Campbell was interested in staying, there seemed no room for commissioners to keep pursuing him. "I fought like a bear to get him this job," Settle said. But Settle gave Campbell a ride home after that meeting last month when Campbell, in curt and categorical terms, told the commission to "get on with it," finding his replacement. Settle told Campbell in the car that he thought he was making a mistake. But Campbell was adamant. He wanted out.
But the workshop today stood in sharp contrast to similar workshops five years ago, when the commission last undertook to replace its manager. Then, it faced a more flammable atmosphere as commissioners were divided between hiring an internal candidate–with Campbell's candidacy looming over those choices–and hiring outside the city. That divide created tensions between commissioners from the start, and stayed with them for what turned into a year-long, often bitter, at times embarrassing, process.
Not today. Commissioners handled the challenge collegially, at times with humor, never with any sort of fundamental differences. The swiftness with which they reached their objective said it all, as did the audience: the meeting lasted less than an hour, and by the time it was over, only four people were in the audience, two of them reporters.
The commission will post the position internally, opening it up for an interim manager who'll pick up where Campbell leaves off in September. The commission is certain of one thing: it will not have a permanent manager in place by the end of September. The salary range: $70,000 to $90,000.
The commission will not be advertising the position more broadly until its internal applicants are vetted. Commissioners' preference is to hire a permanent manager from within. Those applicants will have five days (next week) to apply. But commissioners will want to have a want-ad ready to go statewide or national later this month.
Skype interviews? Fine, though Commissioner Joy McGrew wants a more in-person experience, at least after initial screenings. Paying the travel costs of candidates? Absolutely not. Candidates from landlocked places like Wyoming? Not likely to get mjuch of a hearing, though they cannot legally be barred from applying.
The commission meets next on Aug. 27, unless it calls for a special meeting. A special meeting is possible, and one such meeting will be called if there are internal applicants to examine. If there are no internal applicants, the ad positing the job nationwide will go out Aug. 17.
Working on the fine print, commissioners struggled with trying to be transparent in their job description–without being too transparent. For example, Campbell has been city manager and assumed all the responsibilities once held by the director of the city's Community Redevelopment Agency, a position he eliminated, saving the city money. The job description cannot explicitly say that the applicant must also be the CRA director, according to the city attorney. So commissioners played with words. The applicants will be required to "wear many hats," and so on. The rest of their attention to the job description had to do with refining wording than changing anything essential.
Whoever is hired, the commission will have to learn the lessons of the Campbell era: "If it's not the money it's something else," Commissioner Kim Carney said, referring to Campbell's decision to leave. "It's the way we treated him." Shupe, the commission chairman, put it this way: "He's feeling that his position is not getting the respect that maybe he should be getting." Campbell wanted more "professionalism and respect."