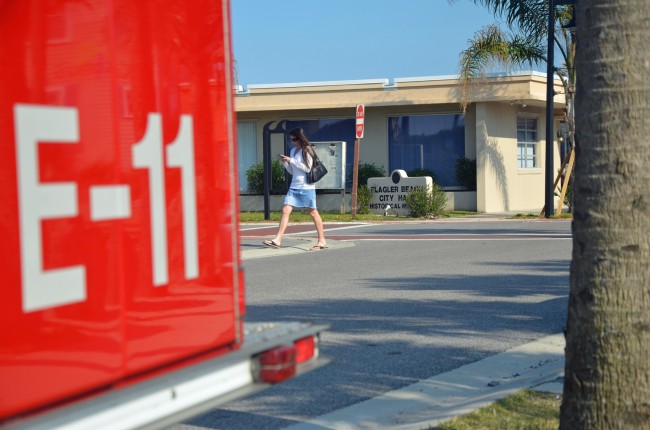 Thursday morning, the Flagler County School Board broached a subject it never imagined it would in the foreseeable future: the closing and consolidation of some of its schools. But declining enrollment and tighter budgets is now making that more than a probability.
Thursday evening, the Flagler Beach City Commission heard a subject it has been doing its best over the years to deflect, muffle or vote down: the consolidation of its $600,000 fire department with Flagler County Fire Rescue. Flagler Beach City Commissioner Kim Carney, after struggling to so much as get the matter on a meeting agenda, brought the matter to the fore, arguing that the city is no longer in a position to continually pay for a fire department of its own.
Carney was looking for the city to more formally analyze the economics of consolidation, chiefly by putting out a request for information (RFI)–that is, sending City Manger Bruce Campbell and Acting Fire Chief Bobby Pace to the county to "look at money saving ideas and savings" that may be turned over to the city, along with a better insurance rating for the city's fire coverage. She wanted formal talks.
Her proposal fell flat. Literally: when she made the motion, she got no second. Commission Chairman Steve Settle, and commissioners Joy McGrew and Marshall Shupe—the latter a volunteer fireman immersed in the city's fire department—were opposed, outright, to negotiations with the county, or to talks of consolidation. They were not opposed to asking questions, however, though McGrew made clear why: politically, it was "political suicide" to look like she wasn't interested in exploring options.
Th trio was bailed out by a motion by Jane Mealy: each commissioner would get to submit any question he or she wants to ask about fire issues. The questions would be submitted to Campbell. Campbell would answer them, after researching and investigating them with full discretion as to how—including meeting with the county administrator and fire chief, if necessary. But Campbell would not have the authority to negotiate any deals.
That motion passed unanimously, with Carney making clear that her questions would require meetings with the county. (The questions have to be turned in by the next commission meeting in two weeks. It's not clear when the answers are due.)
In essence, however, Carney's original idea, while not having the city commission's full backing, can now be carried out all the same: she wanted the city manager to meet with county officials and answer her questions. She'll have that request satisfied, allowing her at least to build more momentum for her longer-termed aims: the more verified information she gathers-if that information supports her premise that the city could save a lot by consolidating–the more pressure will build on the city to act on it, assuming that carrying on with business as usual is untenable. But politics as much as fact will likely shape that assumption.
By Carney's calculations, consolidation with the county has been estimated to save $200,000 merely in personnel costs, though capital savings would be greater: the city's equipment is aging, and replacement would be costly. Breathing and communications equipment alone would cost the city a quarter of a million dollars to be in compliance. The city has a 26-year-old ladder truck that has exceeded its normal life, and would cost well over $500,000 to replace. A fire engine is 17 years old, and other equipment is getting old. combined capital costs add up to over $1.1 million, Carney says. Carney also argues that the city is duplicating services while residents are being double-taxed. And the city's insurance service office rating (ISO) is the worst in the county, which harms home insurance rates–and could conversely be lowered if the city were to be served by the county, which has a better ISO rating.
Carney, whose numbers would be subsequently and repeatedly questioned, also noted that medical calls account for 90 percent of all emergency calls, and those are handled by the county's fire rescue unit, which is stationed at Flagler Beach's station.
"I don't know that I'm right, I don't know that I'm confused, I don't know what I don't know," Carney said. "This action is not punitive. Our city manager has gone through a very difficult time, and this is the reason I took this agenda item." Carney said the city manager—Bruce Campbell—could have gone out on his own to explore the issue. But she wants the commission to give him direction to do so, giving the initiative the imprint of the commission's—therefore constituents'–legitimacy.
"I feel it's time for us to sit down and at least entertain a discussion with Don Petito and Craig Coffey over at the county," Carney said, referring to the county fire chief and the county administrator, and analyze whether there are duplicated services that could be more efficiently provided.
When the commission opened the floor to the public, 13 people spoke—four in favor of Carney's proposal (or a version of it), seven opposed (including four members of the Flagler Beach Fire Department, among them Acting Fire Chief Bobby Pace), and two who didn't so much take a position as asked questions and urged the commission to do the right thing.
"You are here to give the best service that Flagler Beach residents can get at the best cost," resident Jackie Mulligan said, defining Carney's proposal as the sort of things any local government should do—reexamine costs and find ways to better provide services, more efficiently.
The room was almost full, with most seats taken, but not nearly as full as it has been on various issues in the last couple of years when other controversial issues were in play—the noise ordinance, bonfires on the beach, surfers near the pier, the hiring of the city manager, and so on.
Andy Thomas, a four-year volunteer fireman with the department, referred to Carney's presentation and said that "a few of the figures we saw today were inaccurate." For example, medical calls are "at most" 80 percent of emergency calls, rather than 90. "Flagler Beach is different from Bunnel, it's different from Palm Coast," he said, with some of its fire department personnel specializing in ocean rescue, something the county may not be able to provide.
But that claim may itself not be entirely accurate. Seventeen Flagler County Fire Rescue firefighters are certified in ocean rescue, with the county currently running classes to certify six more. Several members of the Flagler Beach fire department have applied to take the certification course. The county administration, aware of Flagler Beach's discussion, today shrewdly issued a press release on its firefighters' certifications, noting that those credentials are "in addition to the fact that Flagler County's Fire/Rescue members are dual certified as fire fighters and paramedics." The press release included a quote from Coffey, the county administrator, commending firefighters—and sending a subtle message to the Flagler Beach City Commission.
One of the Flagler Beach firefighters alluded to the department's recent scandals: "Sometimes you've got to take out the trash, and when you take out the trash you see diamonds in the rough," Clint Dixon said. He pointed to his colleagues as the diamonds in the rough.
Art Woosley, for over 30 years a member of the Miami-Dade Fire Department and a long-time advocate of consolidation, said: "We have to look at this in a common sense manner, and Ms. Carney spoke to the point, this is about money," and it would provide "a higher level of competence," with the county having 95 percent of its units covered by paramedics, a claim the city cannot make. "That means the public is much better protected. This is about the health and benefit of the public." He cited some 25 small communities in South Florida that merged with Miami-Dade's fire rescue department for the same reason.
Bobby Pace the acting chief, summed up his ranks' position: "It's the passion that we share in the department that I think leads them to say the things that are on their mind," he said, noting that a "cost-saving report" would be provided the commission soon. He pointed to the group of fire fighters filling three rows of chairs on one side of the room, saying just four are paid firefighters. The rest are volunteers. "The equipment that we have, granted, it could be considered old," he said, but the ladder truck, for example, had only 14,000 miles when the city acquired it, even though it was old. "The county is not know to typical cater to volunteers. They're the backbone of our operation," he said.
City Commission Chairman Steve Settle said it would be premature to bring in the county. It's the city manager's place for now to figure out the budget picture and submit it to the commission.
"To me a fire department is a whole lot more than just money," Commissioner Jane Mealy said, suggesting that she, too, would be opposed to any consolidation. But she was willing to ask the county questions. That's when she proposed the idea that eventually carried the night.
Joy McGrew said she was unhappily feeling like she'd been cornered. "It's not broke," she said, and needn't be messed with, but "I'm not in favor of doing anything with the fire department except to allow it to grow and be and exist" in the community. Despite calling it "political suicide," she said she was opposed to entering in discussions with the county. "If we sign up for it, how do we control it?" she asked, going as far as saying that she was willing to pay more money.
Mayor Linda Provencher, who does not vote on city motions (but can veto them) felt cornered, too, but from a different angle: she said there has been interest to consolidate, but she also said that the county would likely charge the city more to provide services—eventually. Even so, she said, "we need to send Bruce, Bobby, whomever, over there to find out," Provencher said.
Carney wanted to bring up the matter two weeks ago. She placed it on the agenda. City Manager Bruce Campbell pulled it. By charter, he has the authority to do so, though the charter specifies that agenda items may be pulled over timing–not political–issues: if the manager deems an item will too unreasonably lengthen a meeting, he may pull it. Two weeks ago the meeting was not particularly long. But Campbell had also favored discussing the matter during a budget workshop. In the end, Carney said she would place it on the agenda again and insisted that it remain there. It has.
Carney had begun her presentation on a personal note. On Aug. 12, 2000, her brother went to a concert in a city in Massachusetts. There, he collapsed and died. There were no emergency services at the ready. As a result of his and another death at the same facility, the city that was issuing event permits looked at its process, and as a result two ambulances, defibrillators and other medical equipment were added to the events. Carney's point: with time, "things change," and, she added, she has "a personal interest in EMS."
At the very end of the meeting, long after the matter had been left behind, McGrew returned to it briefly, addressing residents (though the room itself had emptied of all but 11 people): "Please let us as commissioners know how you feel about the fire department, the police department, the upcoming budget," McGrew said. "Voice your opinion or voice your support or whatever."
"I'm going before the fight starts," Alice Baker, the former Flagler Beach mayor, said as she walked out, after attending a few proclamations at the beginning of the meeting. As it turned out, it was a muted fight, with more smoke than fire.