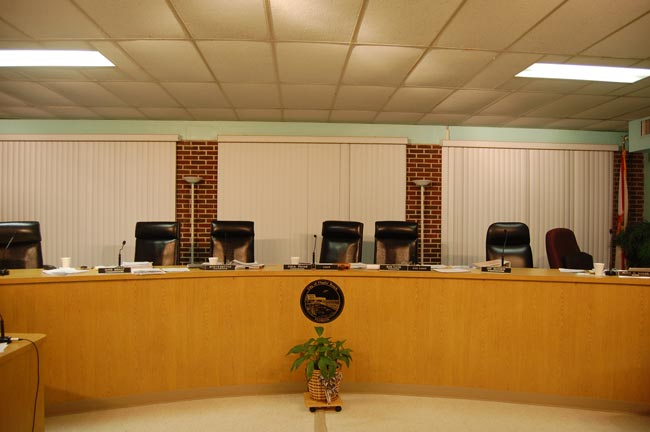 It's been 175 days since Bernie Murphy announced to the Flagler Beach City Commission that he was resigning his position as city manager, and 12 days since he left for good. It may be another 175 days before the commission figures out a way to hire a permanent replacement. Earlier this evening (Oct. 14), the commission punted again on choosing a replacement, leaving Caryn Miller, the acting manager, still in charge, and possibly losing a crack at one of the three candidates in the running.
The commission has been wrangling over a short-shortlist of three candidates since last month. Gary Word and Edward Sealover are the two out-of-towners. Bruce Campbell, who works for the city, is the in-towner. Word is reportedly the top choice for manager of Green Cove Springs, where he may be hired before the Flagler Beach commission makes up its mind.
The reason for the delay this time: Commissioner Joy McGrew was in North Carolina, where she usually vacations. She was piped in by phone, but she said she wanted to be here in the chambers in person to vote on a new manager. McGrew made a motion to table the discussion, drawing loud criticism and ridicule from several people in the audience. With a 3-2 vote, the motion passed and the matter was tabled until October 28. McGrew, Feind and Vath were in the majority. Commissioners Jane Mealy and Steve Settle, rare allies–especially on this issue–dissented.
Vath's vote was not a surprise. He had earlier seconded a previous motion to hire Campbell. But he had also spent the last two months away from the commission, missing every meeting and contributing only by phone on two occasions, when the commission discussed–and delayed–hiring a manager in late September and earlier this month. The commission accommodated his absence. He would have looked hypocritical had he not supported McGrew's request to have her absence accommodated.
"Do you need me anymore?" McGrew said after the tabled matter. And she hung up. Most in the audience of 38 people (not including cops) grumbled, some spoke their disdain at the commission openly and audibly, and more than half walked out: they'd showed up hoping to see Campbell hired. Several of those who stayed spoke their disappointment to the commission. (There'd been uniformed cops in the audience, there to keep the peace. Two of them ran out during the proceedings, apparently on a call.)
Commissioner Steve Settle had immediately began the discussion by making the motion he made last month—to hire Campbell as the new manager for a year. Commissioner Ron Vath seconded it. "We could give the guy a try," Vath said, noting that it would take three votes to fire him if necessary. City Clerk Penny Overstreet reminded the commission that just as it takes four votes to hire a manager, it takes four votes to fire one. Vath and Commission Chairman Feind were surprised. "That's news to me," the chairman said.
Alice Baker, the mayor, who does not have a vote in the matter but has spoken her mind freely throughout, repeated her support for Campbell. Commissioner Jane Mealy then spoke, disagreeing with the notion that he was prepared. "I think it would be a very big mistake to do this," she said.
"Is it imperative that this decision be made tonight?" McGrew said. "I just don't understand where the urgency is coming from to have to do it tonight, knowing that I wasn't going to be there."
"The citizens of this town need a city manager, they deserve a city manager, they have supported through their petitions, of which I signed, Bruce Campbell," said one man who addressed the commission–and hammered the podium with his finger as he reprimanded McGrew's delay. "Is Commissioner McGrew still on the phone?" he asked.
She wasn't.
Commissioners listened, then moved on, with the mayor talking about the recent bed race.